While many people have garnered fame through the internet, others have acquired both fame and wealth from their online presence. Amongst them is Salice Rose, who is an Instafamous celebrity, YouTuber, and social media idol. Though her line of work involves a lot of sharing, Salice Rose had always kept mum on private matters like her sexuality, until recently, when girlfriend issues started arising.
The fast-rising star has always had a way with words when it comes to keeping her millions of audience engaged. Salice rose to stardom by posting funny videos and other exciting stuff on Instagram, YouTube, and other social media platforms. Learn the untold truth about the delectable young lady, including the team she plays for sexually and details of her relationship here.
Salice Rose's Life as a YouTube Star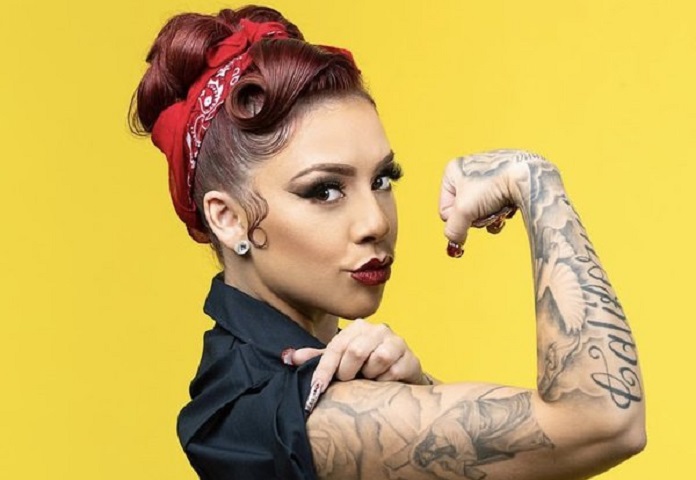 Salice Rose is an American YouTube and Instagram star, best known for her numerous videos on her social media pages. She began her social media career in 2013 when she opened an Instagram account. Soon after that, she began posting short funny videos for which she has garnered much fame. So far, Rose has millions of followers on Instagram, as well as a substantial fandom on YouTube and Twitter. Rose also models, promotes and serves as brand ambassador for several fashion brands like Fashion Nova.
The famous social media celebrity first came into this world on November 20, 1994, and was raised in Lancaster, California, United States. She possesses American nationality and Peruvian ethnic origin. There is a dearth of information regarding the details of her childhood and educational backgrounds. However, we know Rose has two brothers and a sister named Ashley. The YouTube star occasionally features members of her family on her videos, including her grandfather and her sister Ashley.
When Rose began her social media career in 2013, she first started posting sexy and scantily clad images of herself. As her popularity began to rise, she opened a YouTube Channel where she uploads short funny videos on different issues, including her daily life experiences and comedy.
She has never failed to engage her audience by any means possible; she does several things, including singing just to fascinate her followers. Her popularity also extended to Snapchat, following the addition of the app's My Story feature. So far, Salice has more than 10.9 million Instagram followers, over 270 thousand Twitter followers, and more than 2.1 million followers on YouTube.
Asides her social media career, as a model, Rose has appeared on some commercials for different top brands. Following her exceptional creative content style, Rose was honored with a TECLA Award for the Top Comedy Creator in 2017 and was also featured in the 2017 Latin Music Awards.
Did You Know She is Gay?
Salice Rose, not being much of a sharer on details regarding her sexuality and related affairs, has raised eyebrows among her fans. Naturally, people began coming up with speculations about her sexual orientation. The rumors did not seem to bother the influencer much, as she let them flourish without confirming or denying any until she did.
Salice Rose would eventually confirm the gay rumors with her own coming out story. It turns out she has been attracted to women all along but just wouldn't share details about her relationships – girlfriend or flings. However, matters of the heart can only stay hidden for so long. The YouTube star took to her channel to break the silence with news of a new girlfriend she'd been seeing, to the delight of many who had been anticipating.
Unfortunately, her new girlfriend wasn't the only personal matter she shared in that period. It turns out there have been other women in Salice Rose's life, and her relationships haven't always been rosy.
Meet Brilynn Ford, Salice Rose's Partner
Salice Rose went from people being so tightlipped about her love life that people started debating her sexuality to actively carrying her fans along on her relationships. So far, she has been linked with at least three women, including her current girlfriend, Brilynn. Brilynn may not be Rose's first girlfriend, but she is undoubtedly the first one we've seen. The Rose family, as Salice's fan base goes by, are convinced this new girlfriend may just be the special one.
The social media influencer introduced her new beau to her fans in August 2019 with an awkward video of them and 'meet my girlfriend' written in caps. Rose and Brilynn have known each other for over three years, but they only started dating around the time the video was posted. The couple was so all over each other in the video that Salice forgot to mention her girlfriend's name.
https://twitter.com/salice_roseee/status/1249853998019964928?s=20
Thankfully, the lady's YouTube account, which she opened shortly after the introduction, revealed her name as Brilynn Ford. She was born and raised in the San Francisco bay area. Like her girlfriend, Salice Rose, Brilynn is also an active social media user, with her forte being Instagram, Twitter, Facebook, and YouTube. These two certainly have a lot in common, and we hope that helps their relationship thrive.
See Also: Who is SwaggerSouls Face? – 5 Facts You Need To Know About The YouTuber
Who Else Has Salice Rose Dated In The Past?
Salice Rose may seem all put together in her videos, but her journey has not been an easy one, especially relationship-wise. Before Brilynn, she had been in love a few times before. In July 2018, the YouTuber told The Rose Family she had been in a long-distance relationship for some time with a lady she only identified as Carol. Though she didn't reveal her face or real name, the details she gave suggested her relationship with Carol was a passionate one.
So passionate that the two considered moving in together after only a short period of dating. Unfortunately, Salice could not go ahead with the move, and Carol's true identity remains a mystery to date. Not long after she shared the Carol news, Rose posted another video detailing her experience in an abusive relationship for five years. Though she kept the identity of her supposed abuser hidden too, Salice explained that the relationship began just out of high school.
The said partner started physically and mentally abusing her one month into their relationship, and it didn't stop until she put an end to it five years later. Another ex-girlfriend came up just days after Salice Rose revealed her girlfriend Brilynn to her fans. A lady named Chas opened a dedicated YouTube channel to express her experience while dating Salice Rose.
Chas alleged that Rose emotionally and verbally abused her while they were together. She also added that the new girlfriend reveal was especially hard for her because she and Salice were just discussing marriage two weeks prior. Nevertheless, Rose responded in kind and denied every allegation with receipts. August 2019 was undoubtedly a dramatic one for the YouTube star, but all that seems to be behind her now.