Sports and particularly NFL enthusiasts will perhaps be familiar with the name Sal Paolantonio. The seasoned journalist has been in the industry for more than three decades and established himself as a formidable force in sportscasting. From journalism to teaching and then writing, Paolantonio's works speak volumes for him. Find out all there is to know about the multi-award-winning ESPN National Correspondent who is a major stakeholder at important NFL events and games.
Early Life
A native of New York, Sal Paolantonio was born on June 13, 1956. Besides his birthdate and hometown which is Stewart Manor in Long Island, Paolantonio has not disclosed other personal details about his parents and family.
The ESPN National Correspondent is an alumnus of Sewanhaka High School. Thereafter, he proceeded to study history at State University of New York, Oneonta. Paolantonio later topped up his profile by studying journalism as a postgraduate degree at New York University.
Professional Career
Prior to practising his journalism career, Sal Paolontonio had a four-year stint in the military. Between 1979 and 1983, he served in the U.S Navy as a warfare officer but later retired as a full lieutenant. Paolantonio kicked off his journalism career in 1985 after he landed a job with Albany Times Union but later moved on to the Philadelphia Inquirer that same year.
During his ten-year stint with the latter media outlet, Sal held various positions. He first served as a political reporter, and then a beat reporter for the Philadelphia Eagles. It was also during this period that he worked as a reporter for WPHL-TV and also hosted a show on WIP-AM all-sports radio.
Sal Paolantonio joined ESPN in August 1995 and has since established himself as an integral part of the network's NFL coverage team. In the course of his job with ESPN, Paolantonio has covered over 20 Super Bowls and is a major stakeholder at important NFL events including league drafts. More so as a host, fans can recognize him from popular shows such as Sunday NFL Countdown, NFL Matchup, Fantasy Football Now and NFL Live, among others. He currently serves as an ESPN national correspondent.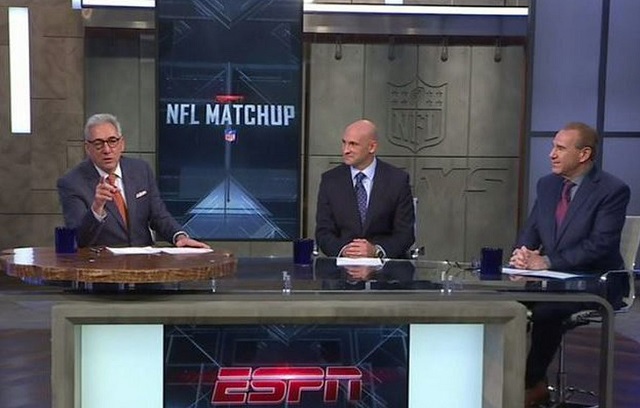 Besides his job as a journalist, Sal Paolantonio has also added teacher and author to his already impressive resume. As a teacher, professor Sal Paolantonio lectured students in political and sports journalism and communications at Philadelphia's St. Joseph's University. As an author, Sal has no less than four published books under his belt.
His first book Paolantonio Report, the Most Overrated & Underrated Players, Teams, Coaches & Moments in NFL History which he co-wrote with Reuben Frank was published in 2007. Paolantonio's second book titled The Last Big Man in Big City America was a 1993 biography of Frank L. Rizzo, a former Philadelphia mayor.
His third literary effort which was published in 2008 is How Football Explains America while the fourth Philly Special: The Inside Story of How the Philadelphia Eagles Won Their First Super Bowl Championship was published in 2018. All his books recorded remarkable commercial success.
Sal Paolantonio's Salary and Net Worth
Sal Paoloantonio is an accomplished journalist, author, and teacher. His numerous efforts have yielded financial rewards as well as recognition both at the local and international levels. Although the seasoned journalist's exact salary and net worth have not been disclosed, he is presumed to have amassed a sizeable net worth and can afford a very comfortable lifestyle.
His Wife (Lynn McGraw) and Children
Sal Paolantonio is happily married to his college sweetheart Lynn McGraw. The couple first crossed paths in 1976 at SUNY Oneonta and after courting for three years, they exchanged nuptial vows in February 1979. Sal and Lynn's union has produced three children and for reasons best known to them, the couple has kept details of their family life on a low key. The couple has remained inseparable for nearly four decades and continues to wax strong together.
See Also: Mike Golic – Bio, Wife, Daughter, Son, Brother, Family, Salary, Net Worth
Other Interesting Facts about Sal Paolantonio
1. Sal Paolantonio has Italian roots which explain his Latin name. The journalist was named after his maternal uncle Salvatore Giardina, who was a military officer that fought in World War II.

2. The ESPN National Correspondent is a multi-award winning journalist. Notably, some of his awards include the 1985 Associated Press Managing Editor's Award for Enterprise Reporting and the 1994 Associated Press Sports Editors Award for Reporting. In 1995, Philadelphia Magazine named Paolantonio as the state's Best Sportswriter. In 2013, the journalist was honoured by his alma mater SUNY with the degree of Doctor of Humane Letters and in 2017, the New York Daily News honoured him with the Jack Newfield Courage in Journalism Award.

3. Among other social services, Sal Paolantonio sits on the board of New Jersey's Cooper University Hospital Foundation in Camden.

4. Sal Paolantonio is quite active on social media. While he may not be present on all popular social networking sites, fans can connect to the veteran journalist via on Twitter and Instagram.

Fact Check: We strive for accuracy and fairness. If you see something that needs updating,