Tony and Sage Robbins are among the many celebrity couples whose stories have attracted public attention over the years. Sage is a popular Canadian actress and her most notable works include the 2013 television series Toby the Vampire Slayer, in which she made many episodic appearances. However, she is most known around the world as the wife of Tony Robbins, one of America's most popular motivational speakers, life coach, and author.
Sage came into the limelight when she controversially fell in love with Tony Robbins while allegedly still married to her former husband, John Lynch. The massive public buzz the whole situation generated gave Sage an unprecedented measure of exposure in America as the public strove to know more about her and what she does for a living.
Tony and Sage Robbins' Marriage Makes an Interesting Tale
Sage Robbins is a very happily married woman. The actress got married to Anthony Robbins, an American philanthropist, motivational speaker, entrepreneur, and author on the 15th of October 2001 in Fiji, a nation in Oceania. Sage and Tony met when she attended a seminar organized by the motivational speaker in Hawaii, USA. The couple explained that when they set eyes on each other, they instantly knew they were meant for each other. They began to date soon after and got married in 2001.
Sage's marriage to Tony was a topic of public discussion because of the controversial circumstances behind their meeting. Before meeting and marrying Tony Robbins, Sage was married to John Lynch, a Canadian businessman. She was just about 19 years old in 1992 when she married John who was 30 years old at the time. However, their marriage crashed and they divorced in 2000.
The divorce was messy because John accused Tony Robbins of snatching Sage from him. He claimed to have seen Tony kissing his wife; a picture of this was splashed on the pages of a tabloid newspaper. He proceeded to sue Tony for what he called 'alienation of affection'.
This accusation by John made headlines in America and beyond because Tony Robbins was already an established public personality, being a motivational speaker and life coach. However, Sage defended Tony insisting that she and John had already been separated since 1998, almost a year before she met Tony in September 1999, during one of his seminars in Hawaii. This notwithstanding, Americans became very interested in the scandalous allegations and many people began to dig into the life of Sage to know where she is from and what brought her together with Tony Robbins.
Tony Robbins Was Married When He Met Sage
To make the scandalous story even more complicated, Tony Robbins was also married to a woman named Becky Jenkins before he met Sage. He later divorced her in 2001, the same year he married Sage. The celebrated guru sued Lynch and ended up winning the case. He also sued the Canadian Newspaper Vancouver Sun for defamation of character. In an article, the paper implied he broke up Mr. Lynch's marriage. At the end of it all, he was $20,000 richer.
It has been many years since Tony and Sage got married and they are still bonding very well; showering praises on each other and displaying public affection. These days, Sage is seen with Tony almost always, especially at his many seminars.
Tony and Sage Robbins Has Four Children
On many occasions, Tony has praised his wife as his best friend and an ideal mother who is always in charge of the entire family while he focuses on his work. Although the couple is yet to have kids of their own, Sage takes care of their children from their previous marriages.
Her husband has four children, three of whom were adopted from his first wife's earlier two marriages. He fathered one of them (Jairek Robbins) with his ex-girlfriend Liz Acosta. Jairek is a performance coach and motivational speaker like his father.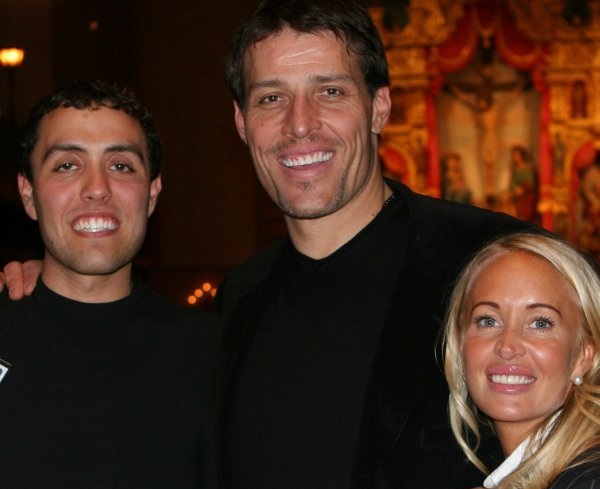 The couple runs The Tony Robbins Foundation which focuses majorly on helping youths, the elderly, prisoners, and the homeless. Her husband has made several charity donations, including profits from sales of his books to help feed millions of needy Americans. They also work with a water company to provide fresh water to villages in rural eastern India.
Read Also: Emily Procter Biography, Husband, Children and Family Facts of The Actress
What Sage Robbins Does for a Living
Details about the early life and background of Sage Robbins are quite scanty but we know that the Canadian movie star was born on the 5th of August 1972 in Vancouver, a city in Canada. Information about her parents and siblings are not known at the moment. It is noteworthy that even though the world now knows her as Sage, her birth name is Bonnie Pearl Humphrey.
Sage grew up in Canada and did not originally set out to be an actress. Before landing roles in movies, she used to work as a clerk at a healthy food store. She is also deeply passionate about acupuncture and phlebotomy. It was in 2001 that got her first shot at acting when she scored a minor role in Shallow Hal, an American romantic comedy film which grossed $141.1 million at the box office.
Sage then featured in the 2013 television series Toby the Vampire Slayer, making appearances in 11 episodes. That same year, she also featured in Stab 9: The Real-Life Sequel. In 2016, she appeared on Super Soul Sunday, an Emmy Award-winning talk show designed to help viewers awaken and discover their connection to the world around them. The show premiered on October 16, 2011, and is being aired on the Oprah Winfrey Network with Oprah herself as the host. She later featured in Tony Robbins: I am not your Guru, a documentary about her husband.
Her Net Worth Compared to Her Husband's
Sage has not been very prolific as an actress and as such, she has not been credited with a whole lot of movie appearances. However, she is well known in America because of her relationship with Tony Robbins. Sage Robbins has always been a self-driven woman and getting married to the charming and inspiring speaker proves to be a perfect match. Even before meeting her wealthy husband, Sage had reached a level of success in her career. As an acupuncturist, phlebotomist, and actress, her net worth is estimated at $2 million.
Even after getting married to a well-established husband, Sage has continued to improve on her career and has joined her husband in public speaking. The man has accumulated about $400 million from his multiple careers.