To the deep and philosophical, the coverage of celebrities and their lifestyle might seem like a pointless exercise that does not require attention but it has proven to be a very lucrative business over time, and Ryan Seacrest has been at the forefront of making money through it. Ryan Seacrest has built an astonishing net worth through his career as a television host.
Ryan Seacrest, who is referred to in many circles as the busiest man in Hollywood, has been able to amass a net worth of $410 million in various roles in the entertainment industry, and in this article, we'll examine just how he has made his wealth.
How Ryan Seacrest Achieved his Net Worth
Ryan Seacrest currently has a net worth of $410 million, which makes him one of the richest men in entertainment, but how exactly did he achieve this? It has been a three-prong attack that consists of entrepreneurship, production, and hosting.
The Atlanta, Georgia native who was born on December 24, 1974, began his career broadcasting on radio in high school when he secured an internship with WSTR (FM) before going on to study journalism at the University of Georgia. After graduation, he began his career professionally as an adult, and it has proven successful enough for him to earn an estimated $75 million in income per year and build a humongous net worth.
Hosting
One of the ways Ryan Seacrest achieved his over $400 million net worth is through a long career as a radio and television host. He began his TV hosting career with ESPN for the Radical Outdoor Challenge show in 1993. He also hosted various other shows like Gladiators 2000 and Wild Animal Games for the network before moving on to other networks.
A major contributor to Ryan Seacrest's net worth is his career as the host of American Idol, which he began in 2002. He started as a co-host on the show along with Brian Dunkleman, earning $5 million in salary per year. Seven years after he began hosting the show, he signed a new deal for $7 million per year, leveraging on the fact that his name and face had become synonymous with the ultra-successful reality show. In 2012, he signed another deal to continue hosting the show at $15 million per year for three years.
Since the show moved to ABC from FOX in May 2017, Ryan Seacrest has been earning $10 million per year to remain the host of the show. Another hosting gig that has contributed to Ryan Seacrest's net worth is Dick Clark's New Year's Rockin Eve. He began hosting the show in 2005, and currently earns $1 million for his role, which he only gets to play once in a year. His other hosting gigs include a hosting career with E! and NBC for E! News and various red-carpet award shows. He began working with E! in 2006 when he signed a three-year deal worth $21 million.
He has also hosted shows like The Million Second Quiz, Live with Kelly and Ryan, which is believed to fetch him over $15 million a year. Aside from TV hosting, Ryan Seacrest has also built his significant net worth through radio hosting, having hosted several shows over the course of his career such as, On Air with Ryan Seacrest, American Top 40, Morning Drive Time and a couple of others.
Production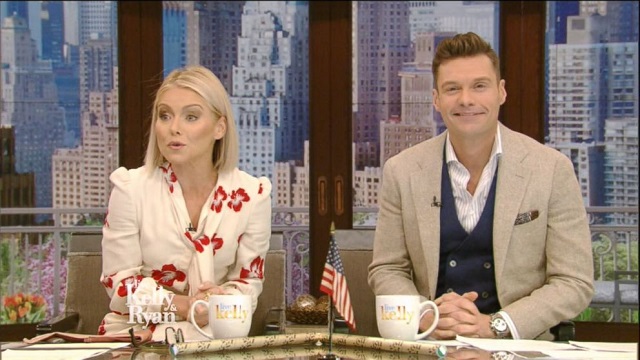 Aside from the hefty amounts Ryan Seacrest has earned through a career in front of the camera as a host, he has earned significantly as a producer too, commanding percentages in certain shows' revenues.
He has his own production company, Ryan Seacrest Productions, which he established in 2006. Through the production company, he has produced popular shows like E! News, Keeping Up With Kardashians, Kourtney and Khloe Take Miami, Jamie Oliver's Food Revolution and several others.
Through his production company also, he has signed deals such as a $300 million investment in Ryan Seacrest Media and a partnership with Mark Cuban's TV network, HDNet.
Entrepreneurship
The third contributor to Ryan Seacrest's net worth is his business ventures, particularly the ones outside the world of media.
He was an investor in Typo keyboard, and he also has a fashion collection, Ryan Seacrest Distinction, which he launched in 2014. The collection includes his trademark suit style, along with other accessories like pocket squares, belts, ties, and jewelry. Aside from his fashion collection, he also has a skincare line, Polished.