Ryan Seacrest is no stranger to many American screens. Here is how the famous TV and Radio host makes his millions.
Career Beginnings
Seacrest's big break came when he began to host 'Radical Outdoor Challenge' on ESPN. He then began to host 'Gladiators 2000' a spin-off of 'American Gladiators' and 'Saturday Night at the Movies'. Two years later, he got a job to host the American Idol.
Seacrest's interest in show business could be seen from an early age. He spent time putting on shows with a handheld microphone and his favorite activity after school was watching Oprah's show. His first ever role in the spotlight was when he was in the fourth grade, Ryan was set to perform the singing role of King Winter but he forgot his lines.
However, he had an impressive voice and was known as the 'Voice of DunWoody High School'. He was the PA announcer every morning. At 16, Seacrest was eventually selected for a competitive internship at WSTR-FM. He trained under Tom Sullivan and in time he became the weekend overnight DJ.
Income From TV and Radio Hosting
Seacrest is best known for hosting American Idol. He made $15 million per year after season 3. In 2012, he signed a hosting deal for $30 million annually and now makes $65 million every year. Though American Idol has come to an end, his wealth  will not be largely affected as he has other sources of income. He was nominated twice for Emmy Awards for hosting American Idol. Interestingly, he had interviewed to be a judge for the show but ended up being the host.
Ryan also hosts 'American Top 40', where he succeeded Casey Kasem. He hosts various red carpet events for E! including, Oscar Awards and the Emmys. Ryan has also hosted 'Click', 'Ultimate Revenge' on TNN and 'Saturday Morning Block' on NBC.
See Also: The Richest American Idol Alums of All time
He is the host of his eponymous radio show 'On Air with Ryan Seacrest'. He became the Executive Producer and co-host of 'Dick Clark's New Year's Rocking Eve', but after Clark's demise, he is now the host for the show which is now called 'Dick Clark's New Year's Rockin' Eve with Ryan Seacrest'. Seacrest makes $1 million hosting the show for 4 hours.
He signed a one-year contract with NBC allowing him to host the Today Show, entertainment programming, Olympic coverage, news and special events. Ryan made between $17 million and $20 million after the deal expired. In 2005, he was honored with a star on Hollywood's Walk of Fame for Radio.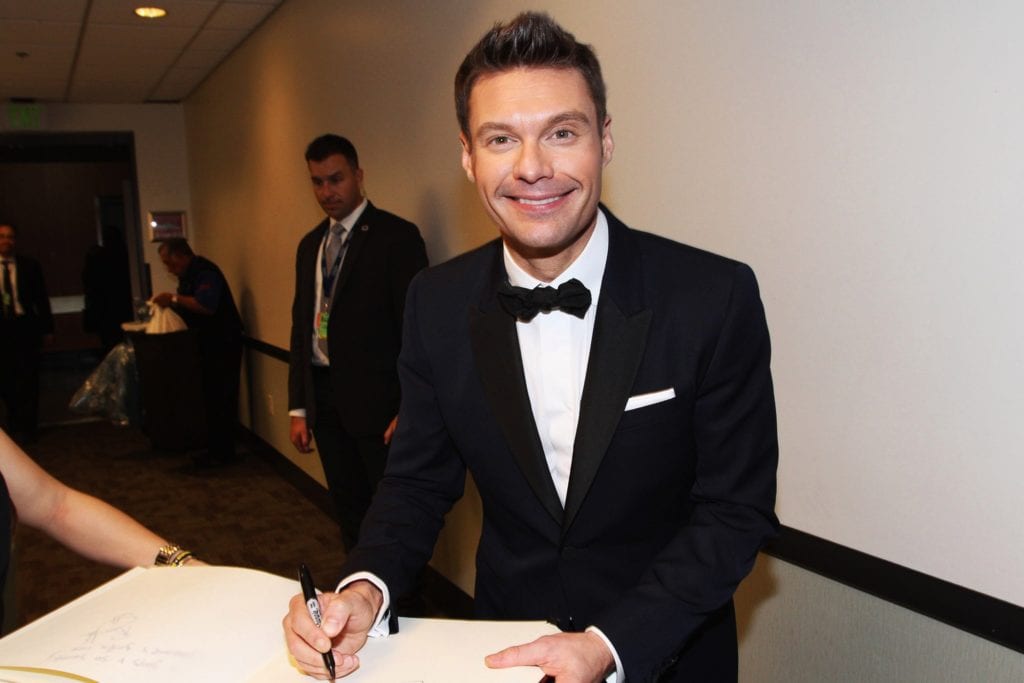 Business And Endorsements
Ryan established Ryan Seacrest Media, a production company which has produced about 75 shows including reality shows like 'Keeping up with the Kardashians' and its spinoffs, 'Denise Richards: It's Complicated', 'Jamie Oliver's Food Revolution', 'Married to Jonas' and 'Shahs of Sunset'.
In partnership with Mark Cuban, Ryan started his own cable network. He is also the co-owner of Katana Restaurant.
Ryan has his own clothing line which deals with men's apparel and accessories. In 2005, he had launched the R Line, which dealt with his signature T-shirts for men and women.
He endorses major brands like Coca-Cola, Procter & Gamble, and Bing.
See Also: 30 World's Highest Paid Celebrities
Charity Work
Ryan founded the Ryan Seacrest Foundation. It is a nonprofit organization aimed at enhancing the quality of life for injured and seriously ill children. There are Seacrest Studios in children's hospitals.
Career Reputation
Ryan Seacrest has a very strong work ethic – he is very energetic and committed to his work. If he is to follow in the footsteps of Dick Clark, his lack of controversy will continue to portray him as a reputable person. This could greatly increase his wealth, currently pegged at $350 million, as many companies will prefer to have him endorse their products. It will also be easier for him to land hosting jobs and contracts.
Ryan Seacrest Sexuality: Girlfriend, Gay or Married With Wife?
If you're still wondering if the millionaire media host is gay, you're not to blame for Ryan had been hooked on the notion.

However, he was let loose from the rumor that almost affected his love life, after the 'British Got Talent' judge, Simon Cowell publicly pointed out quote "He's [Ryan Seacrest] totally wasn't my type, I thought he was gay."

So there you have it. But then, the fact that he had dated a handful of women ascertains his straight stances.

Among the women, Ryan Seacrest has dated is Julianne Hough – who by the way got married in mid-2017.

As for marriage, let's just say we are hopeful as Ryan is currently dating Shayna Tailor, a personal chef by profession. Both have made their relationship official on social media and have also been spotted in public, cuddling up.

Fact Check: We strive for accuracy and fairness. If you see something that needs updating,