Ryan Seacrest is no stranger to many screens across the United States. A radio and TV host most popular for hosting American Idol for more than a decade. Since the onset of his media career, Seacrest has accomplished enviable feats. Among other achievements, Ryan has hosted a number of prestigious events including the Oscars, Emmys, and E!'s red carpet events. He has also worked as the host of several hit radio and television shows such as On Air with Ryan Seacrest, Dick Clark's New Year's Rockin' Eve, The Today Show, and so on.
In addition to his hosting jobs, Ryan Seacrest is a producer and entrepreneur. His production company, Ryan Seacrest Media, has worked on numerous popular TV shows including Keeping up with the Kardashians and its spinoffs.
Interestingly, as eventful as his professional has been, it is Ryan Seacrest's personal life. Alongside his marital status which has been a subject of questioning over the years, Seacrest's sexual orientation has also remained a topic surrounded by uncertainty among many.
Demystifying Ryan Seacrest's Sexual Orientation
For several years, many people believed that Ryan Seacrest was gay thanks to American Idol judge, Simon Cowell's constant gay-themed jabs. Cowell, who joined American Idol as a judge at the same time Seacrest began hosting the show, had a longtime habit of making jokes that presented the latter as gay. Unfortunately, the jokes turned out to be quite expensive as the media and many fans of the show, including top celebrities like Miley Cyrus, began to assume Ryan was gay.
The most convincing of Simon Cowell's numerous gay attacks on Ryan Seacrest was when he indirectly urged the Idol host to come out of the closet. That was in 2007 after a contestant complained that her high-heeled shoes and dresses were uncomfortable. Ryan had asked Simon for his opinion on the heels to which Simon replied that (being gay), Seacrest should know everything about that.
Cowell has also made other comments about Seacrest, especially on his dressing sense and beauty care which he claimed painted the latter as gay. For years, these insinuations stuck in the minds of many, completely closing their eyes to the beehive of women Ryan has dated in his lifetime so far.
A Detailed Look At The TV Host's Romantic Relationships
Apart from the rumors of being gay, Ryan Seacrest has had a very engaged romantic life with the opposite sex. Over the years, the talented media personality has occupied his love life with quite numerous women. Some of his famous relationships and flings might actually surprise you.
Erica Lancellotti (2002 – 2003)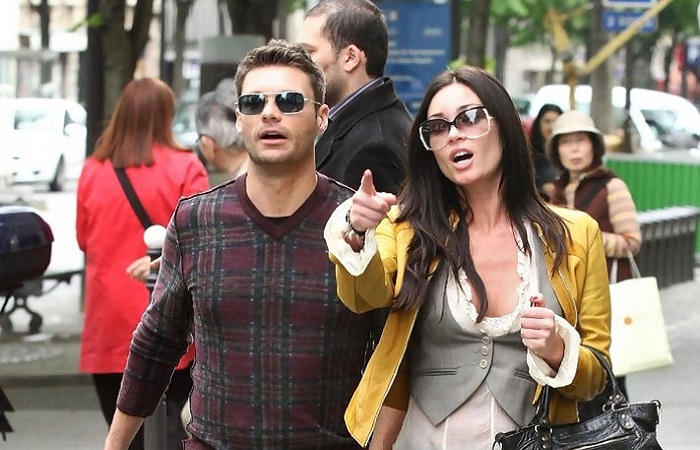 Ryan Seacrest met Erica Lancellotti sometime in 2002 after landing his career-defining job of hosting the American Idol. Erica, who was a bartender at the time, was proud of the relationship. As a result, she freely unveiled herself as Ryan's girlfriend on a number of media platforms including radio shows. She also made several public appearances with the TV host during the short period their relationship lasted. The duo, however, only dated for about one year, calling it quits sometime in 2003.
Shanna Wall (2003 – 2005)
Ryan Seacrest's breakup with Erica Lancellotti left him open to the world of celebrity women. The TV host began going out with women in showbiz with the first being Shanna Wall, an American model and TV actress most popular for competing in CBS reality show, The Amazing Grace. Ryan met Shanna in 2003 not long after parting ways with his former girlfriend, Erica. The duo's love, however, only lived for about two years as they broke up sometime in 2005.
Julianne Hough (2010 – 2013)
Following his two-year relationship with Shanna Wall, his next serious relationship was with Julianne Hough, a relationship that lasted for about three years. Seacrest met and started dating Julianne Hough, a professional dancer, singer/songwriter, and actress in April 2010. Julianne Hough is most popular for being a two-time professional winner of the popular ABC reality competition, Dancing With The Stars. By March 2013, the lovebirds called it quits.
Owing to how long their relationship lasted, as well as how committed Ryan and Julianne appeared to be while it lasted, many had taught they would end up walking down the aisle. Hough eventually married popular Canadian Ice Hockey player, Brooks Laich in 2017.
Shayna Taylor (2013 – 2014)
Not long after breaking up with Julianne Hough, Ryan Seacrest fell for the former American model, Shayna Taylor. Ryan met Shayna in March 2013. The TV host spotted the former model at a restaurant in Los Angeles and fell for her straightway. Each of the duo happened to be in a company of friends and coincidentally, someone in Ryan's group knew someone in Shayna's group. These two mutual friends helped to communicate to Taylor, Seacrest's feelings for her and the rest became history.
Seacrest and Taylor initially kept their affair low. They, however, went public in November of the same year after paparazzi caught them packing on the PDA during a vacation trip to Uruguay. Unfortunately, the lovebirds could not take their love far; before the end of 2014, they were no longer an item.
Renee Hall (2014 – 2016)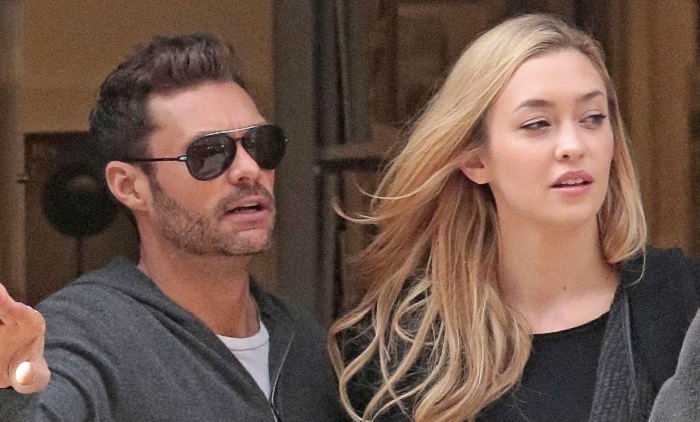 After Shayna Taylor, came Renee Hall, an American model. Seacrest and Hall met and clicked at the former's 40th birthday party late in December 2014. Ryan and Renee's relationship was, however, not as loud as the actor's previous relationships as the duo only made a few public appearances together. Nothing much was heard about them to the point that the media didn't even notice when they went their separate ways, a step they probably took before 2016.
Exploring Ryan Seacrest's Notable Short Term Relationships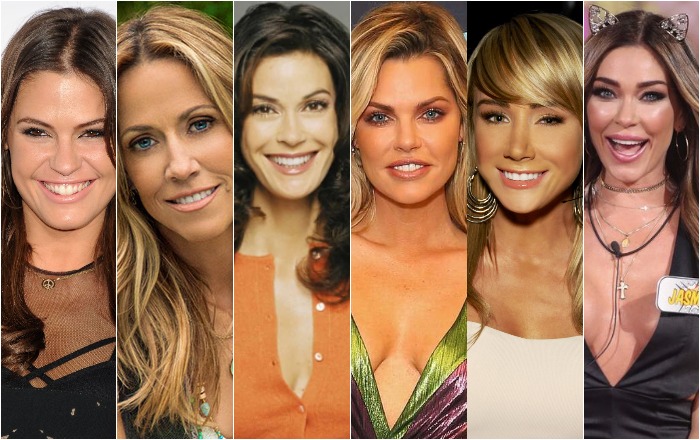 In addition to the women Ryan Seacrest seriously dated, the handsome media personality also had short-lived relationships with a number of women.
After splitting up with Shanna Wall in 2005, Ryan Seacrest appeared to have taken a hiatus from regular dates. Or maybe, he didn't just find a suitable person. To keep things going, he had a few short-lived relationships between 2006 and 2009 before eventually falling for Julianne Hough in 2010.
In 2006, Ryan briefly dated American singer Sheryl Crow, and subsequently actress Teri Hatcher. Following these, he had a few dates with famous Australian showbiz personality, Sophie Monk in 2008. After ending things with Monk, Seacrest had a brief fling with the American model and actress, Sara Jean Underwood. In 2009, he had a short-lived relationship with Jasmine Waltz, an American bartender.
Between splitting from Julianne Hough and dating Shayna Taylor in 2014, Ryan Seacrest dated Dominique Piek for a few months. Dominique is best known as an American model who gained attention posing for Sports Illustrated Swimsuit. Seacrest and Piek dated for about five months before calling it quits.
See Also: The Richest American Idol Alums of All time
Is The Showbiz Entrepreneur Married Now?
Of all the women Ryan Seacrest has dated, the TV host seems to have the strongest connection with Shayna Taylor. The duo has since been in an on and off relationship that has lasted for over seven years.
Since their first try in 2013, Seacrest and Taylor have split and gotten back together three times, with the most recent being their February 2019 breakup and September 2019 reconciliation. The pair had gotten back together in 2016 after their first split in 2014. Sometime in 2017, following their reconciliation, Taylor moved in with Seacrest. At that point, Shayna had the expectation of settling down with Ryan but unfortunately, the latter wasn't ready yet, leading to their second split.
Howbeit, since after their 2019 reconciliation, Ryan Seacrest and Shayna Taylor appear to be going stronger by the day. The two are going more public with their relationship, often celebrating and gushing about each other on social media from time to time. Early in 2020, Shayna sparked engagement rumors with a Valentine's Day Instagram post. She had shared a photo of herself and Ryan, with a caption that hints at their hopes of settling for a lifetime relationship. More recently, Seacrest wished Taylor a happy birthday on Instagram, calling her "an angel".
A former model born in 1992, Ryan Seacrest's latest partner, Shayna Taylor is a professional chef and certified holistic nutritionist. Taylor works as a food and wellness coach, blogger, and entrepreneur with her own nutrition/wellness brand, Shayna's Kitchen. She is also the founder and CEO of Bottle & Stone, a line of CBD-based skincare products and healing remedies.
Meanwhile, fans are practically begging Seacrest to make Taylor his final choice. They are in fact, eagerly waiting with bated breath to know what becomes of his relationship this time around. Will Ryan Seacrest finally get married? Time will tell.