He began his acting career and got known for his appearances in various romantic comedies, then he graduated into the gritty world of superhero movies, giving the world one of the most cherished characters in modern cinema, Wade Wilson aka Deadpool. He is also married to one of the most beautiful women in the world and a fellow A-lister. His name? Ryan Reynolds – one of the most beloved personalities in Hollywood.
Canadians have a long list of personalities who have made their name in America's entertainment industry, and while that list has categories that cover sports, music, and movies, at the top of the list for movies is Ryan Reynolds, whose charm has made him a star, both on-screen and off-screen. He is a superstar that millions know a lot about, but here is an article about what you might know about him. Read on to learn more.
Who is Ryan Reynolds and How Old is He?
He was born Ryan Rodney Reynolds on the 23rd of October, 1976 in Vancouver, British Columbia to James Chester Reynolds and Tamara Lee Reynolds. Ryan grew in a very modest family of low-income earners and he is the last born in a family of four children. His education began at Kitsilano Secondary School before he headed over to Kwantlen Polytechnic University where he studied for a while before dropping out to fully focus on his acting career.
Movies and TV Shows
Ryan Reynolds began his career in 1991, back home in Canada in a show, Fifteen. He appeared on the show as Billy Simpson over the course of thirteen episodes. After his time on the show ended, he did not appear onscreen again until 1993 when he appeared in his first movie, as Ganesh in Ordinary Magic and in the show, The Odyssey as Macro.
Since then, Ryan Reynolds has continued to appear and star in various movies and TV shows, with a predominant emphasis on the former. He began to gain a modest following and popularity when he starred as the titular character in the movie, Van Wilder: Party Liaison in 2002.
He then appeared in 2004 in the movie, Harold & Kumar Go to White Castle where he cameoed as a male nurse. Having begun his career appearing primarily in comedies, his foray into action movies began with Blade: Trinity and he has since appeared in others like X-Men: Origins, Green Lantern, The Hitman's Bodyguard, and perhaps his most popular film, Deadpool. Ryan Reynolds is also known to have featured in a number of popular romantic comedies like Just Friends, The Change-Up, Definitely, Maybe, The Proposal and a few more others.
He has appeared in over 80 movies and TV shows and has been recognized with several awards, including the Golden Globes and MTV Movie Awards.
Ryan Reynolds' Net Worth
Ryan Reynolds has appeared in a variety of movie, with a total number that exceeds 80 across both movie and TV shows. Several of them have been commercially successful productions, which has made him a top-earning actor and has helped him to a net worth of $75 million.
Aside from his acting income, he is also a majority owner of a gin company, Aviation American Gin, which has been a decent investment for the actor.
Wife and Kids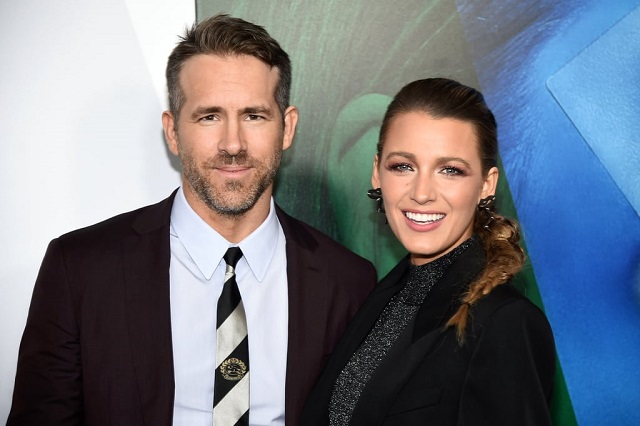 Ryan Reynolds' marital life is perhaps the very definition of how much of a superstar he is. He has been married twice, to two of the most beautiful women in the industry. The first time being to Scarlett Johansson between 2008 and 2011. They got separated in December 2010.
His second marriage was and is currently to Blake Lively, Roby Lively's sister and star of a number of movies, one of which is Gossip Girl. The two of them met on the set of Green Lantern and they started dating shortly after. They got married in September 2012 and have remained married ever since.
The couple, since they got married, have welcomed three children. Their first two children, James and Inez, were born in December 2014 and September 2016 respectively. He lives with his wife and children in Pound Ridge, New York.
See Also: Dwayne Johnson – Bio, Wife, Height, Measurements, Daughter, Salary
Height and Body Measurements
Ryan Reynolds enjoys a huge following, not just because of the brilliance by which he portrays his characters onscreen, but also a ridiculously handsome look that leaves many men and women in thirst.

His beautiful looks shine off a body that has an admirable height of 6 feet 2 inches and a bodyweight 79 kg. While he does not pack excessive bodyweight like a bodybuilder, Ryan maintains a fit and well-defined body that leaves tongues waggling when he goes shirtless.

As evidence of his attractive looks, he made the list of the People's Sexiest Man Alive thrice in 2007, 2009 and 2010 and won the top crown in 2010.

Fact Check: We strive for accuracy and fairness. If you see something that needs updating,