Ryan Gosling and Eva Mendes have worked hard to establish themselves among the finest actors in Hollywood. Over the course of their acting careers, they have starred in several commercially successful movies from which they have built six-figure net worths. Although Mendes gained a breakthrough in Tinseltown in the early 2000s, her partner, on the contrary, is a child prodigy. He started acting in his teens and consequently, has more film and TV credits than his wife who retired from acting in 2014 to focus on their family.
Having turned from friends to lovers, Gosling and Mendes have maintained the sparks between them, with their love waxing stronger with each passing year. They have established a long-term loving relationship which proves that the big age difference between the couple is no problem at all. Here's a look at their age and accumulated wealth, as we try to find out who is richer and older amongst the two.
Ryan Gosling and Eva Mendes Have a Combined Net Worth of $90 Million
Oscar-nominated actor Ryan Gosling has an estimated net worth of $70 million while his soulmate Eva Mendes has a total wealth estimated at $20 million. Thus, The Notebook star is wealthier than Mendes. Gosling's acting career has lasted for over twenty years and accounts for the majority of his wealth. He has featured in more than 40 acting projects and has also worked as a director and producer.
Gosling made his acting debut at the age of twelve, appearing as himself in The Mickey Mouse Club (1993-1995). He later gained minor roles in other family entertainment shows such as Are You Afraid of the Dark? (1995) before moving on to play a titular role in the TV series, Young Hercules, from 1998 to 1999. In 2000, he played a supporting role in Remember the Titans, followed by a lead role in The Believer (2001). After starring in the thriller film Murder by Numbers alongside Sandra Bullock and Ben Chaplin in 2002, the protean actor had his career breakthrough in the year 2004 when he co-starred with Rachel McAdams in the romantic drama movie, The Notebook. The film was a box office success, earning $116.1 million on a production budget of $29 million.
The actor, afterward, had roles in Stay (2005), Half Nelson (2006), Lars and the Real Girl (2007), and Blue Valentine (2010). In 2011, Ryan Gosling became a household name as he starred in three blockbusters; Crazy, Stupid, Love, Drive, and The Ides of March. The latter which also stars George Clooney grossed $76 million against a production budget of $12.5 million. His highest-grossing movie to date is La La Land that featured Emma Stone and John Legend. It earned $448.9 million at the worldwide box office on a budget of $30 million.
Other of his acting credits include Breaker High (1997-1998), Gangster Squad (2013), The Nice Guys (2016), Blade Runner 2049 (2017), First Man (2018), and The Gray Man (2021). For his contributions to the film industry, Gosling has received a Golden Globe Award, Independent Spirit Award, MTV Movie & TV Award, and National Board of Review Awards.
Outside of acting, Ryan Gosling has dabbled as a music artist and businessman. He formed the indie rock band, Dead Man's Bones, with Zach Shields in the year 2007. The band has released one studio album and toured North America but they are yet to encounter a major career breakthrough. As an entrepreneur, he is the co-owner of a Moroccan restaurant called Tagine in Beverly Hills, California.
Mendes Earns From Other Ventures Despite Retiring From Acting in 2014
Eva Mendes came to be known as an actress in the late 90s, making appearances in Children of the Corn V: Fields of Terror, ER, Mortal Kombat: Conquest, and A Night at the Roxbury, all in 1998. She then rose to prominence after starring in the box office hit, Training Day (2001), alongside Denzel Washington and Ethan Hawke. The film grossed $104.9 million on a budget of $45 million. Afterward, she gained roles in other commercially successful movies such as 2 Fast 2 Furious (2002), Once Upon a Time in Mexico (2003), and Stuck on You (2003).
Eva then established herself as a Hollywood actress with her depictions in the mega-hit movie, Hitch (2005) which also featured Will Smith and Kevin James. It grossed over $370 million at the box office worldwide against a budget of $55 million-$70 million. Before her retirement, Mendes had roles in Ghost Rider (2007), We Own the Night (2007), The Women (2008), The Other Guys (2010), Girl in Progress (2012), The Place Beyond the Pines (2012), Clear History (2013), and Lost River (2014).
Aside from acting, the Cuban businesswoman has worked as a model. She has served as the spokeswoman for Revlon, Calvin Klein, Cocio, Campari, and Magnum. More so, she has appeared in advertisements for People for the Ethical Treatment of Animals (PETA), as well as brands such as Reebok, Peek & Cloppenburg, and Pantene.
Collaborating with the workwear retailer for women, New York & Company, Inc., in 2013, Eva Mendes launched a clothing line called Eva by Eva Mendes. She also launched a line of dinnerware and bed linens at Macy's. Furthermore, Mendes increases her net worth by working as the creative director of the makeup brand, CIRCA Beauty.
Eva Mendes was Born Six Years Before Ryan Gosling Arrived Into The World
Ryan Gosling's sweetheart came into the world on March 5th, 1974 in Miami, Florida. She was born Eva de la Caridad Méndez to parents Juan Carlos Méndez and Eva Pérez Suárez. The actor, on the other hand, was born in London, Ontario, Canada on November 12th, 1980. He is the son of Thomas Ray Gosling and Donna.
Ryan attended Gladstone Public School, Lester B. Pearson High School, and Cornwall Collegiate and Vocational School before dropping out to pursue an acting career. Similarly, the Ghost Rider actress dropped out of college to pursue a career in acting. She completed her high school education at Hoover High School and attended California State University, Northridge.
The Duo Began Dating in 2011 While Shooting a Movie Together
Before working together on the 2012 movie, The Place Beyond the Pines, Ryan Gosling and Eva Mendes were just friends who knew each other. They eventually got entangled in the web of love on the set of the movie when Ryan was 31 years old and Mendes was 37. They have since that time been together as a couple and have gone ahead to build a beautiful family that includes two adorable daughters. The couple welcomed their first child, Esmeralda Amada, in Santa Monica, California on September 12, 2014. Their second child, Amada Lee, joined the family two years later on April 29, 2016.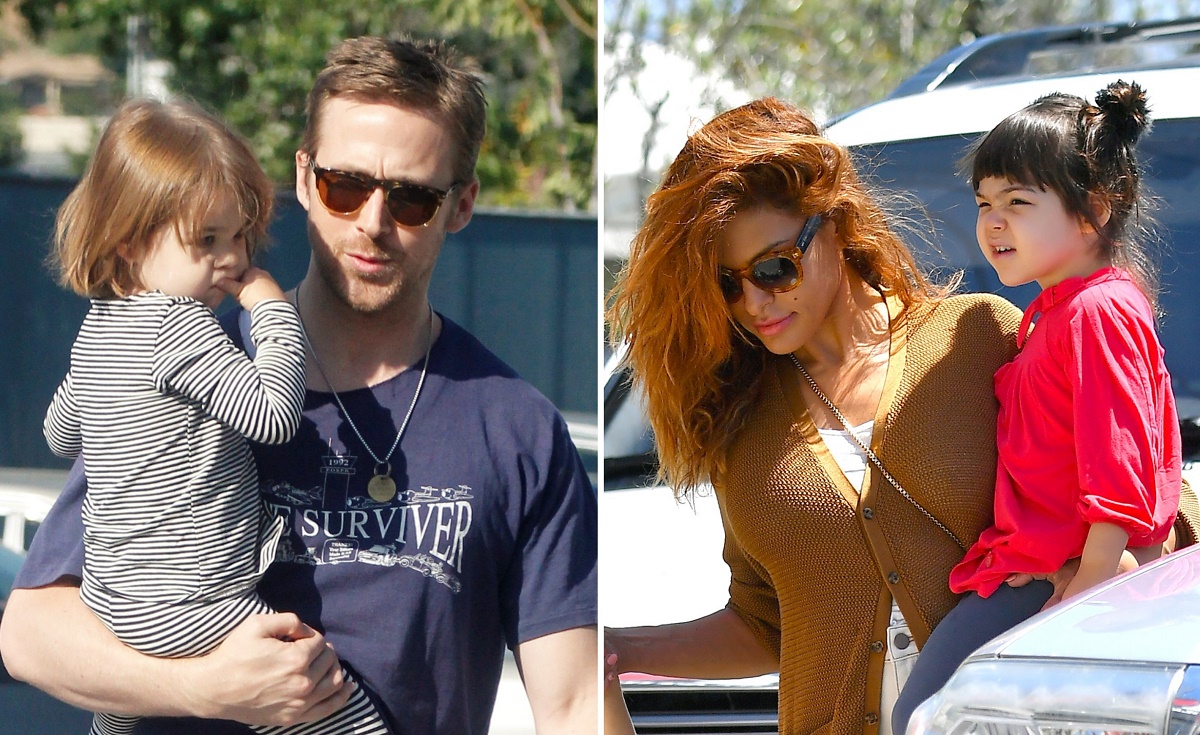 Ryan and Eva are known for leading a private lifestyle, as such, it's yet unknown whether the two have secretly tied the knot and kept it away from the media. Thus, they are referred to as long-term partners although there is a possibility that the couple might currently be in a marital relationship.
A Quick Comparison Between Ryan Gosling and Eva Mendes 
| | | |
| --- | --- | --- |
| | Ryan Gosling | Eva Mendes |
| Age | 43 | 49 |
| Height | 6 feet (1.84 m) | 5 feet 6 inches (1.68 m) |
| Nationality | Canadian | American |
| No. of Film Credits | 40+ | 36 |
| Highest-grossing Film | La La Land – Grossed $448.9 million | Hitch – Grossed $371.6 million |
| No. of Golden Globe Wins | 1 | Nil |