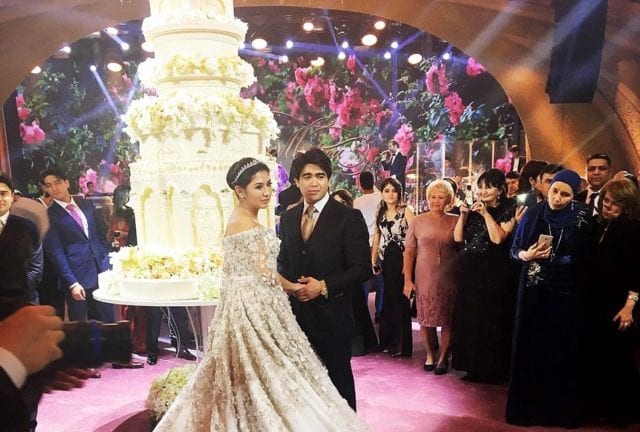 OH MY GOOWN! And here we were, thinking Hollywood celebrities spend the most when it comes to lavish weddings. Well oh well, here is to a giant paradigm shift. Russians obviously do it more, as a matter of fact, they should be issued an Oscar of wedding gowns for this. I mean who can beat this? A wedding gown with a price tag of over half a million dollars? OH MY GOWNNN, OOOH MYY G…..Ok!! I'm gonna calm down…….*deep breaths* *deeep breaaaths*.
The absolutely stunning and bedazzled, wedding gown was sported by a Russian Heiress, who goes by the name Marina Shokirova. And who is she? A daughter and heiress to Russian oil tycoon Ilkhom Shokirvo, who we hear is also involved in luxury hotel and shopping centers. Apparently, there is enough to throw around and no freaking expenses were spared. By the way, her hubby is named Sador.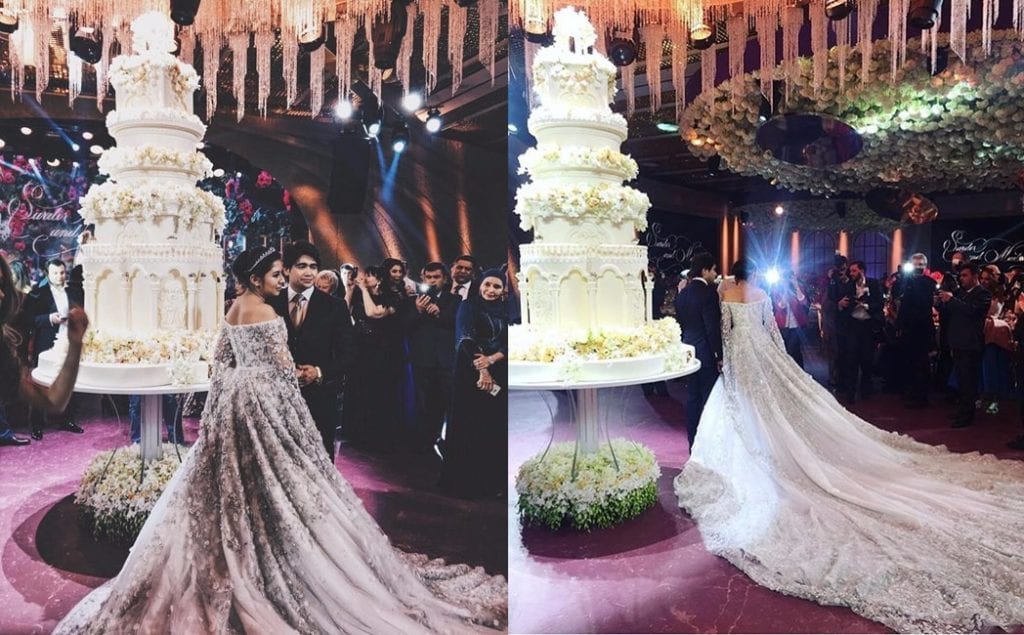 With a price tag of over $628 million, other sources estimate it could be as much as $800,000, we are certain this is the world's most extravagant wedding gown yet! And it was the brainchild of British designer Ralph & Russo. Before making her choice, Marina previously rejected a design by premium brand Zuhair Murad. Maybe she isn't as extravagant as we think?
But that isn't the only dress Marina wore in the two-day affair held in Moscow. She reportedly sported up to 5 stunning gowns, but the wedding gown remained the most extravagant of them all. Hello Kardashians, one of you gotta beat this at your next wedding.
The Ralph & Russo dress featured Swarovski crystals, organza petals, silver embroidery, and hundreds of pearls.
The gown's incredibly long cathedral train was matched with a gigantic 10 ft wedding cake as designed by boxer cum celebrity cake maker Renat Agzamov.
The reception event held at the uber luxurious Radisson Royal Congress Park hotel, Moscow was graced by 900 guest who were duly entertained. Per sources, $500,000 was spent on entertainment alone which included a cabaret singer complete with a dancing troupe and a group of professional waltzers. The decorations we are certain cost a fortune as well, just check out at those blooms! Is somebody else getting a wedding fever too?!
However, the wedding event itself was only a continuation of a splurging that had begun earlier. Daddy made sure his daughter and her friends were treated to the perfect bridal party or as in this case, parties. Marina and her girls splurged in a private jet to Marbella, Spain which included a yacht ride. On getting to Russia a second! bridal party was held at a chic restaurant in Moscow.
Click Here to see another jaw dropping Russian Wedding, This one had a total price tag of $1 BILLION!

What would your wedding look like if you were an equally a rich spoiled girl like Marina Shokirova?

Fact Check: We strive for accuracy and fairness. If you see something that needs updating,