Russell Wilson could best be described as a mechanical NFL quarterback. The consistency in his drop step alongside his move within the pocket and evade when the pocket collapses is one you would find in just a few players in his position in the National Football League (NFL). When it comes to accuracy in passing the ball, Wilson is a stellar quarterback. The strength of his arms gives him an edge over others when it comes to delivering the ball without hitches. Apart from making deep throws and touches that put the ball on a receiver in stride, he is very effective in ball scrambling. Without a doubt, he is a skillful and classic play extender with outstanding football intelligence.
Russell Wilson Background and Journey To a $90 Million Net Worth
The American football quarterback was born on November 29, 1988, as Russell Carrington Wilson. Cincinnati, Ohio, is his birthplace but he grew up with his family in Richmond, Virginia. Born to Tammy Wilson and Harrison Benjamin Wilson III as the second of three children, Wilson has an older brother named Harrison IV and a younger sister named Anna. His father is a lawyer while his mother is a legal nurse consultant. Wilson's father played both football and baseball at Dartmouth and he was an NFL prospect.
Russel Wilson had his high school education at Collegiate School which is also located in Richmond, Virginia. While studying, young Wilson also began his football career, making 3,287 yards throws, and 40 touchdowns in his junior year. He also recorded 634 rushing yards and 15 touchdowns, earning himself the Richmond Times-Dispatch Player of the Year twice. Aside from football, Wison also thrived in other sports like baseball and basketball.
Leaving high school in 2006, Russell Wilson was offered a football scholarship by two prestigious universities – Duke University and North Carolina State University. On July 23, 2006, he decided to settle with the latter. The young player redshirted in the 2007 season but played in 2008, finishing with 150 of 275 attempts for 1,955 yards, 17 touchdowns, and one interception. He was largely recognized as the first freshman quarterback to earn All-ACC first-team honors. However, he left the University for the University of Wisconsin after his ordeal with his coach at NC. At Wisconsin, Wilson enjoyed the rest of his college football career, winning the Griese-Brees Big Ten Quarterback of the Year award and making the All-Big Ten first team.
After completing his college football career at the 2012 Senior Bowl, Russell Wilson automatically got himself a place in the NFL draft. He was selected by the Seattle Seahawks as the 75th overall pick and has remained with the team for nearly a decade. As a member of the offensive team, Wilson continues to earn himself good awards and titles as he improves on his athletic performances. He has been named to the Pro Bowl seven times as of 2019, was the NFL Rookie of the Year for 2012, and the NFL passer rating leader. Also, Wilson was the Pro Bowl Offensive MVP for 2015 and the NFL passing touchdowns leader. He broke several Seahawks single-season passing records and was the franchise first quarterback to record over 4,000 yards in one season.
His NFL Career Earnings, Businesses, and Endorsement Deals
Though an embodiment of great talent, Russell started out small, signing a four-year contract worth $2.99 million with his draft team -the Seahawks- on the 7th of May 2012. Consequently, he earned a base salary of $390,000 and a signing bonus worth $619,400 in his first year as a professional player. In the two years that followed, the quarterback received salaries that were just a little more than what he got in the first year at $526,217 in 2013 and $662,434 in 2014.
Giving his output on the field, the Seattle Seahawks were not ready to let go of the young quarterback. Having served as its offensive captain for five consecutive seasons, the Seahawks rewarded Wilson with a four-year contract extension deal on July 31, 2015, which involved an enormous increase in pay. He signed an $87.6 million contract, including a signing bonus of $31 million and a yearly salary of $21.9 million. This, at the time, placed him at the second position on NFL's list of highest-paid players.
Shortly before the expiration of his last contract, the QB renewed a four-year contract extension with the Seahawks on April 16, 2019, that will keep him with the team until after the 2023 season. The deal worth $140 million comprises of a $65 million signing bonus, $107 million of total guarantees, an average salary of $35 million per year, in addition to a no-trade clause. With this contract, Russell did not only become the highest-paid NFL player but also the player with the highest amount of total guarantees and signing bonus in the league's history.
Off the field, Russell Wilson also has a very strong game going. Having established himself among NFL's most exceptional players, he has become one of the most marketable basketball players in the NFL. As a result, he has landed endorsement deals with a lot of big brands some of which include Wilson Sporting Goods, Nike, Bose, Mercedes, Alaska Airlines, and General Mills. A 2019 report by Forbes estimates that Wilson makes about $9 million from endorsements each year.
The QB has also towed the path of other celebrity athletes such as Serena Williams to venture into business. He is a co-founder of a number of businesses, including Tally, a mobile live-event prediction application, a mindset training company known as Limitless Minds, and a production firm named  West2East. He also established a fashion line named Good Man Brand on Amazon in the summer of 2019 and is a stakeholder in the football helmet manufacturing company VICIS as well as in Seattle Sounders FC among others.
A Look At His Marriage To Singer Ciara
In addition to his booming career, Russell Wilson is also currently enjoying a stable family and love life. Before his marriage to Ciara, the NFL star had been married to Ashton Meem, his high schoolmate. While Wilson attended North Carolina State University and then the University of Wisconsin, Meem went to the University of Georgia but they still maintained their love life and got married in January 2012. They remained together until they filed for divorce in 2014.  Afterward, it was revealed that the duo parted ways because of Meem's alleged affair with Golden Tate, Wilson's teammate.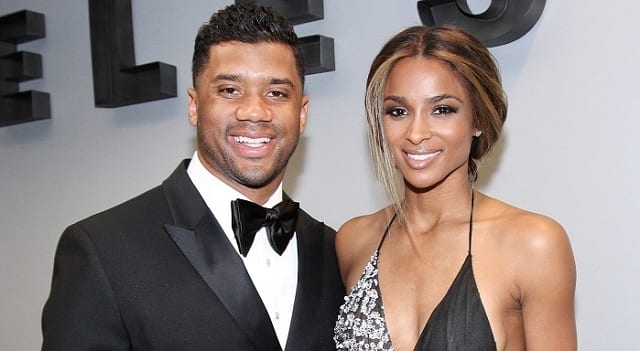 Not long after, the talented basketball player hit it off with the award-winning Texas-born singer Ciara Princess Harris. While Russell's marriage of two years ended in 2014, Ciara's relationship with her fiance, rapper Future, also came crashing in December of the same year. Though it is not known for sure when Russell and Ciara began dating, they announced their relationship in April 2015 when they attended the White House Correspondents' Dinner holding hands.
Things went very fast between the duo as they announced their engagement the following month on March 11, 2016, and followed it up with a fairy tale wedding three months later on July 6, 2016. The very private wedding which took place at a castle in England was attended by a lot of stars, including bridesmaids Kelly Rowland, La La Anthony, Serena Williams, and Ciara's best friend, singer Jennifer Hudson.
The couple welcomed their first child, Sienna Princess Wilson, on April 28, 2017, and in January 2020, they announced that their second baby was on the way. The two are obviously enjoying their relationship and have credited the success of their marriage to their shared faith in God.