As far as Rush Limbaugh is concerned, being a radio show host can easily pass as the highest-paid job. He is an American radio talk show host and conservative political commentator who is best known for his eponymous radio talk show "The Rush Limbaugh Show" with about 15 million weekly listeners, is the talk radio show with the most audience in the US.
Limbaugh became one of America's highest-paid media personalities in 2008 after he signed a $400 million, 8-year contract extension. Prior to the contract's expiration, he signed a new 4-year contract with a concealed price tag. However, the show remains the highest contributor to his wealth estimated between $400 million and $500 million. Read on to discover all you need to know about Rush Limbaugh.
Rush Limbaugh Biography
Rush Hudson Limbaugh III was born on January 12, 1951, in Cape Girardeau, Missouri. His passion for radio became clearly visible from childhood. At the age of 8, his eyes were already set on a career in radio. In high school, Limbaugh began his career as a disc jockey under the moniker Rusty Sharpe. His first job was at KGMO radio station, co-owned by his father.
After graduating from Cape Girardeau, Missouri Central High School in 1969, where he played football, Limbaugh wanted to go ahead to pursue a radio career but his father, a conservative attorney, strongly opposed, asking that he instead goes to college.
In order not to rebel against the family tradition and to gain his father's approval, Limbaugh attended Southeast Missouri State University. However, he couldn't manage more than a year, he dropped out in 1971 after two semesters. His mother later said her son just didn't seem interested in anything except radio.
Rush then began pursuing his radio career but success didn't come as easy as he'd thought. He was fired at least twice for controversial comments. Rush gave up on the radio in 1979 and began working as a promoter for Kansas City Royals baseball team. However, he returned to his passion in 1984 and gradually made his way up the ranks.
After earning his stripes as one of Sacremento's top radio host at KFBK, Limbaugh landed his big break in 1988 when his eponymous talk show earned national syndication by ABC Radio, broadcasting from New York City's WABC.
Despite his extreme far right comments which are often met with criticisms, Limbaugh's show enjoyed an exponential growth. Subsequently, Limbaugh became a majority owner of the show's right. With 3 decades and counting, the show remains his biggest money maker.
Rush Limbaugh Net Worth, Salary
In 2001, Limbaugh signed a 7-year, $250 million contract that saw his annual earnings skyrocket to not less than $30 million. In the final year of the contract in 2007, his earnings were estimated at $33 million.
See Also: Howard Stern Wife, Daughters, Parents, House, Wiki
Limbaugh made headlines in 2008 when he signed an 8-year contract extension worth $400 million including a signing bonus of $100 million. The new deal made him the highest-paid personality on terrestrial radio. Limbaugh in an interview with New York Times revealed that the deal was worth $38 million a year. In 2016, the year when the contract was due, Forbes estimated that Limbaugh earned a pre-tax income of $79 million, making him the 10th highest-paid celebrity in America.
Limbaugh's show as of 2017 is syndicated by Premiere Radio Networks, a division of iHeartMedia. News of his 4-year contract extension surfaced in 2016 without the usual accompanying value. This opened the doors to multiple speculations by mainstream media outlets and experts.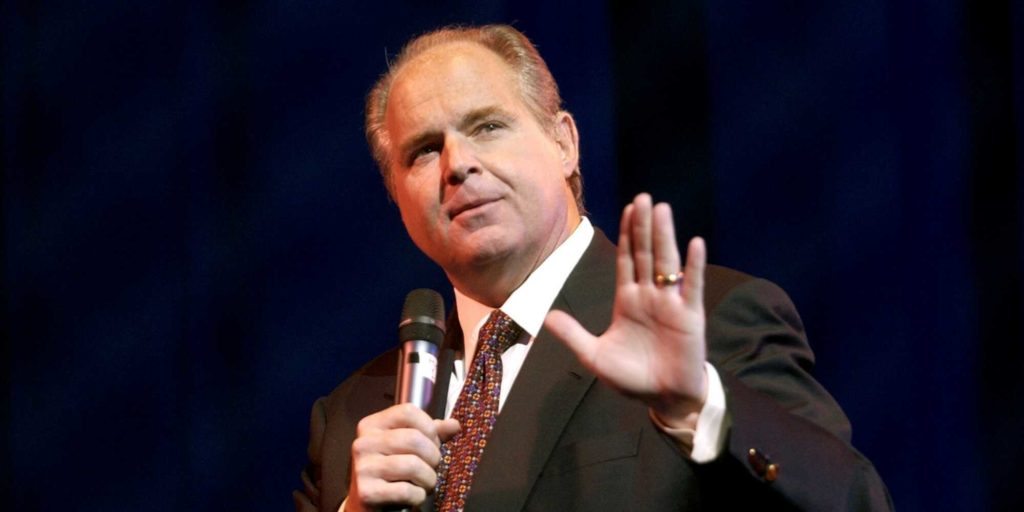 Bob Pittman, CEO of and chairman of iHeartMedia gave a hint on Limbaugh's earnings saying that it is "bigger than ever" and that he's "doing really well."
See Also: Bill O'Reilly Bio – Wiki, Wife, Divorce, Children, Salary
On the contrary, many critics still persist that Limbaugh was forced to take a pay cut which could be inspired by a couple of factors; one: declining contract/advertisement negotiation which dates back 2012 when Limbaugh's comments on a certain Obama-supporter led Limbaugh-haters to persuade brands to boycott his show. And secondly, iHeartmedia's $20 billion debt which dates back to 2008 when they made a misguided takeover.
Experts have also said that Rush Limbaugh remains an asset to his employees otherwise, there wouldn't have been a need for a contract renewal. But even when Rush does finally quit the radio business, the Hall of Famer would be miles away from being broke.
Currently, Limbaugh net worth sits at a comfortable $600 million.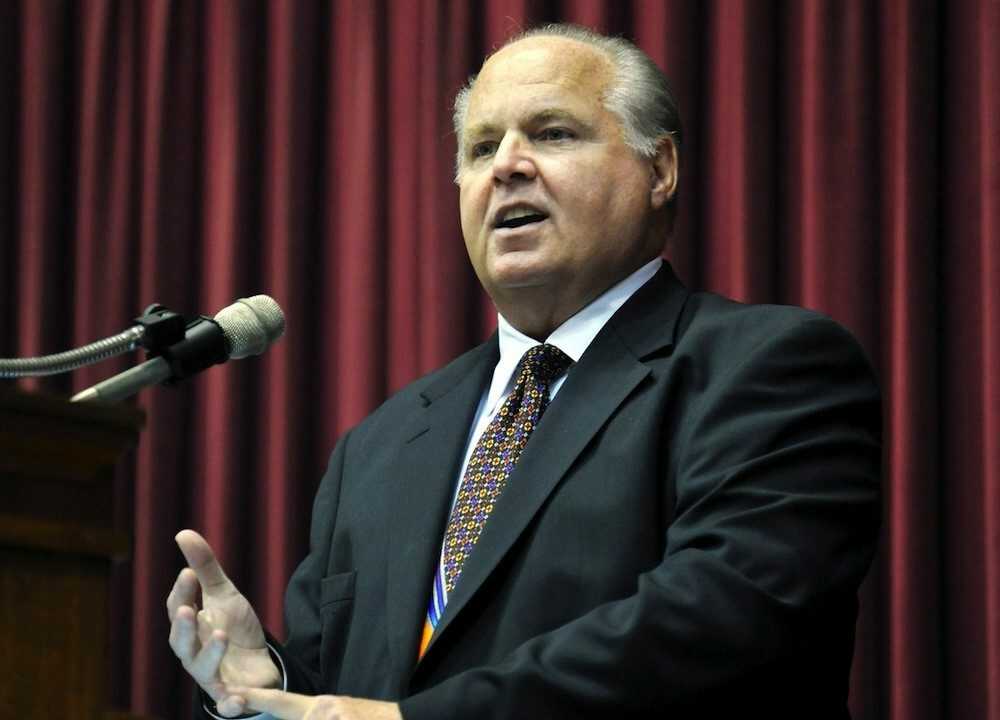 In addition to his show, Rush occasionally appears as a political commentator on other numerous TV shows. He also banks from authoring books. His "The Way Things Ought to Be" (1992) and "See, I Told You So" (1993) were New York Times bestsellers.
Is Rush Limbaugh Married or Divorced? Who Is The Spouse
Rush Limbaugh hasn't been so lucky with women. He has been divorced thrice. His first marriage was to Roxy Maxine McNeely and lasted roughly 3 years from 1977–1980. His second to Michelle Sixta lasted from 1983–1990. He then married Marta Fitzgerald in 1994 and divorced in 2004. His most recent marriage is to Kathryn Adams whom he wedded in 2010.
Rush Limbaugh House
Limbaugh lives in a beachfront mansion in Palm Beach, Florida. He bought the house in 1998 for about $4 million. The house which measures 31,761 sq ft and includes 9 bedrooms and 11 bathrooms is now valued at over $40 million. It is from the house that Limbaugh's radio talk show is broadcast to over 600 affiliates across America.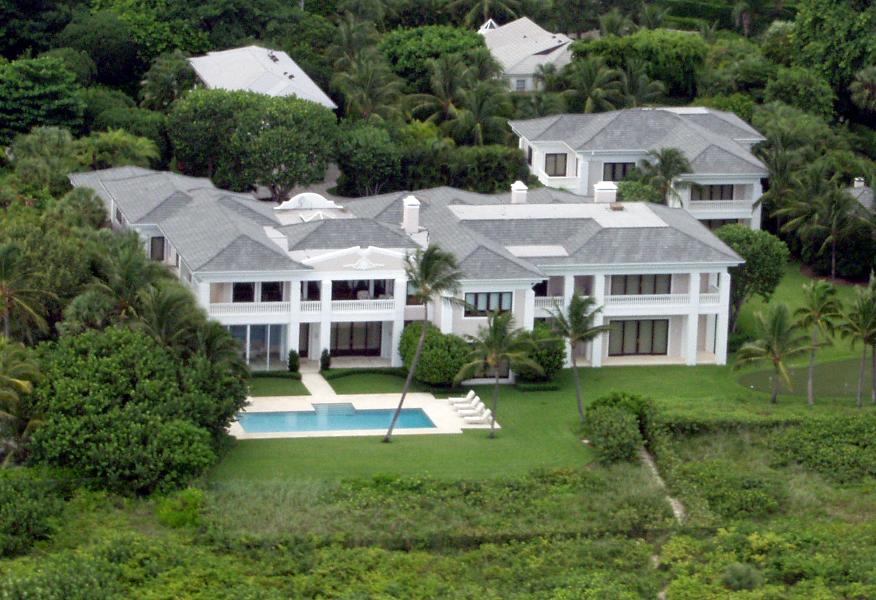 The cigar aficionado also owns a $3 million penthouse on Fifth Avenue in Manhattan.

In 2008, Rush revealed the cost of his Gulfstream G550 private jet to be $54 million. He also owns a number of luxury cars including a black Maybach 57S valued at almost half a million dollars.

Fact Check: We strive for accuracy and fairness. If you see something that needs updating,