Rory Mcllroy began playing golf before he could even say the word "golf" and thankfully he has amassed a fortune from his skills. Being a Northern Irish professional golfer, he is one of the sport's youngest richest and has also played both in the European and PGA Tours.
With a personal net worth of about $250 million, most of Mcllroy's income stemmed from his off-course endeavors, including his Rory Mcllroy Management Services Ltd which manages his affairs.
Rory McIlroy Bio
Rory Mcllroy was born on 4th May 1989 in Holywood, County Down, Northern Ireland to Rosie (née McDonald) and Gerry Mcllroy. Born and raised in a Roman Catholic family, Mcllroy identifies himself as Irish, Northern Irish, and British – this makes his nationality British and ethnicity, White.
As an only child, Rory's parents were apparently determined to ensure his success. His father went the extra mile to ensure his development by working several jobs to boost his income. His mom Rosie did same as well, working extra shifts at the local 3M manufacturing plant.
Rory was tutored at St. Patrick's Primary School and subsequently Sullivan Upper School. He, however, abandoned schooling to focus on golf at the age of 16.
Does Rory Mcllroy Have A Girlfriend or Wife?
Four-time Major champ Mcllroy's girlfriend is Erica Stoll, a New York-born pretty blonde.
Rory and the American beauty, Stoll met back in September 2012. At the time, the latter was working for the PGA of America. She was the kind-hearted lady who came to the golfer's rescue after she noticed he had overslept during the tournament.
Stoll's early intervention and the police's subsequent help saved Rory from arriving late to the course and messing up at the tournament.
Though Rory was just friends with Erica initially, romance blossomed between them afterwards and the perfect lovebirds got married in April 2017 at the famous 800-year-old Ashford Castle, located in Ireland's County Mayo. The star-studded ceremony was attended by American bigshots including respected musician Stevie Wonder, Niall Horan, and Chris Martin.
Rory was formerly engaged to tennis star Caroline Wozniacki until in 2014 when they ended their three-year friendship. Despite getting engaged on December 31, 2013, the couple called it quits after they must have sent out their wedding invites.
Rise To Fame
Mcllroy has his father, Gerry to thank for the millions he enjoys today. Senior Mcllroy, a spectacular golfer in his own right exposed his son to the game he loved at a very tender age – 18 months, he was barely 2 years old.
As Rory grew, he fell head over heels in love with the sport. Reports reveal that as a kid, he would sleep with his club while holding it in the correct grip his father had shown him during practice.
See Also: Top 20 Highest Paid Athletes In The World 2016
At 7 years old, Rory became the youngest member of Holywood Golf Club. He played almost every day. And though his skills began to pay off more at adulthood, Rory maintains that those childhood days were his best.
Rory's father apparently did more than just coaching his son to be the best. He also was his inspiration and source of courage. This explains why his son went on to stage an outstanding amateur career, setting records and achieving countless feats including winning the 2006 European Amateur title and topping the World Amateur Golf Ranking for 1 week.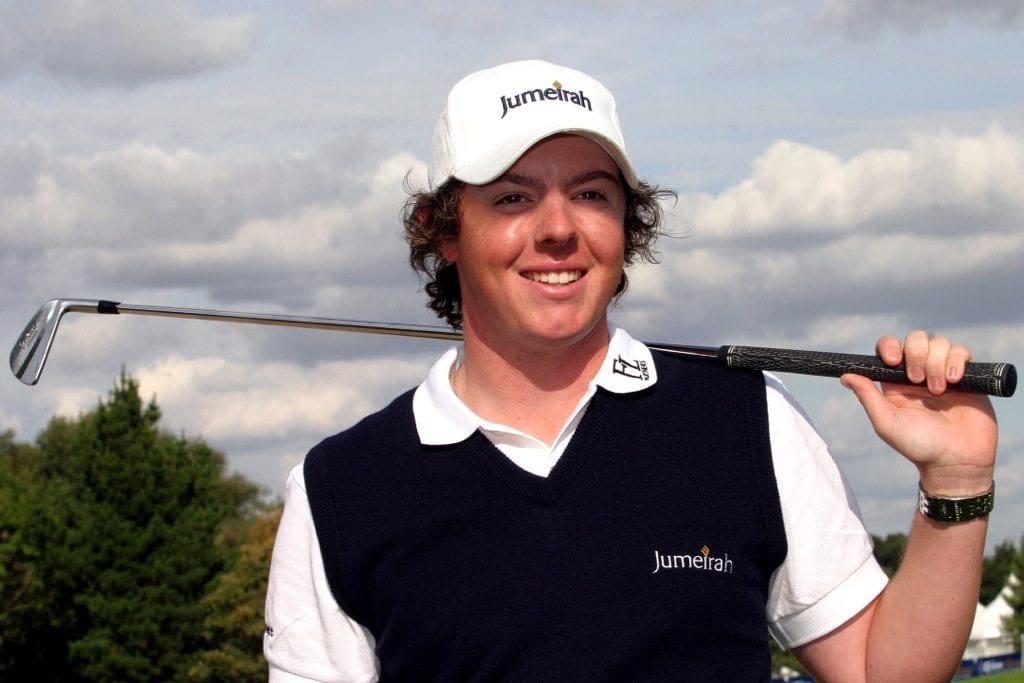 Pro Career, Salary, Winnings, Endorsements
Mcllroy turned pro on 18th September 2007, and established himself at the European Tour, becoming the youngest golfer to earn the European Tour card. He made over $300,000 in his first European Tour season. By November 2008, just over a year after turning pro, Mcllroy became the youngest golfer to rank among the World's Top 50 golfers. In 2009, he achieved his first win on the European Tour and in 2010, his first win on the PGA Tour.
Rory's professional career breakthrough came in 2011 when he won his first major championship – the US Open. His 72-hole aggregate score of 268 beat previous records held by both Jack Nicklaus and Tiger Woods. At the age of 22, he became the youngest golfer to scoop the title in 88 years since Bobby Jones. Also in 2011, he became the youngest player to reach $10 million in career earnings on the European Tour. He achieved the same feat in 2012 on the PGA Tour, thanks to his winning of the 2012 PGA Championship title.
TRIVIA: When Rory was 15, his dad placed a bet that he would win the Open by 25 years old, and he won $170,000 after his son scooped the trophy in 2014 aged 25. Rory also went home with the $1.66 million prize money.
As of 2016, Mcllroy has earned $34.2 million in just European Tour events and another $30.2 million from PGA Tour events.
Like most athletes, Mcllroy banks more from endorsement deals. In 2013, the same year he created his Rory Mcllroy Management Services Ltd, he signed a $250 million, 10-year deal with Nike which pays out between $15 million to $20 million annually. In 2015 he replaced Tiger Woods as the face of EA Sports' PGA Tour games. Woods had represented the brand of games from 1998 to 2013. Rory's other endorsement partners include Upper Deck, Omega, and Bose.
Per Forbes estimates, Mcllroy earned over $90 million pretax from all endeavours between 2014 and 2016.
His Rory Foundation is a host of Dubai Duty-Free Irish Open. In 2016, Rory donated the entire $750,000 he won from the event to two local children charities; the Jack and Jill Foundation, and the Laura Lynn Children's Hospice.
Rory McIlroy's Houses, Cars and Net Worth
In 2012, Rory spent $9.5 million on a giant mansion in Jupiter, Florida. The house measures 15,286 square feet and includes 6 bedrooms and 9 bathrooms. He previously owned a 7,200 square feet house in Northern Ireland but reportedly placed it on the market.
Rory owns a $400,000 Lamborghini Aventador which he was spotted driving in 2013. Back in 2011, rumor had it that he bought a Bugatti Veyron valued at almost $2 million but he openly debunked the claims. In 2015 BMW gifted him with their i8, the world's fastest electric car valued at about $150,000
See Also: 14 Athletes With The Biggest Car Collections
Most of Mcllroy's wealth stems from his achievement on the golf course where he prides himself as one of the best golfers living.  More so, he's famed as one of the highest-paid golf players and is among the 10 highest-paid athletes.  As of 2017, his net worth is said to be a whopping $250 million.
What Is Rory McIlroy's Height?
Mcllroy is 175 centimeters (5 feet and 7 inches) tall. His not-very-tall height is, however, complemented by his perfect weight of 73 kilograms.

Fact Check: We strive for accuracy and fairness. If you see something that needs updating,