Rome Flynn is an American actor whose works across TV series and feature movies have won lots of admiration over the years. A very handsome man, Rome Flynn has become the favourite of many ladies who crowd his social media pages to shower him with loving words. Rome is a multi-talented man as he is also a model and musician.
As an actor, he is now best known for portraying Zende Forrester Dominguez on The Bold and the Beautiful, an American soap opera which gained some prominence around the US and beyond. He is also known for his work on How to Get Away with Murder, a drama TV series. Over time, his work has shot him to the limelight and he has won an award in recognition of his onscreen excellence.
Beyond discussing his career journey and the accomplishments thereof, let's explore the actor's love life and other facts that are worth knowing about his personal life.
Rome Flynn's Background and Career Beginning
Rome Flynn was born on the 25th day of the month of November in 1991. The actor was born in Springfield, the capital city of the state of Illinois, USA. It is noteworthy that even though he is now more simply known by fans as Rome Flynn, the actor's full name at birth is Rome Trumain Flynn. Rome is apparently an American man, according to reports, he has Afro-Cuban and Irish roots. The actor has six siblings with whom he grew up in Springfield and they share a special bond today.
Growing up, Rome attended the Lanphier High School, a public secondary school in Springfield. The actor was very active while in high school; in fact, he was a member of the school's basketball team and played pretty well. He eventually got a basketball scholarship to attend Benedictine University, a private Roman Catholic university in Lisle, Illinois.
Rome has always been a social person. While at Benedictine University, he made many friends and became quite popular among other students. He also started building his social media presence by uploading videos and photos of himself and his activities as a basketball player. With time, his social media pages grew and he became quite popular on Instagram.
While still in college, Rome's personality endeared him to many people and it was not long before his talent was discovered. According to reports, the actor was discovered by a talent scout who had come to Benedictine University and this was the beginning of great things for Rome.
Highlights of His Career Journey
Rome Flynn kick-started his acting career in 2013 when he was cast as R.K. in The Haves and the Have Nots, a musical drama film. His participation in the making of the film prepared him for bigger roles to come. In 2014, Rome started making some buzz when he joined the cast of Drumline: A New Beat, a drama/comedy music film where he acted as Leon alongside Nick Cannon. The same year, he starred as a quarterback in Two-A-Days, a short movie.
Rome got his big break in 2015 when he was cast to portray Zende Forrester Dominguez in The Bold and the Beautiful. The soap opera became very popular and also helped to launch Rome into the spotlight, winning him loads of fans who especially admired his handsomeness. Rome played his role in The Bold and the Beautiful from 2015 to 2017, appearing in 190 episodes. His work on the series was so good that it actually earned him a Daytime Emmy Award for Outstanding Younger Actor in a Drama Series.
Rome continued his adventure in Hollywood in 2017 with appearances in three TV series namely; Ten: Murder Island, NCIS: New Orleans, and MacGyver. In 2018, he landed another major role on How to Get Away with Murder, a drama TV series in which he portrays Gabriel Maddox.
In addition to that, he had a supporting role playing Jack in The Thinning: New World Order. His most recent projects are in the television film A Christmas Duet (2019) wherein he portrayed a character named Jesse and in Family Unioin (2020); he appeared as Tony in an episode titled "Remember Cousin Kenya?"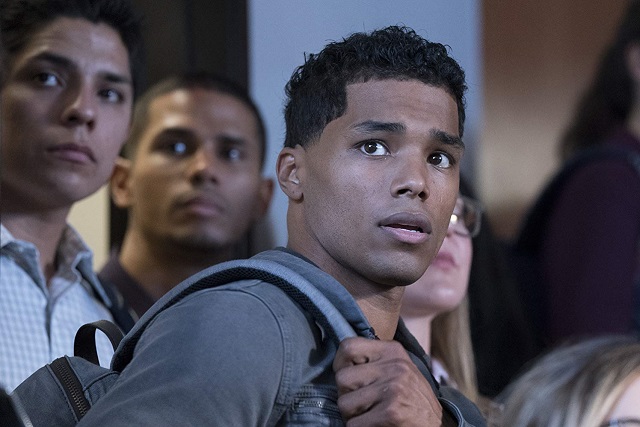 Career Attainments
Rome Flynn has made quite a lot of money from his career. The actor has appeared in many high profile movies and TV series and has also had lead roles in some of them. Given that, he has been able to consolidate his financial independence with the income from these projects. At the moment, his exact net worth is not certain but some reports have pegged his worth around $400,000 and $600,000.
It has been expressed many times that Rome Flynn's good looks made things easy for him in the competitive industry. But then, it is obvious that he is talented as much as he is a handsome man who has a muscular and ripped body. Rome is classy and knows the right things to wear. The actor is a fitness freak and is almost always in the gym working out. No doubt this has helped him develop his body. The actor is quite tall; he stands at 5 feet 9 inches.
Exploring The Family of Rome Flynn
People wish to have the Rome-Flynn life without realizing he came from a very humble background; one that had no father figure. The actor and his six siblings were raised by a single parent, his mother Nicky Alexander.
Rome has disclosed that he was once homeless with his family in Chicago. Because of this, he has been very public-spirited and committed to helping families going through the difficulties his family faced.
Apart from the above, it is difficult to tell anything about the actor's family. Almost nothing is known about his siblings and what they are up to.
What We Know About His Love Life
Rome Flynn is a handsome man and many people expect that he is in a loving relationship with an equally beautiful woman; this is not quite the case. The actor used to be in a relationship with a model called Camia Marie. The two were seen on the red carpet and in so many photos together as it seemed their love was increasing by the day. During an interview with CBS, they explained that they met in front of Camia's house and picked interest in each other afterwards.
my king, I love you @RomeTrumain 💛 pic.twitter.com/Vo80NLwf34

— Camia-Marie ♡ (@CamiaMarie) May 18, 2016
However, on the 19th of February 2019, the actor took to his Instagram account and told his followers that he is not in a relationship with anyone. What this means is that he and Camia are no more together.
Read Also: Lincoln Melcher – Bio, Age, Family, Facts About The Actor
His Life As a Father
Rome Flynn has a daughter called Kimiko Flynn. The girl was born on December 12, 2014, and based on various reports, he had Kimiko with Camia. Even as it is hard to tell the nature of the actor's relationship with the model, one thing is clear: he is a doting father and will go to any length to make his daughter happy.
The actor once revealed in an interview that fatherhood changed him and has made him more level-headed in his dealings.