Roger Goodell is an American businessman and the current commissioner of the National Football League (NFL). Often described as American football's most powerful man, Goodell has been heavily criticized by fans and players for his unyielding approach and swiftness in dishing out suspensions.
However, the economist remains a darling to franchise owners, thanks to his shrewdness in pecuniary matters. His ability to negotiate super lucrative TV rights deals with numerous networks as well as his role in the 2011 collective bargaining agreement (CBA) has seen the league's revenue skyrocket to unprecedented heights.
Who Is Roger Goodell?
Roger Stokoe Goodell was born on February 19, 1959, in Jamestown, New York. His father Charles Ellsworth Goodell was a United States Senator from New York who replaced Robert F. Kenedy after his assassination in 1968. Goodell attended Bronxville High School, where became a three-sport star, captaining the football, baseball and basketball teams.
Crowned the school's athlete of the year in his senior year, Goodell had amazing sports prospects. Unfortunately, his athletic career was truncated by an injury which cost him a collegiate football career. Undeterred, Goodell channelled his energy towards academics, studying Economics at the Washington & Jefferson College in Washington, Pennsylvania where he graduated magna cum laude in 1981.
Goodell's climbing of the NFL administrative ladder started when he first entered the NFL as an intern. That was in 1982 and, he worked in the league's front office in New York. He later had a brief stint as an intern with the New York Jets, before returning to the league's office in 1984, working as an assistant at the public relations department. Three years later, in 1987, Goodell earned his first promotion to serve as an assistant to the president of the American Football Conference (AFC).
In 1990, Goodell became the director of international development and club administration under Paul Tagliabue. He steadily worked his way to the seat of the vice president and chief operations officer in 2001. After his boss Tagliabue announced his decision to retire, Goodell was perceived as his most probable successor. Goodell won the election ballots in 2006 to become the third commissioner in NFL's history.
His tenure has seen an outstanding surge in NFL's revenue over the years. It is believed that Goodell's tough negotiating skills above other things, played a significant role in raising the revenue of the NFL much to the joy of team owners. Yes, he is loathed by players and fans for his hard-line attitude towards players in assault cases and most recently the extremely controversial Deflategate Scandal where Patriots quarterback, Tom Brady received a four-game ban culminated in sports lovers calling for his replacement.
However, his bosses consider these as periphery issues which have little or no negative effect on the progress of the sports business. They are clearly happy with how he has handled his primary assignment which is evident in the fat paychecks he continues to receive.
His non-NFL roles include seats on a number of boards including Lawrence Hospital in Bronxville and Big Brothers Big Sisters of New York City
Roger Goodell Salary And Net Worth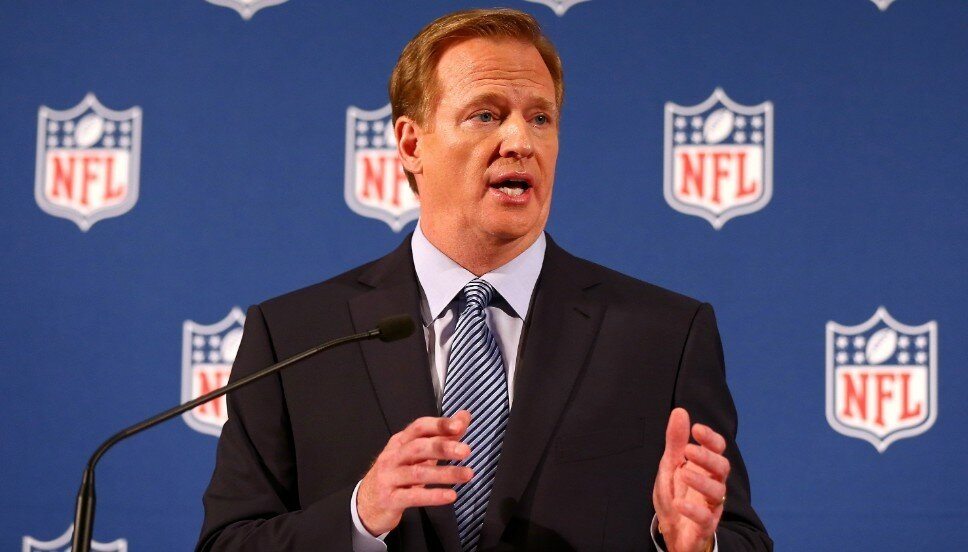 When Goodell assumed his position in 2006, NFL's revenue stood at $6 billion, in 2017, the figures over doubled to $14 billion with plans to reach $25 billion by 2027. As a result, Goodell is duly compensated by team owners as his salary has equally enjoyed an exponential increase. Between 2013 and 2014, Goodell earned $78.3 million ($44.2 million in 2013 of which even Obama couldn't believe and $34.1 million in 2014). Per ESPN, Goodell has earned a total of $180.5 million between 2006 and 2014.
Goodell's salary/compensation took a sharp hike in 2011 shortly after the 2011 collective bargaining agreement with the NFL and NFLPA was reached. The new CBA ended the 2011 offseason lockout of players and gave the owners 10 years of relative cost certainty.
To put the TV rights revenue in view; DirecTV in 2014 signed an 8-year $12 billion deal with the league for rights to contents for their popular Sunday Ticket. Also under Goodell's leadership, the NFL sold rights to its Thursday Night Football television package to NBC and CBS. The continuing healthy competition between online and cable providers would see the TV rights fee rise to a new high when the current deal does expire in 2020. The NFL might well reach their $25 billion revenue even before the proposed 2027 date.
Roger Goodell's current contract was due in 2019 and with the financial progress the NFL is making under his tutelage, experts speculate that the team owners may throw him an even more lucrative contract extension, and this was what happened when he signed a new 5-year deal worth up to $200 million that could see him pocket $40 million a year. This is more than what tthe top NFL players who are mostly quarterbacks earn. However, should more egregious controversies continue to haunt him and eventually force him out of the position, Goodell will walk away as an extremely wealthy man. He has an estimated net worth of over $150 million.
His salary structure is no different from that of the CEO's of top companies like Yahoo, Nike and CBS in that the bulk of his earnings stem from compensations and bonuses which are relative to the annual revenue/profit. His base salary as of 2014 which is the last year we get to see Goodell's earnings was $3.5 million. While his earnings have been made public since 2006 because of the NFL's non-profit status, that status is no more since 2014 as the league gave up its tax-exempt status. If anything, his critics would no longer have the evidence to get at him.
Although one can barely substantiate this, it has commonly been assumed that Goodell's house on Bohemia Way in Scarborough, Maine is worth over $6 million.
See Also: Peyton Manning's Wife, Kids, And Net Worth
Who Are Roger Goodell's Wife and Daughters?
Everyone knows that Goodell is married to Jane Skinner, a former Fox News anchor. She retired in 2010 saying she wants to spend more time with her family. Sometime in October 2017, it emerged that she has a secret twitter account which she has been using to defend her husband from those who have negative things to say about the way he runs the NFL.
When she got busted, she admitted that what she did was unintelligent. Nevertheless, she pointed out that the secret tweets were inspired by her love for her husband and the disturbance she gets for unbalanced new stories.
Goodell and Skinner have been married since 1997 and they had their twin daughters in 2001.