It is perhaps quite impossible to talk about modern tennis without the name, Roger Federer cropping up in the conversation. The Swiss tennis player is considered in many corners, to be the greatest tennis player of all time. It is a belief that reflects not just in his trophy cabinet and style of play, but also in his finances. Roger Federer has a net worth of $450 million, which not only places him at the top of wealth rankings for tennis players but also among sportspeople.
As admirers of the talented and classy tennis player, we took a look at how exactly he came to achieve a net worth of $450 million. Check it out below.
How Roger Federer Achieved His Net Worth
Roger Federer became a professional player in 1998, and the rest, they say, has been history. He has played more than 1,500 professional matches, winning more than 1,200 of them, during which he racked up more than 100 trophies, a trophy haul that puts him second in the Open Era. Of course, through those victories, he built a global reputation as a talented tennis player, that has, in turn, made him the attraction of millions of fans.
As a result, Roger Federer has been able to build his net worth through millions in prize money and sponsorship deals, all of which we discuss in detail below.
Prize Money 
Since Roger Federer turned pro in 1998, he has won more than $100 million in prize money, precisely $126,840,700 in prize money, just behind Novak Djokovic, who leads the pack with $135 million.
The Swiss tennis player, who is the son of a Swiss father and a South African mother, won his first significant prize money in 2003. The victory, which came via Wimbledon, a grand slam tournament, came five years after he turned pro. For the win, he received $714,460 in prize money. In his first professional year, Roger Federer earned a total of $28,000 in prize money
Roger Federer's $126 million in prize money, which accounts for less than 30% of his net worth, comes from more than 100 titles. The titles include 20 Grand Slam titles (including the famous Wimbledon, which he has won eight times), 28 ATP Masters Tournaments, 23 ATP Tour 500, and 25 ATP Tour 250 titles.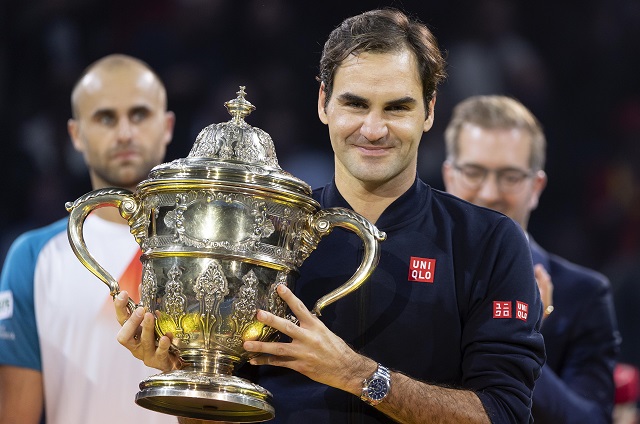 While his prize money earnings are undoubtedly impressive and show just how much he has won as a tennis player, Roger Federer has achieved a more substantial part of his net worth through endorsement and sponsorship deals.
Endorsement and Sponsorship Deals
It is one thing to be a highly talented player with several trophies to your name, but having the personality and charisma to be an attractive face for international brands is another skill that is not always in the skillset of brilliant players. But, that has been something Federer possessed, even before he became the modern face of tennis.
Just after winning his first grand slam title in 2003, he signed his first sponsorship deal, with Maurice Lacroix, a watchmaker. He has since moved on from Maurice Lacroix to Rolex, who pays him several millions of dollars per year to be the face of the international watch brand.
Over the course of his career, Roger Federer has endorsement deals with several brands, including Mercedes Benz, Credit Suisse, NetJets, Barilla, Wilson, Lindt Gillette, Nike, and Uniqlo.
He signed a 10-year sponsorship deal with Nike in 2008 worth $120 million and after the expiration of the agreement, rather than renew with the global clothing brand, signed with the Japanese clothing brand, Uniqlo. His contract with Uniqlo is worth $300 million across ten years.
His deal with Mercedes Benz, with whom he began a partnership in 2008, is worth an estimated $5 million a year. He is also an ambassador for the high-end champagne brand, Moet & Chandon.
See Also: Serena Williams Net Worth: How Much Does She Make On and Off The Court?
Roger Federer's climb to the summit of tennis has coincided with a consistent increase in his net worth, which has seen him regularly feature among the highest sports earners in the world. He earned $93.4 million in the 2018-2019 fiscal year alone, with $86 million coming from endorsement and sponsorship deals.
With $450 million in net worth, Roger Federer enjoys his wealth by spending on clothes, a car collection, luxurious watches, as well as houses. He has an ultra-modern mansion he built on the shores of Lake Zurich and a penthouse in Le Reve Tower in Dubai, where he regularly goes to train. He also has a foundation, the Roger Federer Foundation, which has spent more than $40 million on educational programs in Africa and his home country, Switzerland.