Not many people get to make a lasting impact in an industry like professional comedy where there is an array of professionals delivering great performances daily. The few who do, like the New York-born comedian, Rodney Dangerfield, leave an indelible print that continues to exist long after they retire or die.
In over five decades as a comedian, Rodney Dangerfield was a remarkable comedian who worked across film, television, and standup comedy. His works tackled various social issues like human sexuality, depression, alcoholism, and aging. His entire life's work is summarized by his famous one-liner – I get no respect!
We look at the life and death of the famous comedian, check it out below.
Rodney Dangerfield: Early Life and Career
Perhaps it's the make-up of the city, but New York has been known to produce several iconic comedians, one of them being Rodney Dangerfield. He was born on the 22nd of November, 1921, in Babylon, Suffolk County, Long Island. He was born to Jewish parents, Dorothy Teitelbaum and Phillip Cohen. His birth name is Jacob Rodney Cohen.
Rodney did not have a pleasant childhood. His father, who worked as a vaudevillian performer, abandoned him and his mother. To provide for him, his mother, Dorothy, relocated the rest of the family, including his sister, to Kew Gardens, Queens.
There, he attended Richmond High School and contributed to the family's finances by selling newspapers and delivering groceries.
Despite growing up in a difficult life, Rodney Dangerfield found joy in making people laugh. At the age of 15, he began to write jokes for stand-up comedians while he also started his stand-up career at a resort in Ellenville, New York. For the next nine years, he struggled financially, due to his inability to secure a high-paying stable gig.
With nine years of struggling in comedy and no breakthrough on the horizon, Rodney Dangerfield left the art. He started working as an aluminum siding salesman. Aside from the lack of prospects in comedy for him at the time, his marriage to Joyce Indig, further necessitated his need to get a well-paying job.
He began selling aluminum in the mid-1950s and did so for more than five years before the business came crashing down.
After his aluminum siding business failed, he decided to give comedy a second try, he began his second stint in the profession in the early 1960s. He began performing on stage in several hotels, particularly in the Catskill Mountains.
His return was not an immediate success until he adopted the character, Rodney Dangerfield, his career trajectory changed. He got his big break when he was invited on The Ed Sullivan Show as a last-minute replacement act. There, he delivered a performance that made him a surprise hit and launched his career.
He went on to headline major shows in Las Vegas, performed multiple times on The Ed Sullivan Show and The Dean Martin Show. He released several comedy albums, such as No Respect, Rappin' Rodney. Both projects earned him Grammy Awards.
Rodney Dangerfield started his acting career much earlier in 1956 before he found success as a comedian. He debuted in the film, That's Life and appeared in subsequent projects like The Projectionist. Following his success as a comedian, he starred in popular movies like Easy Money, Caddyshack, and Back to School.
Throughout his career, he appeared in a total of 38 movies and TV shows. He also appeared in a music video for Lionel Richie, Dancing on the Ceiling.
Aside from his onscreen work, he was also an author. He published four books, including No Respect, and I Don't Get No Respect.
He got a total of ten awards during his lifetime, including the Hollywood Walk of Fame and Lifetime Achievement Awards from Commie Awards and UCLA Jack Benny Award.
Personal Life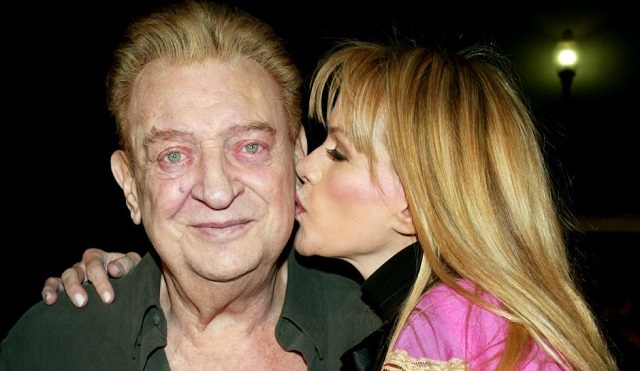 Rodney Dangerfield's first marriage was to Joyce Indig. They got married twice and stayed together for a total of 20 years.
Their first marriage began in 1949 and ended in 1962. During their first marital life together, they gave birth to a son, Brian Roy.
A year after they divorced for the first time, they remarried, lasting together until 1970 after the passing of Joyce.
23 years after his wife passed, Rodney got married to Joan Dangerfield. They tied the knot in 1993 and were together until his death.
Although they did not have any children, according to Joan, they were happy together and shared a romantic life.
See Also: Who Were The Women Rodney Dangerfield Married As Wife In His Lifetime?
How The Stand-Up Comedian Died
Towards the end of his life, Rodney Dangerfield suffered from several health challenges. On his 80th birthday, he suffered a heart attack and later underwent brain surgery to improve his blood flow at the age of 81.
On the 5th of October, 2004, at the age of 82, he passed away at the UCLA Medical Center. He was buried at Westwood Village Memorial Park Cemetery in Los Angeles.