Having risen to become an incredibly popular man who made waves as a respected stand-up comedian and revered actor in America, Rodney Dangerfield's life has always been a topic of discussion among many people. Fans have often asked about Rodney Dangerfield's children, his wife, as well as how he was able to build his career to a really enviable height during his lifetime. His work as a comedian fetched him so many accolades and awards, including a Grammy for Best Comedy Recording in 1981, among many other recognitions.
Dangerfield was also respected as a devoted husband; the comedian was married to a woman called Joan Child with whom he shared beautiful times and made wonderful memories to the admiration of his many fans. Dangerfield's relationship with Joan Child was highly admired but what many fans have often tried to find out is whether or not they had children together before death did them part.
Also noteworthy is the fact that apart from Rodney Dangerfield's children, other questions being asked about the man revolve around whether Joan Child was the only woman he was married to in his lifetime. Was he married to another woman first before meeting Joan Child? Did he have children with this other woman before he met Child? How many children does he have exactly? Let's take a look at the facts about Rodney Dangerfield.
Dangerfield's Relationship With Joan Child
According to reports, Rodney Dangerfield met his wife, Joan Child in the '80s in Santa Monica, a city in California. At the time, Joan Child had a flower shop in Santa Monica and Dangerfield had gone to the shop to do business. While there, he met her and they caught the attention of each other. The couple soon started dating and found out they shared many things in common.
Finally, in 1993, Rodney Dangerfield and Joan Child got married in front of family and friends. They remained married for more than 10 years until 2004 when Dangerfield passed away on October 5, 2004. The death of her husband left Joan Child very devastated but she eventually found the strength to move on and keep the man's legacy afloat.
Today, Joan Child is the custodian of all Rodney Dangerfield's incredibly large body of intellectual property and keeps working really hard to make sure the man's name is remembered. As a matter of fact, in 2017, she founded the Rodney Dangerfield Institute at Los Angeles City College in honor of her late husband.
Did He Have Children With Joan Child?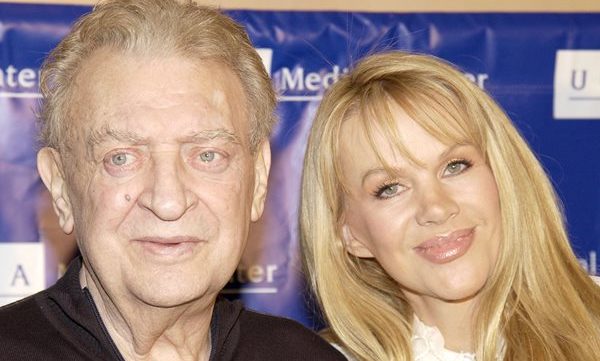 There's no doubt that Rodney Dangerfield and Joan Child had good times as a couple but did they produce any children while they were together? From our findings, Dangerfield and Joan Child never had any children together. The couple were married for more than 10 years and created some really beautiful memories together, winning admiration for themselves but did not produce any kids. It is not clear if the couple simply decided not to have children or perhaps they tried and failed to. The important thing is that they loved each other passionately.
Read Also: What is Artie Lange's Net Worth & How Does He Make Money as a Comedian?
What About His Relationship With Other Women
It is noteworthy that even though Rodney Dangerfield did not have kids with Joan Child, he did have some children with another woman to whom he was married before meeting Child. According to our findings, Dangerfield was first married to a woman called Joyce Indig.
The exact time they met and started loving each other is quite not known but we do know that they got married in 1949. However, their marriage was rocked by some problems and they went their separate ways in 1962. Surprisingly, the couple reconciled soon after and got married again the very next year in 1963, though this was not enough to keep them together. Eventually, their marital problems persisted and they divorced once again for the final time in 1970.
While their marriage lasted, Rodney Dangerfield and Joyce Indig had two children together. Their first child, a son called Brian Roy was born in 1949 and their second child, a daughter called Melanie Roy-Friedman was born later. It is not very clear what year they had their daughter.