Rod Stewart may be one of the greatest rock and roll singers of all time but it wasn't easy achieving that status. As a young boy growing up in London, England, he fancied music and football but his love for the former triumphed above all else. Determined to make headway, he took to busking and was soon selected to join a band.
The young Rod went from group to group and had to live on the streets, as well as under the bridge, in the early days of his career. Thankfully, all his sacrifices were not in vain as he has grown to become one of the greatest musicians of all time. Stewart has sold numerous records and has received several accolades including a Knighthood from the Queen in 2016. He has also built up a mouthwatering fortune, a whopping £200 million, and is now one of the richest musicians alive. Rod Stewart has a net worth of £200 million as of 2020
How the Forever Young Singer Acquired his £200 Million Net Worth
Rod Stewart has sold about 250 million records worldwide and is one of the bestselling musicians of all time.
A significant portion of Rod Stewart's £200 million net worth comes from album sales; both solo albums as well as group efforts. In the 60s and 70s, the singer and songwriter variously served as a member of some rock and roll groups such as the Jeff Beck Group and The Faces. With the Jeff Beck Group, he dropped two albums, Truth and Beck-Ola, which went on to sell a combined one million copies. With The Faces, he dropped about four albums including First Step, Long Player, A Nod Is As Good As a Wink …… To A Blind Horse (which sold 500k copies), and Ooh La La.
Whilst busy with group activities, Rod Stewart also pursued a solo career of his own. He dropped his first solo album, An Old Raincoat Won't Ever Let You Down, in 1969. It did not perform well commercially but this did not deter him from working hard. He finally struck gold with his third studio album, Every Picture Tells a Story, in 1971. It topped the charts in both the U.K. and the U.S. and also sold a million copies.
Since then, Rod Stewart has gone on to drop an additional 27 studio albums, out of which 17 has been certified platinum. He has also dropped about four live albums and 26 compilation albums, some of which have sold about a million copies each. To date, the London musician has sold from 200 – 250 million records. One record goes for as high as $8-$9 these days and the artist gets to keep about %10-%15.
His 2018 Summer Tour Grossed About $951,577
Another major contributor to Rod Stewart's net worth is his prolific touring as well as public performances. To date, the Grammy-winning musician has embarked on an impressive 31 tours including the Foot Loose & Fancy Free Tour (1977), Foolish Behaviour Tour (1980-1981), Worth Leavin' Home For Tour (1981-1982), Body Wishes Tour (1983), Camouflage Tour (1984-1985), Out Of Order Tour (1988-1989), and Vagabond Heart Tour (1991-1992).
Other tours that have contributed to Rod Stewart's net worth are A Spanner In The Works Tour (1995-1996), Heart & Soul Tour (2011-2012), From Gasoline Alley To Another Country Hits (2016), and Summer Tour (2018). The 2018 Summer Tour saw Stewart play 30 shows across 29 cities. The show was quite successful as about 325,668 tickets were sold with an average ticket price of $84.74. It grossed a total of $951,577 and saw Stewart place 63rd on Pollstar's list of the top 100 highest-grossing tours of 2018.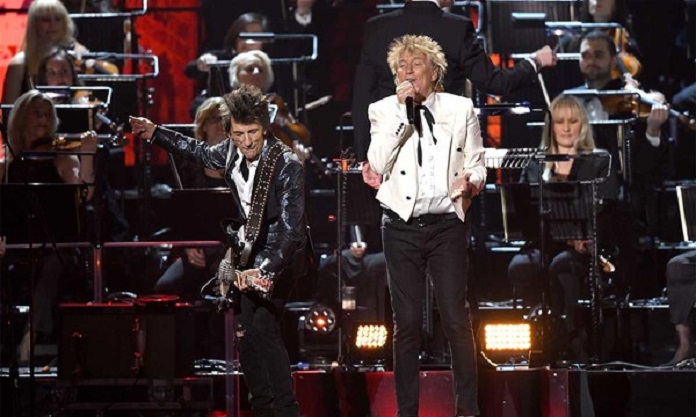 Stewart's Two-Year Las Vegas Residency Fetched a Gross of $55 Million
Las Vegas residencies are now the in-thing in the music industry and Rod Stewart has not let this lucrative opportunity pass him by. The forever young crooner launched his own residency at the Colosseum at Caesar's Palace on the 24th of August 2011. It lasted for two years and saw him play a total of 140 shows. Much of these were confined to his old hits such as Maggie May, The First Cut Is the Deepest, and You're In My Heart. They were also some surprise songs as well as a few covers.
This perfect blend, combined with Stewart's formidable stage presence, ensured that there wasn't a dry seat in the 4,100-seat venue. It was therefore no surprise that the residency grossed about $53.9 million at the box office. It must be pointed out that the whole amount will not count towards Rod Stewart's net worth as musicians only retain a fraction of the gross profits; about 85% of what is left after booking fees and taxes are paid.
The Singer Has Contributed To The Soundtrack Of Several Hollywood Productions.
Rod Stewart's net worth has further been boosted by his musical contributions to several Hollywood productions. The Grammy-winning singer has written and performed songs for the soundtracks of several movies and TV shows. Some of them are I'm Dying Up Here, Baywatch, EastEnders, The Goldbergs, The Americans, Californication, Brave Woman, The Office, Due Date, Alpha And Omega, and Dancing On Ice.
Others are Being Erica, Wedding Crashers, Soul Mate, The Sopranos, Almost Famous, and About Schmidt. Stewart's exact earnings from these shows are not available but the average fees charged for using someone's songs in a film range from $15,000 to as much as $60,000. In a situation, where the singer would be composing the entire soundtrack of a movie, they can get from $80,000 to about $120,000. If the singer is well known, as is the case with Stewart, they can get as much as $1 million.
Sources of Rod Stewart's Net Worth
Album sales – 300 million records sold
Tours/Concerts – $20 million+
Las Vegas Residency – $55 million
Soundtrack production – N/A
Stewart's Second Divorce Cost Him about $10 Million
In contrast with other rock stars of his era, Rod Stewart has lived a relatively tamed life. There is no talk of doing drugs, gambling, or drinking. He has however had his fair share of broken relationships and divorces though. To date, Stewart has been romantically linked with about eight women and has been married thrice. His first two marriages ended in divorces and he is hoping to avoid a similar fate with his third.
Back to his divorces, Rod Stewart's first marriage was to American actress, Alana Collins, in 1979. The union lasted for about five years and the couple called it quits in 1984. The reason was reportedly Stewart's extramarital affairs and there were no details on the divorce settlement. It must have been amicable though given that the proceedings did not waste time.
It was a different situation altogether when it came to Stewart's second divorce from model, Rachael Hunter. He and Hunter tied the knot in 1990 and their relationship lasted for about nine years during which they welcomed two kids. The couple later separated in 1999 and filed for divorce that same year. The proceedings lasted for about seven years due to squabbles over money. Hunter had signed a prenup and as such, wasn't entitled to Stewart's then-$175 million fortune. It however arose that she could fight for something larger given that they both owned houses in California, a state that stipulates joint ownership. She, therefore, asked for $45 million and in the end, walked away with about $12 million.
Rod Stewart's Net Worth Have Grown By About £95 Million over The Past Decade.
Stewart has enjoyed a fruitful six-decade-long career as a musician and this has reflected in his ever-increasing fortune. The London-born singer has been able to grow his net worth by about £95 Million over The 2010s Decade. According to the Sunday Times rich list, Rod Stewart had a net worth of £105 million in 2010, and in 2011, it rose by 10 million to go as high as £115 million.
For 2012, Sir Stewart added an additional £5 million to take his overall net worth to $120 million. Since then, the musician has consistently grown his net worth by £10 million each year and for 2020, he now has an estimated net worth of £200 million. This figure makes him the tenth joint richest musician in the United Kingdom alongside the likes of Ed Sheeran and Sting
Rod Stewart's Net Worth Growth over the 2010s Decade
2010 – £105 million
2011 – £115 million
2012 – £120 million
2013 – £130 million
2014 – £140 million
2015 – £150 million
2016 – £160 million
2017 – £170 million
2018 – £180 million
2019 – £190 million
2020 – £200 million
A Breakdown of Some of Rod Stewart's Bestselling Songs and Albums
Albums
A Night On The Town
Year of release – 1976
Chart – No. 1 (U.K.), No. 2 (U.S.)
Sales – 1 million (U.K.), 2 million (U.S.)
Foot Loose & Fancy Free
Year of release – 1977
Chart – No. 3 (U.K.), No. 2 (U.S.)
Sales – 1 million (U.K.) 3 million (U.S.)
Blondes Have More Fun
Year of release – 1978
Chart – No.3 (U.K.), No. 1 (U.S.)
Sales – 1 million (U.K.), 3 million (U.S.)
It Had To Be You: The Great American Songbook
Year of release – 2002
Chart – No.8 (U.K.), No. 4 (U.S.)
Sales – 2 million (U.K.), 3 million (U.S.)
As Time Goes By: The Great American Songbook Vol II
Year of release – 2003
Chart – No.4 (U.K.), No. 2 (U.S)
Sales – 2 million (U.K.), 2 million (U.S.)
Merry Christmas Baby
Year of release – 2012
Chart – No. 2 (U.K.), No.3 (U.S.)
Sales – 2 million (U.K.), 1 million (U.S)
Songs
Reason To Believe
Year of release – 1971
Chart – No.1 Billboard Hot 100
Sales – 500k copies
Tonight's The Night
Year of release – 1976
Chart – No.1 Billboard Hot 100
Sales – 500K copies
Do Ya Think I'm Sexy
Year of release 1978)
Chart – No. 1 Billboard Hot 100
Sales – 1 million copies
All For Love
Year of release – 1993
Chart – No. 1 Billboard Hot 100
Sales – 1 million copies