Life outside the basketball field has been interesting for young Boston Celtics small forward Gordon Hayward with his very supportive wife and best friend, Robyn Hayward, by his side. Although nothing much is known about Robyn and how they met, the love between the two seems to be waxing stronger and getting a lot of his fans' attention.
Gordon Hayward is already a popular figure. He is an American professional basketball player whose middle name is Daniel. He is the son of Jody and Gordon Scott Hayward and he has a sister Heather, a tennis player for Butler University. Here is all you would love to know about Gordon and his wife Robyn Hayward.
Robyn Hayward's Early Life
Born as Robyn Van Vliet, on April 8, 1994, Robyn Hayward is an Indiana native who grew up in a family known for their philanthropy. She graduated in 2013 from Bishop Chatard High School, Indiana, after which she spent a year at a cosmetology school. While in high school, Robyn, like her husband, was involved in sports but unlike Hayward, Robyn played volleyball. Her school team even won the state championship in 2012 and Robyn made it as the fourth player in Indiana during her senior year. With American nationality, Robyn belongs to white ethnicity. Although she did not take up the sports in her future career, her activities in her school's volleyball games did not go unnoticed.
Robyn's current career is not yet known but it is crystal clear that she is very supportive of her husband's career which has brought her to the spotlight. Her activities on social media such as Instagram, Twitter, and Facebook are quite impressive. On her Instagram page named RobynMHaywar for instance, where she posts pictures of herself and her family, she has more than  80,000 followers.
Her marriage to Gordon Hayward
Robyn's marriage to Boston Celtics' small forward, Gordon Hayward has been quite blissful. Although some of the couple's fans may criticize her as being too protective of her husband, the beautiful wife and mother of three remain strong for her family. According to some unconfirmed reports, Robyn and her husband went to the same high school which is where they probably met. Gordon was dating Kolbi Killingback for a period of five years until in 2012 when they separated and five months afterward, he quickly engaged Robyn.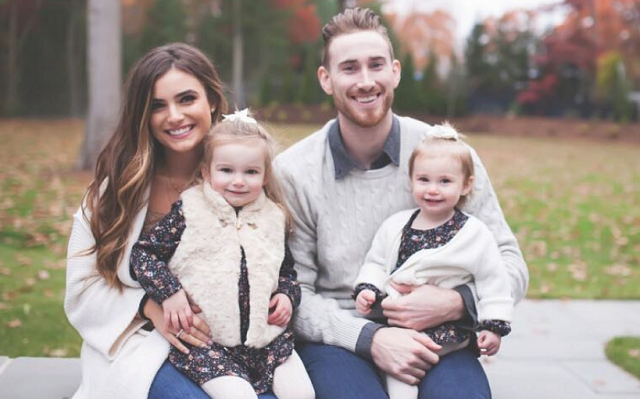 The marriage between Robyn Hayward and her husband was sealed on May 24, 2014, at St Simon the Apostle Church in Indianapolis. Two years after, particularly on June 6, 2015, the couple welcomed their first child, a daughter who they named Bernadette Marie. Their second daughter, Charlotte Margaret, joined the family on July 11, 2016, and on January 25, 2019, the family welcomed their third daughter named Nora Mae. The Haywards currently lives in Boston, Massachusetts.
 Her Family
Although information about members of her family, including her parents and siblings, are not yet known, Robyn's family are well-known philanthropists. There are reports, however, that she has an adopted sibling named Maggie, who is now a member of her family. Robyn's family works in Magdalena. The school which is located in Guatemala teaches contemporary art to both adults and children. The school also teaches life skills like baking, art, and carpentry. Robyn herself is a philanthropist. She volunteered during her freshman year and spent much of her time giving out perishable foods to those in need.
See Also: Who Is Dina Meyer, What Is Her Net Worth, Is She Married?
Robyn Hayward's Net Worth
Since Robyn's current professional career is not yet known, information about her earnings is also unknown. However, it is believed that she has a good share of her husband's huge earnings from his professional career in basketball.
Gordon Hayward began his professional career in 2017, after the 2010 NCAA basketball tournament. He made it to the 2010 NBA Draft on June 24, 2010, and was selected by the Utah Jazz with the 9th overall pick. Gordon joined the Boston Celtics on July 14, after signing a four-year, $128 million contract. His net worth is currently estimated at $10 million, according to celebrity net worth.
How Tall is She?
Haward's wife is a beautiful young woman with an average height of 5 feet 5 inches and a great bodyweight to go with. Information about her bra size, waist, and hip measurements are not yet available.