There was great sadness in the world on the 11th of February 2012 when Whitney Houston, Guinness World Record's Most Awarded Female Artist of All Time, was reported dead. One of the people to have been hugely affected by her death was Robyn Crawford, the singer's former assistant, creative director, and longtime best friend.
Robyn has since then largely stayed away from public life. This, however, ended when it came to light that she was going to publish a book about her life and time with Whitney. While many are waiting to read first-hand details of the relationship between the pair in the much-talked-about book, many people have grown curious to know more about the life of Ms. Crawford.
A Walk Through Robyn Crawford's Early Life
The former assistant to one of the best selling music artists of all time is characteristically a secretive person. Consequently, only a few details about her early life are known to the public. One of the few things about her that is public knowledge is the fact that she was born on the 17th of December, 1960, in Newark, New Jersey.
Despite being born in Newark, Robyn was raised alongside her two siblings in the city of East Orange, New Jersey by her parents who later separated. It is said that her mother left her father due to him constantly abusing her. Details of where she attended school and what level of education she attained are not known, however, following reports that Crawford left school to aid Houston's career in the late 80s, it is believed that she is somewhat educated.
Crucial Facts About Her Relationship with Withney Houston
Robyn Crawford and Whitney Houston met each other as teenagers while working at summer jobs at an East Orange summer camp. The two became best of friends as Houston described her as the "sister she never had". The duo further went on to become roommates and as Houston's career took off, Robyn became her executive assistant and later creative director.
Robyn and Whitney proved to be inseparable as you could not see one without the other, whether it was at a private event or in public. This led to many speculations in the media that the duo was involved in a lesbian relationship. In 1987, Robyn and Whitney came out to deny that they were lovers but as time would later prove, this was far from the truth. Many people who were acquainted with them believed that they had a thing going with each other. The rumors were, however, eventually laid to rest when the singer married fellow musician Bobby Brown in 1992.
Following the marriage, Robyn Crawford no longer appeared everywhere with Whitney although the pair still worked together as she was part of her management company. In this role, she served as executive assistant to Whitney Houston who starred in The Bodyguard (1992) and Waiting to Exhale (1995).
In 2000, Crawford cut-off ties with Houston and resigned from her management company over her refusal to seek help for her dependency on drugs. Many commentators who are familiar with Houston's career testify that it began to plummet from this time as her longtime friend was no longer present to help her.
After years of making headlines for the wrong reasons, Houston and Brown's marriage came to an end in 2007. Brown subsequently resurrected old rumors about his wife being a lesbian as he accused her of having been bisexual all the while they were together. He testified that his wife of 15 years was afraid to admit it publicly for the fear of being judged negatively by the public and her mother.
Nothing else was heard about the relationship between Robyn Crawford and Whitney Houston until the latter's demise in 2012. According to toxicology reports, the singer's cause of death was acute intoxication from cocaine and various other substances which made her drown in a bathtub.
Crawford wrote a tribute for her late friend that was published by Esquire magazine. In the tribute, she wrote about missing Houston and her smiles the most.
View this post on Instagram
The Truth About Robyn Crawford's Sexual Orientation
After such a long time, the jigsaw began to piece up. The rumors that Whitney Houston was in a lesbian relationship with Robyn Crawford began to sound true after Crawford declared openly that she is sexually fluid, meaning that her sexual orientation changes from time to time.
In 2019, Whitney's former assistant decided to tell the world the truth as she admitted to having a sexual relationship with the singer. She confirmed this in her book titled A Song For You: My Life With Whitney Houston, where she wrote that their romantic relationship lasted while they worked together.
According to her, although they were so much attracted to each other, they later kept their emotions at bay and focused on working on the singer's career. Indeed, Whitney's career was more important than any other thing and Crawford was more than willing to compromise her feelings for that.
SEE ALSO: Bobbi Kristina Brown – Bio, Eventual Death, and Funeral
Details About Robyn's Marriage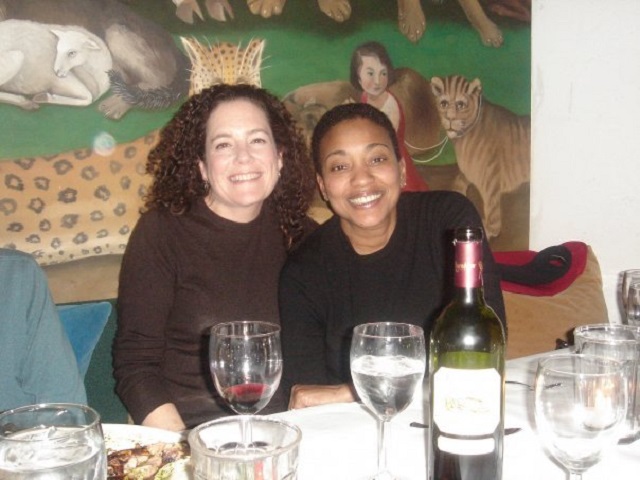 For those not in the know, Robyn Crowford who still identifies as sexually fluid is currently in an open lesbian marriage with her wife Lisa Hintelmann. As per her LinkedIn page, Crawford's wife Lisa holds a Bachelor of Arts (B.A.) degree in Communication from Boston College. She currently works as Head of Talent and Entertainment Partnerships in Audible Inc, based in Newark, New Jersey.
We discovered that Lisa may have influenced the publication of Crawford's post-mortem tribute to Houston in 2012 since her profile shows that she was the Editorial Projects Director for Esquire magazine between May 1997 and November 2016. Her profile also reveals that she was the US Entertainment Director for ELLE UK magazine between June 2012 and January 2017 as well as the Special Projects Editor for GQ between June 1993 and May 1997.
Being a lesbian has not stopped Robyn Crawford and her wife from enjoying motherhood. The duo started a family of their own when they adopted a set of twins.