There was great sadness on February 11, 2012, when Guinness World Record's Most Awarded Female Artist of All History, Whitney Houston was reported dead. Since then, Robyn Crawford – who was long considered Whitney's best friend while she lived – has stayed completely away from public life both on- and offline.
That was until it came to light that Crawford was going to publish a book about her life and time with the great singer Whitney. While the world expects the much-talked-about book, many people are asking to know more about the author. So, if you are one of those wanting to know, here are all the facts you need to know.
Robyn Crawford – Bio
The former actress/model is characteristically a secretive person, consequently, only a few details are available about her early life. Although her exact day of birth is not known, several sources testify that Robyn Crawford was born in 1963 and that her place of birth is East Orange, New Jersey. Details about her family and educational backgrounds are lacking. But she is known to be an American by nationality while her ethnicity is African-American.
Crawford is a former model and actress who played minor roles in films like The Bodyguard (1992), Waiting To Exhale (1995) and The Wonderful World of Disney (1995). But she became most famous for being the lifelong best friend of the iconic singer Whitney Houston. According to Houston, the duo met as teenagers while working at summer jobs and fell for each other. That was long before Houston herself came to prominence.
Eventually, as Whitney Houston's fame rose, her relationships with Robyn Crawford became a subject of so many media speculations. In summary, while the two were just friends, many people who were acquainted with their relationship thought they were lesbian partners. None of them confirmed or denied the rumors, but many people soon began to doubt the veracity of those rumors when Whitney married male singer Bobby Brown in 1992 and broke up publicly with Crawford in 2000.
However, many commentators who are familiar with Houston's career testify that her career began to plummet from when she broke up with Crawford. Again, when Houston and Brown divorced in 2007, Brown accused her of having been bisexual all the while and having underground affairs with Crawford. Then, upon Houston's demise in 2012, Crawford wrote a tribute for her late friend which was widely published by Esquire Magazine. In the tribute, Crawford told of missing Houston and her smiles the most.
It is being insinuated in many quarters that Houston's decline and consequent demise are linked to her separation from Robyn Crawford. How come? After Houston died in 2012, toxicology reports showed the singer's cause of death as being acute intoxication from cocaine which made her drown in a bathtub. It is after her relationship with Crawford ended publicly that Houston was known to have started relying on drugs most likely to keep herself emotionally braced up.
Bobby Brown testified that his wife of 15 years Whitney Houston was bisexual but was afraid to admit it publicly for the fear of being judged negatively by her mother. Further speculations say her drug habit was meant to help her cope with the emotional tension that resulted from this scenario while she was in a heterosexual marriage with Brown.
Robyn Crawford's Wife and Relationship With Whitney Houston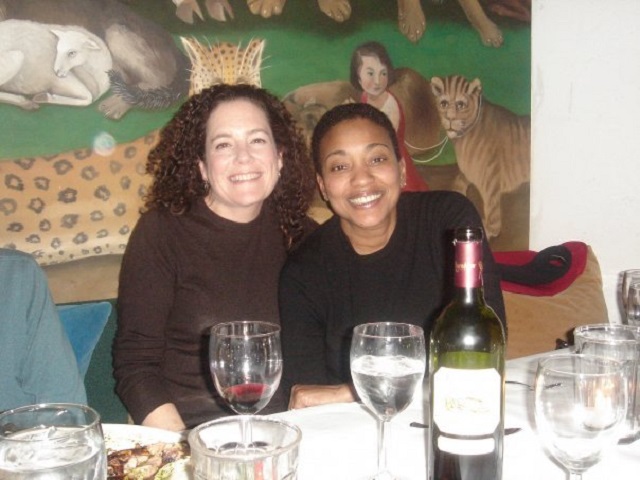 After so long a time, it seems the jigsaw is beginning to piece up. The rumors that Whitney Houston was in a lesbian relationship with Robyn Crawford may have been confirmed because Crawford has finally declared openly that she is lesbian. And she is currently in an open lesbian marriage with her wife Lisa Hintelmann.
As per LinkedIn, Crawford's wife Lisa holds a Bachelor of Arts (B.A.) degree in communication from Boston College. She currently works as Head of Talent and Entertainment Partnerships in Audible Inc, based in Newark, New Jersey. We discovered that Lisa may have influenced the publication of Crawford's post-mortem tribute to Houston in 2012 since her profile shows that she was the Editorial Projects Director for Esquire magazine between May 1997 and November 2016. Her profile also reveals that she was the US Entertainment Director for ELLE UK Magazine between June 2012 and January 2017 as well as the Special Projects Editor for GQ between June 1993 and May 1997.
SEE ALSO: Bobbi Kristina Brown – Bio, Eventual Death And Funeral 
Other Facts About Robyn Crawford
Robyn Crawford is working on a biography of Whitney Houston entitled A Song For You: My Life With Whitney Houston. The book is expected to be unveiled on November 12, 2019.

Crawford has two adopted kids – a set of twins – with her wife Lisa. They constitute a family.

She resides in New Jersey with her wife and kids and maintains no social media presence.

Robyn Crawford stands at the height of 5 feet, 9.5 inches (178cm or 1.78m) and has a listed weight of 136 lbs or 62kg. With a bra size of 33B, her bust-waist-hip ratio is 34-29-37. Her eye color is dark brown while her hair color is pitch black. Her shoe size is 9 (US).

Crawford's religion is Christianity.

Fact Check: We strive for accuracy and fairness. If you see something that needs updating,