Following his tragic death, Robin Williams' net worth became a subject of discussion among fans and the media. People were interested in knowing how much money he had made during his lifetime and how much he was leaving behind. The fact that people took an interest in how much money the man was able to amass during his career is not surprising because of the kind of success Robin Williams recorded in Hollywood. During his lifetime, Williams rose from being a shy kid to being a very influential movie star and comedian who was known for his ability to get people holding their sides with genuine laughter during his stand-up comedy gigs. He was also admired for his acting skill, stunning movie lovers with his versatility onscreen. He appeared in several high-ranking movies, raking in a lot of money and becoming one of the most beloved Hollywood stars of his time.
When he died in 2014, attention shifted to how much money he pulled in while his career lasted. Also, fans were concerned about how all his money would be shared among his family members including the kids he left behind. So, what is Robin William's net worth and what happened to the money when he died? We have gathered some facts about the man for your reading pleasure. Find out all about him below.
Robin Williams' Rise To Prominence
Robin Williams was born Robin McLaurin Williams on the 21st day of July 1951. He was born in Chicago, Illinois and had English, Welsh, Scottish, Irish, French, and German roots. As a child, Robin was a very shy child and often kept to himself while he was in school. His shyness eventually faded away when he joined his high school drama department.
From his early years, Williams was seen as a funny child who knew how to crack people up. He later credited his mother with helping to influence his humor. Williams eventually started performing standup comedy during the mid-1970s across the cities of San Francisco and Los Angeles and gained some fans who considered him one of the funniest persons they've ever listened to.
He eventually got his big break while playing the alien Mork in the sitcom Mork & Mindy. He starred in the sitcom from 1978 to 1982 gaining wide fame across the USA and beyond. Robin went on to build a really enviable career as a movie star starring in blockbusters such as Good Morning, Vietnam in 1987, Aladdin in 1992, Mrs. Doubtfire in 1993, Good Will Hunting in 1997, and What Dreams May Come in 1998 among many others.
Highly admired for his improvisation skills, Williams also established a stunning career as a standup comedian of high repute with his fame as a rib-cracker spreading round the globe. In fact, some critics have claimed that Robin Williams is one of the funniest comedians of all time.
Sadly, Robin Williams committed suicide on the 11th day of August 2014, inside his home in Paradise Cay, California. The news left many colleagues and fans in deep shock around the world.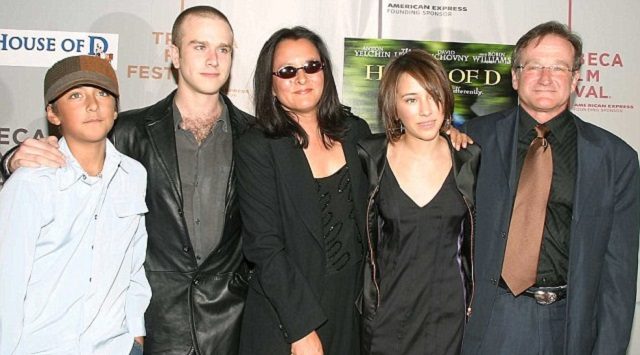 Robin Williams' Net Worth
Robbin Williams' net worth became one of the highly searched topics online when he died as fans tried to find out exactly how much he left behind. Apparently, the actor and comedian had been able to rake in a lot of money during his lifetime, having sold out countless comedy shows and starred in blockbuster movies. So, what was Robin William's net worth at the time he sadly passed away
According to sources, Robin William's net worth was about $50 million. It is noteworthy that he was a very bankable star during his career days as his movies nearly grossed a total of $5 billion worldwide.
Read Also: Daniel Craig Net Worth: How Much Does He Make From playing 007?
How His Money Was Shared Among His Kids?
Another topic which was widely discussed about Robin Williams after his passing was how his money would be shared among his children. The actor had three children; two sons identified as Zachary Pym Williams and Cody Alan Williams, and a daughter called Zelda Williams.
Sources revealed that before he died, Robin Williams had already set up a trust fund for all his children. According to the trust documents which were obtained by TMZ, each of Williams' child was to receive about 1/3 of their share of the fund at the age 21, then get what remained at the age of 25 and then receive everything in full at the age of 30.
Apparently, this trust fund helped in keeping stakeholders sane and calm after his passing, as everyone knew exactly what belonged to them.