Robin Weigert is a popular American actress who is known for her remarkably multifaceted approach to acting. A veteran in the industry, she started appearing in television series and independent movies since the late '90s and has continued thrilling the many fans who keep asking for more action from her. Having been in the industry for quite a while, Robin is now most known for the role she played in Deadwood, a 2004 HBO series as well as Concussion, a 2013 film. However, the popular actress is best described as a very private person who not much is known about her family life.
Robin Weigert's Background Details
Robin Weigert was born on the 7th of July, 1969 in Washington, D.C., the capital city of the United States of America. Her father has been identified as Wolfgang Oscar Weigert, a psychiatrist, while her mother's name has been given as Dionne Laufman. According to several sources, Robin's lineage is believed to be Jewish.
Growing up, Robin had always been interested in the arts. This interest is what informed her choice of what to study when she went to university. She attended Brandeis University in Waltham, Massachusetts, and graduated in 1991. After her graduation, she proceeded to attend the very famous New York University Tisch School of the Arts where she earned a Master of Fine Arts degree from the Graduate Acting Program. It was also during her time at Tisch School of the Arts that she honed her skills in acting.
Her Journey To Prominence in Hollywood
With a deep passion for acting, Robin Weigert started taking part in stage performances across theaters in New York and became quite popular in the city for her prowess as an actress. She kept acting in stage plays for about a decade, performing in both on and off-Broadway theatres before moving to Los Angles where she shifted focus from the theater to start making appearances in television shows.
The actress made her debut appearance on TV in 1998 when she was cast in the television film, Twelfth Night, Or What You Will. Not resting on her oars, the next year in 1999, Robin appeared in Law & Order, an American police procedural and legal drama television series in which she played the role of Denise Luca. Later on, she was seen as part of the cast of the HBO miniseries, Angels in America, as she went on to appear in a few other projects.
Robin Weigert's big break eventually came in 2004 when she was cast to play Calamity Jane in Deadwood, an American Western television series that became very popular both locally and internationally. Robin's stunning portrayal of the character in the series got her a lot of praise from critics and fans that fell in love with the character's personality. In fact, for her super-believable role interpretation in Deadwood, the actress got nominated for a Primetime Emmy Award for Outstanding Supporting Actress in a Drama Series, a development which made her really ecstatic. She has also received a Screen Actors Guild Award nomination for Outstanding Performance by an Ensemble in a Drama Series.
Since gaining prominence in Deadwood, Robin has gone on to feature in other top-ranking TV series like CSI: Crime Scene Investigation in 2005, Life in 2007, Private Practice in 2009, Sons of Anarchy in 2010, Chicago P.D. in 2014, Damien in 2016, Big Little Lies in 2017, and Dietland in 2018. For her role as Dr. Amanda Reisman in Big Little Lies, she received another Screen Actors Guild Award nomination for Outstanding Performance by an Ensemble in a Drama Series
It is noteworthy that Robin Weigert has not only featured in television series but has also made appearances in independent movies. She played Rachel in the 2005 movie, Loggerheads before proceeding to play Hannelore in the 2006 film, The Good German. She also featured in Things We Lost in the Fire in 2007, My One and Only in 2009, Concussion in 2013, Pawn Sacrifice in 2014, Mississippi Grind in 2015, New Money in 2017, and the 2019 film, Bombshell.
The Truth Behind The Speculations That She is a Lesbian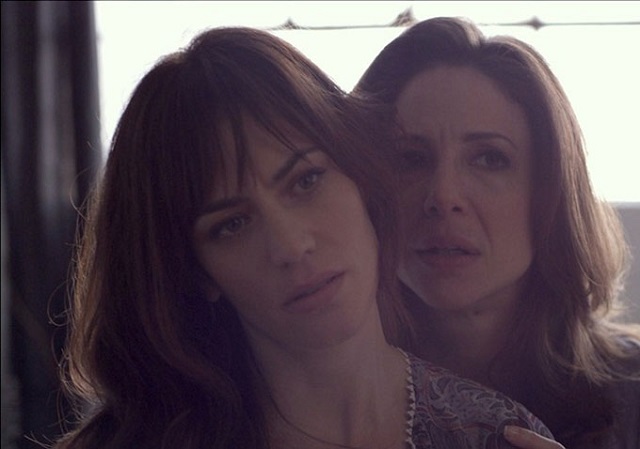 If you are an avid fan of Robin Weigert you would agree that you can hardly picture her in another role other than the drunk and outspoken Calamity Jane from the HBO series, Deadwood. When she was featured in Concussion as Abby and ended up portraying her role so well in the movie, her performance was simply described as an incredible feat that only a talented person like Robin can pull off.
Her character in the film was that of a housewife whose life took a dramatic turn after she suffered a concussion when her son accidentally hit her head with his baseball. When Abby recovered from the accident, she embraced a very daring personality of a lady who sought the affection of other women. She became intrigued by her night escapades with different ladies and even met one she wanted to commit fully to.
This movie was well received by the public but it led to some speculations that Robin Weigert might be a lesbian in real life. There has, however, not been any proof at all to back up the claims as the actress has neither confirmed nor denied the rumors which later died a natural death.
See Also: Does Elizabeth Gillies Have A Husband Or Is She Dating Anyone Now?
What We Know About Robin Weigert's Dating History
Having been in Hollywood for quite a while now, Robin Weigert has become a very popular person not just in the United States but across the world. However, even with her popularity, she has managed to keep her personal life very private as very little is known about that area, including whether she has ever been married although some people believe she is divorced. There are, however, no facts to back this claim.
This is very rare for someone in showbiz as even if she has gone to extra lengths to keep things a secret, her association with someone should have been spotted. However, for all the time Robin has been in the limelight, no partner has been linked to her.