For fans of wrestling and entertainment as a whole, Andre the Giant is a name that resonates beyond generations. His size and his time as an active member of the world of wrestling and film was a defining period in the history of entertainment, and while his legacy in his profession lives on, so does his daughter, Robin Christensen Roussimoff, who has continued to promote the legacy of her father.
Roussimoff may not be following in the footsteps of her father as a wrestler, but she has been able to keep his memory alive through appearances in Comic Conventions and occasionally in WWE. Read on to find out more about the only daughter of the wrestling icon.
Robin Christensen Roussimoff Biography
Robin Christensen Roussimoff is believed to have been born sometime in 1979 in France. Her father, Andre Rene Roussimoff, who is more popularly known as Andre the Giant, is a former French wrestler who passed away in 1993. Her mother is Jean Christensen.
Robin Christensen Roussimoff did not have much of a relationship with her father growing up, and according to her, her earliest memory of her father was at the age of 10 when she accompanied her parents to a clinic for a paternity test. The reason for the lack of relationship with her father growing up was Andre's refusal to accept the legitimacy of Robin as his daughter due to the medical implications of his condition, which meant he was unable to father a child.
However, the paternity test confirmed that Robin was indeed his daughter, and while that improved the interaction and relationship between the pair, it was not enough to become a certified father-daughter relationship as her father's work as a wrestler kept him from developing a concrete relationship with her.
Much of her life outside of her father is unknown, but since her father passed on the 23rd of January, 1993 of heart failure, Robin Christensen Roussimoff, who typically prefers living outside the popularity of her father, has made several public appearances in service of her father's legacy.
Robin travels around the country to various Comic Conventions and made an appearance in the HBO documentary, Andre the Giant, where she gave her insight and shared her knowledge of her father. She has also helped the promotion of a book, Andre the Giant: Closer to Heaven, which was written by Brandon M. Easton.
Other Facts About André The Giant's Daughter
She is Not a Fan of the WWE
Although Robin Christensen Roussimoff is the daughter of a wrestling legend who fought for the then WWF Company, she is not a fan of the present iteration of the wrestling company, WWE. She considers it to be more of a soap opera and those who are in it today do not share the gritty and action-packed nature of her father's time in the company. She also believes that the WWE is poorly run by Vince McMahon.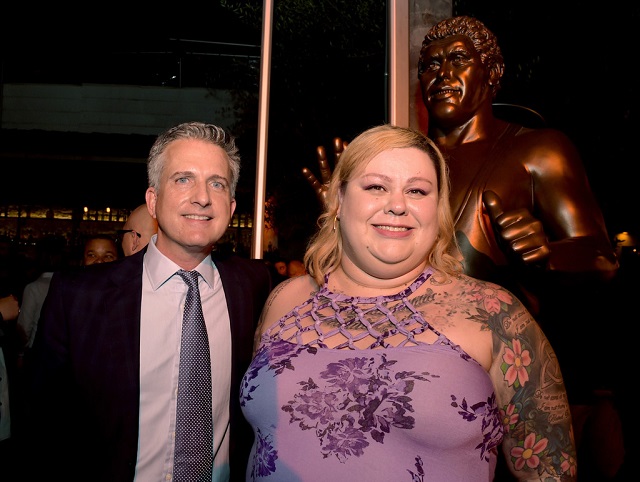 She is Just as Tall as Her Father
Robin Christensen Roussimoff's father, Andre the Giant, suffered from a condition named acromegaly, which gave him an excess growth hormone. Although Robin does not match her father's height of 7 feet 4 inches, she is equally taller than the average male or female at a height of six feet. Unlike her father, however, Robin is a tattoo aficionado and has a number of body arts all over her body, including her arms and chest.
Net Worth
As far as we know, Robin Christensen Roussimoff does not have a professional career of her own but she has been able to maintain a comfortable life having inherited a significant amount of wealth willed to her by her father after his death. Her regular appearances at Comic Cons are also believed to be a source of income, all of which has helped her to an estimated net worth of $100,000.
Her Parents Met in Wrestling
Her mother, Jean Christensen, worked in the wrestling business as a public relation official when she met her father, Andre the Giant in the early 70s. Although it is unknown if they had an actual relationship or it was a romantic fling, their romance led to the medical miracle that is Robin Christensen Roussimoff.
See Also: Galina Becker – Age, Twins, Facts About Roman Reigns' Wife
She Only Met Her Father Five Times
Robin Christensen Roussimoff did not have an ideal relationship with her father. She rarely spent time with him and the few times she had was during his visits to her hometown with his traveling WWF company. The last time she spoke with her father was in December 1992, almost a month before his eventual death in January 1993.