When Stephen Hawking passed away in March 2018, it was not only a moment of grief for the rest of the world but also for his son, British software engineer, Robert Hawking; whom many know as the heir of the Hawking legacy. Of the three Hawking kids, Robert remains the only one who showed interest in science. As the years passed, however, he too went his way, choosing rather to pursue a successful career in software engineering. Although not as widely revered in science circles as his father, Robert Hawking has surely made a name for himself. The father of two is a top-level engineer with the tech giant, Microsoft.
What It Was Like Being A Young Hawking

Robert Hawking was born in May 1967 in Hertfordshire, the United Kingdom, to parents, Jane Beryl Wilde Hawking and Stephen William Hawking. He spent the better part of his childhood in Hertfordshire alongside his two siblings – Lucy Hawking and Timothy Hawking. Their father was a renowned cosmologist and theoretical physicist while his mother was a journalist, writer, and educator best known for her memoirs. One of which became the groundwork for the 2014 biopic The Theory of Everything. There are not too many known details about Robert Hawking's childhood years except that his parents went through a bitter divorce in 1995. Robert was twenty-eight at the time.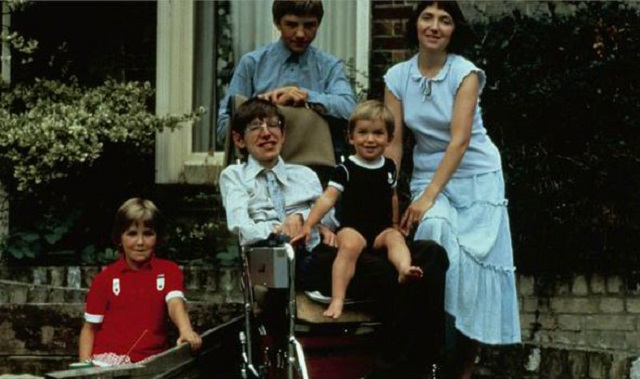 Following his graduation from high school, Robert Hawking enrolled at the University of Oxford for a bachelor's degree in software engineering. Growing up, Robert took a special liking to his father and began tending to him in a way that caught the eyes of his mom and other close family friends. Stephen Hawking had been diagnosed with Amyotrophic Lateral Sclerosis (ALS). For years, the disease had been taking its toll on his body until it reached critical points that saw him staying out of his job for months on end. It was in periods like these that Robert tended to his father in an unusual way. A responsibility he continued to do right up to his father's passing on March 14, 2018.
In her Memoir, Traveling to Infinity: My Journey With Stephen, Jane Wilde reveals that Robert was empathetic and affectionate and did things for his father that normal children should not do. Much later, Stephen Hawking would admit to his son's altruistic instincts. Among other things, Hawking admits that Robert was the only child who took an interest in science and wanted to continue the legacy of his father – even though that didn't quite happen.
Why Robert Hawking Switched Lanes 
Perhaps the first assumption for Robert Hawking's change in his career choice is that physics wasn't that interesting after all or maybe science did not run in the family after all. However, nothing can be farther from the truth. As a matter of fact, his father is not the only Hawking whose career revolved around the sciences. A short trip down history shows just that his paternal grandmother was born and raised in a family of doctors in Scotland. His grandfather served in the division of parasitology at the National Institute for Medical Research, London while his grandmother was a secretary at a medical research institute.
A generation down the family tree will reveal Robert Hawking's father; a cosmologist and theoretical physicist who served as a director at the University of Cambridge's Centre for Theoretical Cosmology. His mother, Jane, studied languages and worked as a journalist, teacher and in 1999 and 2007 became a published author.
Being the first son, Robert Hawking had the rare opportunity of knowing his father when he could still talk. An opportunity his younger brother never had. In fact, Timothy Hawking admits that his father's illness which impaired his speech did not allow for a deep father-son relationship. Stephen Hawking suffered from a rare form of motor neuron disease known as Amyotrophic Lateral Sclerosis, (ALS). The disease first affected his neurons responsible for the brain and spinal cord before paralyzing him. During a media interview, Robert's mother, Jane Wilde, explained that the illness made Stephen's speech less coherent until no one could make sense of what he was trying to say. The aid provided by Intel only did so much to augment that.
For Robert, that early relationship with his father enabled him to build an affinity for all things science. Although he did not particularly become a theoretical physicist like his father, Robert's career choice still remained within the confines of science; software engineering. As of this writing, he works with the tech giant, Microsoft at its Seattle office in Washington. Despite being born in a family partially dominated by science, none of the Hawking kids went the way of science, except Robert. His sister and brother went completely separate ways.
What Do His Siblings Do For a Living?
His sister, Catherine Lucy Hawking, was born on November 2, 1970. Like her mother, Lucy is an educator, journalist, and novelist best known for authoring children's books. Lucy and her father have co-authored several books that rang between science and creative storytelling. She married former UN Peace Corps member, Alex Smith. However, their marriage ended in divorce after six years. Lucy was so devastated by the divorce that she relapsed into alcohol abuse to cope. She eventually sought help and recovered. She has a son, William, who was diagnosed with autism. William's condition has been Lucy's major inspiration for supporting children with autism.
Robert's younger brother, Timothy Hawking, was born on April 15, 1979. Growing up, Timothy admits to never having a real conversation with his father owing to his speech impairment. He earned his bachelor's degree in Spanish as well as in the French language and now works as a top-tier loyalty executive with the toy company, LEGO.
See Also: Errol Musk – Biography, Net Worth, Facts About Elon Musk's Father
Robert Hawking Is A Father of Two

Although the fine details are largely out of reach, we do know that Robert Hawking is a married man. Though famed for being the son of a famous scientist, Robert has managed to keep a low profile. What's no secret however is that he and his wife are parents to two children- a boy and a girl. As of this writing, the family lives in Seattle, Washington, United States. They moved to the US from Canada when Robert started to work as a software engineer at Microsoft.