Comedy has always been a major staple of Hollywood productions. Even as popular genres like sci-fi and action films come and go, comic films have retained mainstream appeal and one of its biggest proponents is none other than Rob Schneider.
Schneider commenced his career in the 90s and has gone on to become one of the most popular faces in the movie world. He has acquired an extensive filmography that includes the comedy series, Saturday Night Live, as well as the films, Grown Ups and Deuce Bigalow. He has also received some recognition for his work including multiple Emmy nominations. Even though Schneider may not be one of the biggest names in Hollywood today, there is no denying the fact that he has done well for himself as well as his family.
Breaking Down Rob Schneider's Net Worth
As far as riches go, Rob Schneider has got some of it. According to reports, the comedian has a net worth in the region of $15 million and this majorly comes from his career in the creative industry.
Acting Gigs
Schneider owes a large portion of his wealth to his acting career. The San Francisco native got his first taste of showbiz as a stand-up comic in the 80s. He subsequently made his acting debut with a one-off appearance in the sitcom, 227, in 1989. Since then, Schneider has gone on to feature in several blockbuster comedies including Grown Ups, You Don't Mess with Zohan, Big Daddy, The Waterboy, Deuce Bigalow: Male Gigolo, The Hot Chick, and The Animal. Even though some of these movies have been critically panned by the critics, they were nevertheless gobbled up by theatergoers.
For instance, The Hot Chick raked in $54 million on a budget of $34 million while The Animal made $84.7 million on a budget of $47 million. On the other hand, Deuce Bigalow: Male Gigolo, which Schneider headlined, grossed an astonishing $92.9 million on a budget of $17 million.
All these make the comic a bankable star and as such, movie producers have no qualms dishing out the big bucks to secure his appearance on their project. Therefore, even though it is not known exactly how much Schneider commands for each movie role, there is no doubt that it must be a significant sum giving that he is a crowd puller.
Earnings from Stand-up Comedy
Away from acting, another source through which Rob Schneider has built his wealth is comedy. Schneider first dabbled into stand-up comedy during his days at Terra Nova High School. He subsequently proceeded to the San Francisco State University where he continued honing his skills by performing at several venues. After some time of toiling on the night club circuit, Schneider got his breakthrough when he was selected for the 13th edition of HBO's Annual Young Comedians special. His performance on the show led to an opportunity of a lifetime to work on the iconic sketch variety show, Saturday Night Live.
He started as a writer on the show (during which he won three Emmys as part of the show's writing staff) before he was promoted as a cast member, working on the show between 1990 and 1994. Since leaving SNL, Schneider has paid greater attention to his acting career. He has however not forgotten his stand-up roots and keeps on touring the country. For instance, in 2019, the San Francisco native performed at the Improv chain of comedy clubs throughout the United States. These shows were a big hit, thanks to his brand of comedy which is appropriate for a date night. Tickets for these shows didn't come cheap (the lowest is priced at $71) and as such, Rob keeps on smiling to the bank.
Investments in Production
Another thriving venture for Schneider is his off-screen work. The comedy star has been trying his hands at directing as well as producing. Schneider made his directorial debut in the 2007 comedy, Big Stan, which tells the story of the efforts of a man trying to avoid getting raped while in prison. The film grossed a decent $8.7 million against a budget of $7.5 million and it has spurred Schneider to keep on with his off-screen efforts. His latest offering is Real Rob, a sitcom that is loosely based on his real-life as well as his family. Schneider bankrolled most of the show. He also took a huge pay cut just to make sure that the project saw the light of day. All of his efforts were rewarded when the show was picked up by Netflix in 2015.
A Look At His Marital Life and Kids
Rob Schneider may not be your quintessential Hollywood star but this has not stopped him from having the full Hollywood experience, which, in this case, is multiple marriages. The Grown Ups star has been married on three occasions and his first marriage was to former model and actress, London king. The union lasted for three years (1988 and 1990) during which they had one child, Elle King. They subsequently divorced and each party went their separate way. Following the end of that first romance, Rob got married to a lady named Helena Schneider in 2002.
The marriage, just like his first, hit the rocks within a short period and they divorced in 2005. Rob Schneider is now happily married to the Mexican-American model and TV producer, Patricia Azarcoya Arce. The two first met in Los Angeles in 2010 and thereafter started a relationship and tied the knot in April 2011. Their marriage has so far produced two children – Madeline Robbie Schneider who was born in September 2016 and Miranda Scarlett Schneider who was born in 2012. The couple has also collaborated on several occasions including the Netflix sitcom, Real Rob.
See Also:  Adam Sandler's Net Worth – Find Out How Rich He Has Become
Of all the three children Rob Schneider has been able to father, his first child, Elle King, is the most popular. She has gained her popularity by not only being her father's daughter but by also creating her path in music. Elle (full name – Tanner Elle Schneider) is a singer and songwriter who specializes in the blues, rock, country, and soul genres. She delved into music at the age of 16 and has dropped two studio albums – Love Stuff and Shake the Spirit. She has also opened for acts, such as Miranda Lambert and Ed Sheeran, and has headlined two tours of her own.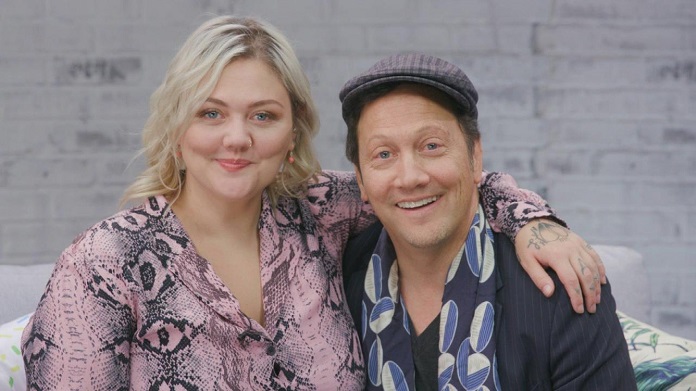 Elle King has also received two Grammy nominations, for best rock performance and best rock song. This was for her 2015 single, Ex's & Oh's, which made it to the top ten of Billboard Hot 100. The singer maintains a close relationship with her father and has appeared in some of his movies including The Benchwarmers and Wild Cherry and Deuce Bigalow: The Male Gigolo. With regards to her personal life, Elle was previously married to a guy named Andrew Ferguson. The union lasted for just a year and they divorced in 2017.