In the modern world, there has been a revolution in the way media content is consumed and the world of entertainment is no longer an autocracy under the control of Hollywood executives. Today, through websites like YouTube, anyone with a creative bone in their body can create a piece of media and share it with the world. Though the website, a number of names have risen to become internet celebrities and even, international stars, such as Rob Dyke, an Irish American storyteller.
Rob Dyke has created a reputation via YouTube as a comedian and a storyteller through his two major series, Seriously Strange and Why Would You Put That on The Internet. The success and popularity of both series, which is due to Rob's impressive ability to tell fascinating and entertaining stories, have made him the owner of a channel with over 2 million subscribers and several million views to go with it.
We further explore his background, and YouTube career below. Read on.
Rob Dyke's Biography
If you ask him today, Rob Dyke would rather you refer to him as Rob Gavagan, having implemented a change in his name for his work as a YouTuber. He was born on the 28th of October, 1987 in Massachusetts, New England to parents who are believed to be of Irish origin. Other than that, there is little information available about his familial background.
For his education, Rob Dyke is known to have attended Mount Wachusett Community College where he earned a degree in Criminal Justice. He is also believed to have earned a GED in October 2008.
With the use of his degree, he worked in a number of professional roles like being a Private Investigator, Executive Protection Specialist, Undercover Store Security and as a counselor for sexual offenders.
Rob Dyke lived as one of the faceless millions in America until he created his YouTube channel on the 10th of September, 2012. His channel which is eponymously named after him as Rob Gavagan started off with comedy sketches and vlogs, two of the most popular contents on the website.
However, after a while of uploading vlogs and sketches, Rob Dyke sought to make something unique to himself and the platform and began his two series, Seriously Strange and Why Would You Put That on the Internet.
The series, Seriously Strange, began in 2014 and is a horror series where he explores various strange and horrific stories, particularly in the true crime genre. The series has its own subseries, which include Serial Killer Files, Twisted Tens, Truth or Tale, Seriously Strange Primary, and Caught on Camera, where he discusses acquired footage of strange incidents that were caught on camera.
His second popular series, Why Would You Put That on the Internet, is a more relaxed and comedic series where he discusses videos and other media that are believed to be too ridiculous, which are sent to him on the internet by his subscribers.
The show started in January 2013 and has new videos uploaded usually on Friday or Saturday. For Seriously Strange, Rob Dyke often uploads his videos on Wednesdays.
Aside from his two major shows, Rob Dyke also runs shows like Social Autopsy, Question Everything, Seriously Ask, and Zombie Horse.
With his major series and sub-series, Rob Dyke has become one of the most popular channels on YouTube, especially in his genre, boasting of over 2.5 million subscribers on his channel and over 480 million views to go with it.
Rob Dyke's Personal Details – Meet His Girlfriend
When you are famous, fans and people in general often want to know about your relationship status. And while the phenomenon is well documented for traditional celebrities in Hollywood, popular YouTubers are not exempt from it, including Rob Dyke whose relationship status is a subject of interest.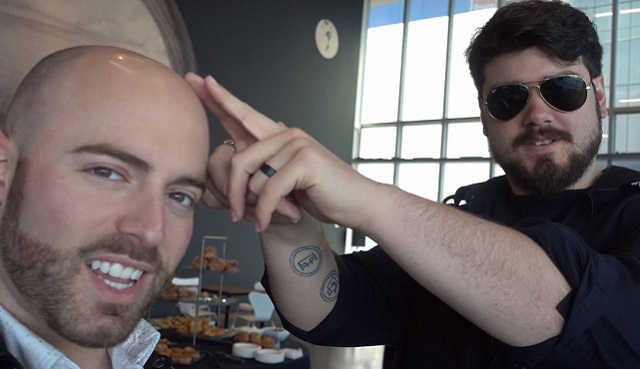 So far, Rob Dyke doesn't appear to be in any known relationships, although comments from his YouTube videos suggest he used to be in one, the identity of the former girlfriend is unknown.
At the moment, Rob Dyke appears to be focusing on his YouTube career.
See Also: Piper Rockelle – Bio, Age, Boyfriend, Other Facts About The YouTuber
Other Interesting Facts About The YouTuber
– Rob Dyke is a collaborative YouTuber and he has been known to work with other YouTubers such as Matthew Santoro, Loeybug, Cayleigh Elise, and a few others.

– Rob has an estimated net worth of $500 thousand, earned through ad revenues from his channel.

– He is a tattoo enthusiast and has a couple of them, including one on his wrists, which is a sigil of Phul, a mythical figure known to be the Lord of the Moon.

Fact Check: We strive for accuracy and fairness. If you see something that needs updating,