The American motivational speaker Rick Rigsby has made waves through his inspirational, dynamic, and empowerment presentations both in the United States and beyond. He rose to prominence in 2017 after delivering an amazing graduation speech at the California State Maritime Academy. Since then, he has continued to dominate the limelight doing what he knows how to do best.
Beyond public speaking, Rick Rigsby is also an award-winning journalist who made an impressive impact during his career. He is a published author and a  former college professor at Texas A&M University. His book Lessons from a Third Grade Dropout has since become a USA Today, Amazon, and Wall Street Journal bestseller. Learn more about Rick's bio, family, and other interesting facts in the following paragraphs.
Who is Rick Rigsby?
A native of San Francisco, California, the motivational speaker first came into this world sometime in 1956. However, the exact day and month in which he was born are currently not known. Born to black-American parents, Rick Rigsby also holds an American nationality. His father was a third-grade dropout who worked as a cook in order to make a living. According to Rick, his father influenced him greatly and taught him how to combine both knowledge and wisdom to make an impact.
Although it is not known if he is the only child of his parents, Ricky hasn't shared many details about his family. While he was growing, he completed his basic education in San Francisco. After his graduation, he enrolled at California State University, Chico where he acquired a degree in Mass Communication in 1978.
Not long after his graduation, he also got his master's degree in Public Communications from the same institution in 1987. He would later become California State University's alumnus honoree in the year 2000. Rick Rigsby also studied further and after a few years, he bagged his Ph.D. in Rhetorical Communication from the University of Oregon.
Career Accomplishments
At the initial stages of his career, Rick was made an assistant professor at Oregon; a job he did for the next two years. Before then, he had previously spent over a decade working as a reporter and TV host for a Chico-based CBS affiliate – KSHL-TV. On leaving the University of Oregon in 1992, he was hired by Texas A&M University where she spent the next 14 years of his life working as an assistant professor with his expertise as Speech Communication.
While at Texas A&M University, Rick Rigsby also served as a character coach as well as a chaplain for the school's football team – Texas A&M Aggies. For his unparalleled performances, Ricky was twice honoured as an Outstanding Professor by the College of Liberal Arts at Texas A&M University.
After 14 years of a successful career as a college professor, Rick decided to leave the academic environment. Thereafter, he founded his own company called Rick Rigsby Communications. He and his family later moved to Dallas where he started working as a motivational speaker and corporate coach. He would also start offering motivational speeches at different Christian colleges and public schools as well as sporting organizations like PGA and NFL.
Rigsby garnered wide popularity in 2017 after giving a highly motivational speech during California State Maritime Academy graduation ceremony. The speech went viral after it was posted on his YouTube channel, thus getting over 200 million views after the first few days. Since then, he has been working as the CEO and President of the Rick Rigsby Communications.
Meet Rick Rigsby's Wife and Family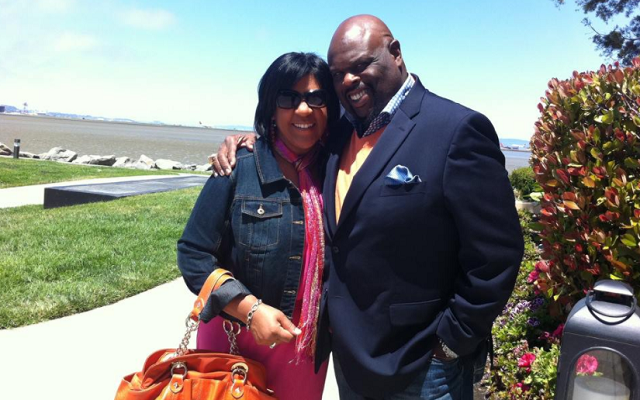 The talented motivational speaker has been married twice in his lifetime and he is also a doting father of four. His first marriage was with a woman named Trina Williams. Trina worked as a nurse at Feather River Hospital in California and they first met each other while in college. Soon after their graduation, the couple tied the knot and their union produced two kids. Sadly, Trina kicked the bucket in 1996 after a long battle with breast cancer.
After her death, Rick was heart-broken which led to a depression he struggled with for about two years. Through love and affection from his friends and family, Ricky was able to get back on his feet. He later met Janet Butcher, whom he fell in love with and eventually married in 1996. After their union, Rick and his second wife welcomed two more children.
Read Also: Kim Anderson – Bio, Family, Facts About Stevie Nicks' Ex-Husband
Other Interesting Things about the Best-Selling Author
1. Rick Rigsby currently has numerous publications and books to his name. Amazingly, his 2006 non-academic book, Lessons from a Third Grade Dropout, became an Amazon, USA Today, and Wall Street Journal bestseller.
2. Since the inception of his career as a motivational speaker, Rick has been invited to speak by different companies, service organizations, and academic communities, both in the US and beyond. Notably, his career has led him to visit Africa, Asia, Canada, and different parts of Europe.
3. The motivational speaker also supports different charity causes and is the current CEO of the organization called Impact World Group. He also founded a church known as Impact Family Ministeries.