Being a successful actor requires equal parts of both talent and practice. While the road to becoming a superstar could be rough and treacherous, Rick Hoffman has broken all the bonds; thus, fighting his way to the top. Hoffman has garnered much popularity following his outstanding performance on the American legal drama television series titled Suits where he plays the recurring role of Louis Litt. In addition, Hoffman has appeared on several movies such as Blood Work, The Day After Tomorrow, and Our Time is Up, among others.
Rick Hoffman's Bio
Rick Hoffman was born in New York City on June 12, 1970, to Gail and Charlie Hoffman. He grew up in the city of Roslyn Heights, New York where he attended The Wheatley School, Old Westbury, New York. Soon after his graduation, Rick enrolled at the University of Arizona where he obtained a bachelor's degree in theatre. He has an American nationality and belongs to the white ethnicity.
After his graduation from the University of Arizona, Hoffman moved to Los Angeles where he began his acting career. He got his first acting role in the American political action thriller titled Conspiracy Theory where he played the role of a security guard. Although he was nervous at the audition; he later got a spot in the movie, featuring alongside other stars such as Richard Donner and Julia Roberts. After that, Hoffman played minor roles in other movies including Lethal Weapon 4 where he portrayed the role of a police officer. His brilliant performance in the movie helped him to get bigger roles in the future.
Hoffman played his breakout role as Freddie Sacker in the 2000 Wall Street series titled The $treet. He also featured in the law drama series titled Philly from 2001 to 2002. His other works include Blood Work in 2002, The Day After Tomorrow, Our Time is Up and Cellular in 2004, Hostel and Jake in Progress in 2005, Smiley Face, The Condemned, and Hostel: Part II, among others.
He also played brilliant roles in televisions series including The Bernie Mach Show where he starred as Jerry Best from 2002 to 2005. Others are Crossing Jordan, CSI: Miami, The Practice, Monk, American Dad, Shark, Law & Order: Special Victims, Knight Rider, Human Target, The Mentalist, and Numb3rs, among others. He got his big break in 2011 when he joined the cast of the American legal drama series titled Suits. Hoffman has been playing the lead role as Louis Litt in the drama to date. He also starred in Ballers in 2016.
Is He Gay?
Rick Hoffman has joined the long list of actors who have been caught in the web of gay rumours. The star played the role of a gay man in the 2004 movie titled Our Time Is Up after which many of his fans thought he is gay in real life; however, this is not true. While the speculations were going about, Hoffman has neither confirmed nor made any comment to clarify the ongoing rumours. Meanwhile, the rumors died off following his numerous flings with women. Apparently, Rick Hoffman is not gay, he has a straight sexual orientation.
Does He Have A Wife or Girlfriend?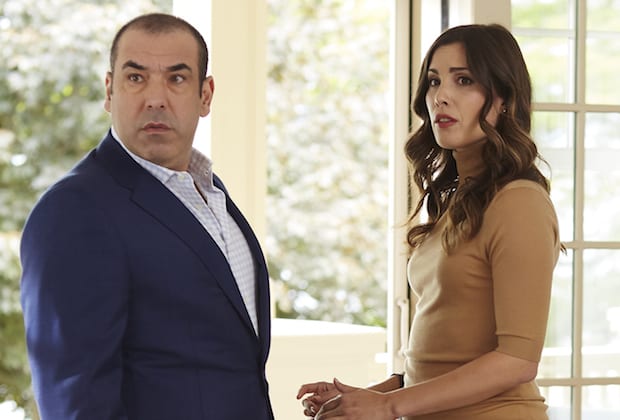 Shedding more light on his personal life, Hoffman enjoys keeping information regarding his private affairs under the shades. He has succeeded in striking a balance between his professional and personal life. Although he has a son who was born in December 2014, Hoffman has never revealed any information about his son or his baby mama. While it's greatly believed that he doesn't have a wife yet, the much we could gather is that the talented actor has parted ways with his baby mama even though they are still best of friends.
However, Hoffman has been linked to being in a relationship with a British soapy actress whose name is Stephanie Waring. The pair were spotted together having a lunch date in 2016 after which rumours began to fly around that they are having a romantic relationship. Until today, neither Stephanie nor Hoffman has ever made a comment with regards to the ongoing rumours. Just like Rick, Stephanie also has kids from her previous relationships. Apparently, Rick Hoffman is currently single and doesn't have a wife yet.