Richard Kelvin Harrison aka Rick The Spotter is a Las Vegas pawn shop owner, businessman and reality TV personality with an estimated $8 million.
Harrison rose to prominence when his family's pawn shop business was featured on History TV series Pawn Stars. He has since expanded his business portfolio. Here is a brief rundown of his life and how he made his money.
Rick Harrison Biography – Where It All Started
Rick was born on March 22, 1965, in Davidson, North Carolina. Harrison's interest in business was influenced by the "Great Britain" book series written by John D. Fitzgerald which he read while growing up.
In 1967, his family relocated to San Diego where he attended high school but later dropped out to pursue his business career. His passion for business escalated after he started making $2,000 a week from selling fake Gucci bags.
His parents were involved in the real estate business but after it failed, the family in 1981 moved to Las Vegas. Eight years later in 1989, Harrison together with his father, Richard "Old Man" Harrison opened Gold & Silver Pawn Shop located about two miles away from the Vegas strip. Fast forward to 2005, Gold & Silver was making $700,000 in interest income from loaning $3 million. Soon the pawn shop became popular among LV residents.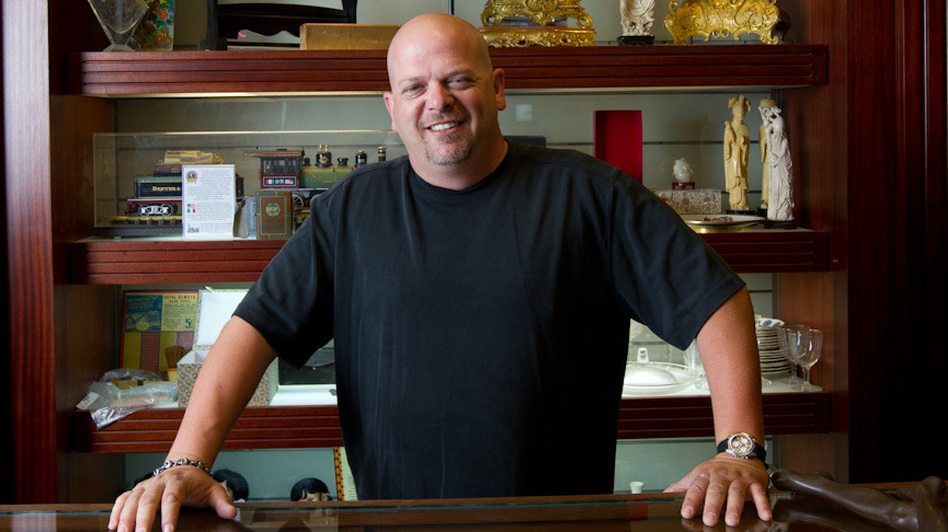 Rick Harrison's Wife and Daughter
Rick Harrison has been married thrice and we will be watching to see if the third time is the charm. The man got married to Deanna Burditt in 2013. Deanna Burditt has also been married two times before her marriage to Rick Harrison. Before her, he was married to Tracy Harrison (1986 – 2011) and Kim Harrison (1982 – 1985).
Rick Harrison actually has three sons Corey, Jake, and Adam but when he married Burditt he got three daughters in the mix. So the couple now has six children between them, hopefully, they are big happy family.
Rick Harrison Financial Standing
Gold & Silver Pawn shop made its first media feature in the Comedy Central show "Insomniac with Dave Attell" in 2003. Afterwards, Rick began pitching the idea of a pawn shop reality TV show and after four years it finally appealed to The History Channel. The original name of the show was Pawning History but was later changed to Pawn Stars, a marketing strategy as it played off the term "porn stars". It worked! Pawn Stars which debuted in 2009 became The History Channel's highest rated show by 2011.
The show features Harrison, his father, his son Corey "Big Hoss" Harrison, and Corey's childhood friend, Austin "Chumlee" Russell. The History channel renewed the series in 80-episode batches, a rarity for reality TV shows. In 2014, the family began a second show Pawnography.
In an interview conducted in 2015, Harrison revealed that he would really slow down after two more seasons of the show in order to focus on his family. However, the fate of the show is yet to be decided after one of its stars Chumlee was arrested following an alleged sexual assault. At the point of arrest, he was in possession of guns and drugs.
Should the show get cancelled, Rick would have nothing to worry about as his pawn shop will keep running. Plus Harrison has other business endeavours like his new strip mall, Pawn Plaza located along the Vegas Boulevard just south of the pawn shop which attracts thousands of visitors daily. His speed trivia game Rick Harrison's Trivia Challenge is available on Facebook, the Apple App Store and Google Play Store.
From all his endeavours, Rick can brag about having $8 million in total assets.
See Also: Bobby Flay Wife, Married, Affair, Divorce, Dating, Girlfriend, Daughter
House
When Rick Harrison went to the Centennial High School every day as a teenager, he would ride past a house that he promised would belong to him one day. In 2013, he fulfilled that dream, purchasing the house located near Ann Road and Durango Drive in the far northwest valley.

The house, according to Harrison had had only one previous owner who used it as a Moron Church property. The first floor contained a master suite, kitchen, living room, dining room, family room, two stairways and an office. Harrison utilized the spacious house for throwing parties and just generally relaxing.

In 2016, however, Harrison put up his dream house for sale and it went for two times what he got it at $2.4 million although he did refurbish it from top to bottom after he bought it so the next owner got a pretty neat deal.

Fact Check: We strive for accuracy and fairness. If you see something that needs updating,