Various sports have global competitions, which features competitors from different countries, which are often referred to as World Cups, but there is only one competition, which brings together every sport under one umbrella, celebrating the athletic achievements of the human body in various forms, and that is the Olympics. Since its modern existence in 1896, it has been featured several athletes, who have gone on to become the richest Olympians in the world.
The Olympics started in Ancient Greece as a religious and athletic festival in the sanctuary of the Greek god, Zeus in Olympia, Greece with several representatives from various city-states and kingdoms. But as the world evolved in wealth, knowledge and countries emerged, the modern Olympics, which began in 1896 in Athens, has grown to become one of the top sporting competitions in the world.
As the competition grew in popularity, so did the income of the various athletes who competed in various Olympic sports, benefiting from the massive increase in salaries and brand endorsements gained from delivering exceptional performances at the premier sporting competition.
From basketball to football to track and field, there hasn't been a shortage of names and personalities, who have not only conquered in the Olympics in medals but also in financial wealth, and without further ado, we give you a list of some of the richest Olympians in the world.
The Richest Olympians in the World Right Now
LeBron James – $400 million
When it comes to Olympians, attention is often given to athletes in individual sports but a few athletes have stood above the rest even in team sports, and one of them is LeBron James, who is often regarded to be the greatest basketball player of all time by many.
He became an Olympian in 2004 at Athens, earning his first medal, the bronze medal with Team USA. He has gone on to compete at two other Olympics, at the 2008 Beijing and 2012 London Olympics, delivering exemplary performances that helped Team USA to Gold medals in both games.
A supremely gifted basketball player, his Olympic record, combined with exceptional seasonal performances in the NBA has made him one of the highest earners in sports, along with being at the top of the list of richest Olympians in the world right now.
Roger Federer – $400 million
When it comes to Tennis as a sport, there is one name that almost universally regarded the best in the business, both in the present and of all time, that name? Roger Federer. Outside the Olympics, he has won several Grand Slams and has several victories in the ATP Tours to his name, but in the Olympics, he has also established himself as one of the best people to ever handle a racket at the Olympics.
Roger Federer has competed at four Olympics, representing Switzerland and during that time, he has won a few Olympic medals, including winning a Silver medal in the Singles game of the 2012 London Olympics and a Gold medal in the Doubles game in the 2008 Beijing Olympics.
The victories at the Olympics are part of career earnings that have earned Roger over $100 million in prize money and a total net worth of $400 million earned from brand endorsements and sponsorships to feature in this list of richest Olympians in the world.
Caitlyn Jenner – $100 million
Those who do not know Caitlyn Jenner before she became part of the interesting world of the Kardashian-Jenner family may have forgotten that before her transition, she was a formidable athlete.
Back when she was a man, as an athlete, Caitlyn Jenner played college football and made his Olympic history when he competed in the 1976 Montreal Olympics, competing in the Decathlon event.
Jenner went on to win the gold medal in the men's decathlon event, setting a third successive world record, with adulation from fans of the Olympics and his home country, where he was famously considered an all-American hero.
She only competed in the Olympics once, and she set a legacy that has lived to date. Her victory, combined with her exploits in other fields such as entrepreneurship, television, and film has earned her a personal net worth of $100 million.
Usain Bolt – $60 million
When it comes to Olympians, there is probably no name that is more popular than Usain Bolt in recent years. Usain, who is a sprinter, owns the 100m world record and is widely regarded to be the greatest sprinter in the history of the sprinting.
He has, in his locker, eight Olympic gold medals, winning all of them consecutively in the Beijing, London and Rio de Janeiro Olympics. Aside from his exploits in the Olympics, he also has several gold medals to his name in World Championships.
These accomplishments have earned him a place as one of the Richest Olympians in the world, with a total net worth of $60 million.
Michael Phelps – $55 million
Swimming might be something everyone does as exercise or for leisure but no one has done it brilliantly and efficiently as much as United States professional swimmer, Michael Phelps. If you doubt it, just take a look at his 28 medals, a number that makes him the most decorated Olympian of all time.
Michael Phelps has competed at four different Olympics, setting different world records, winning thirteen Olympic Gold medals in the process. He has also competed at the World Championships where he has also recorded several victories, and despite being retired, still holds a variety of world records.
With such a resume, it comes as no surprise that his excellence has earned him a personal net worth of $55 million.
Shaun White – $40 million
Snowboarding might not be a universal sport but it hasn't stopped it from producing talented personalities who have earned universal recognition, one of whom is Shaun White.
Shaun White is a skateboarder, a snowboarder and also dabbles in music. While there is yet to be an Olympic game for music where Shaun could show off his skills, he has gotten the chance as a snowboarder, competing at three different Winter Olympic games, at 2006 Torino, 2010 Vancouver and 2018 PyeongChang, where he won the gold medal in the Halfpipe category.
He has also won numerous victories at the Winter X Games, enough to accrue a personal net worth of $40 million and find himself on this illustrious list.
Chantal Sutherland – $20 million
The fight for equality in pay might still be a long way for women in sports, but a few of them individually has risen to command space in the male-dominated space of rich sports stars. One of them is Chantal Sutherland, who has built a personal net worth of $20 million from horse racing.
Considered to be a bougie sport, Chantal Sutherland, nevertheless has become one of the best in horse racing. Chantal is also a model and a television personality.
Mark Spitz – $20 million
Another name in the richest Olympians in the world is Mark Spitz, who wrote his name into American and Olympic history when he won seven gold medals at the 1972 Summer Olympics in Munich. The achievement was further elevated by the fact he won every single gold medal by setting a new world record. Although his total gold medals in an Olympic game has since been surpassed by Michael Phelps, his world record feat remains.
Throughout his Olympics career which spanned two Olympics in 1968 Mexico City and 1972 Munich, Mark Spitz won a total of eleven medals, winning nine gold medals, one silver, and one bronze medal.
During his active career as a swimmer, Mark Spitz set a total of thirty-five world records. It is no surprise that he has such a high net worth.
Oksana Baiul – $18 million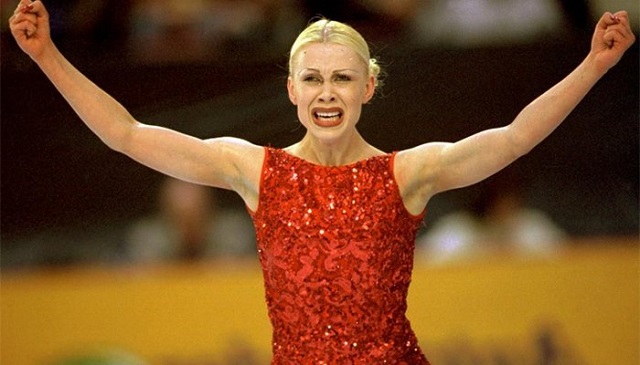 Another name on our list of richest Olympians in the world is Oksana Baiul, a figure skater from Ukraine who competed in the 1994 Olympics, winning a gold medal. Her participation in the competition made her the first figure skater from Ukraine to win a medal at the Olympics and the first and only Ukrainian to ever win a gold medal at the Winter Olympics.
With such records to her name, it comes as no surprise that Oksana Baiul has a personal net worth of $18 million to her name.
Brian Anthony Boitano – $18 million
Figure skating is one of the most elegant sports in the world, especially in the Olympics, and in its history, it has been graced by several talented athletes, including popular names like Tonya Harding. Another noteworthy name is Brian Anthony Boitano, who competed in the 1988 and 1994 Olympics.
See Also: Top 10 Richest Football Players in the World
Throughout his Olympics career, Brian Boitano won a gold medal at the 1988 Olympics and has recorded over victories at various World Championships, enough to be worth an estimated $18 million.
There are several other names who deserve a mention on the list of richest Olympians in the world, such as Cristiano Ronaldo, a soccer player who competed in the 2004 Olympic Games, although failed to win a medal, he has since gone on to become one of the best players in soccer in the world, with a personal net worth of $400 million to match.
Others include Floyd Mayweather Jr. who has a net worth of $560 million, Magic Johnson, who competed at the 1992 Olympics and has a net worth of $600 million, Cameron and Tyler Winklevoss, rowers who competed at the 2008 Olympics in Beijing, who are both worth $600 million each.