A time-honored adage has it that it is better late than never and this certainly proves true in the life of Richard Karn. Karn's acting career started a bit late, with his first credited movie role coming months after his 35th birthday, but he was determined to not let that fact make any difference in his achievements. Karn has now attained his 30th anniversary as an actor and is not even nursing the idea of retirement.
He keeps on making waves and is currently starring as Fred Peters in the comedy web TV series, PEN15, which has been airing on Hulu since February 8, 2019. He has also hosted or co-hosted a couple of eminent TV game shows in his career. So, what is the secret behind such bubbling energy that Richard has; and how has he been able to thrive in the competitive industry?
He Studied Drama at the University of Washington
Born in Seattle, Washington, USA, on February 17, 1956, his birth name is Richard Karn Wilson. His father Gene Wilson served in the United States Naval Construction Battalions (USNCB), otherwise known as the Seabees, during the Second World War. As for Richard's mother, her name is Louise Wilson but we cannot tell much about her.
We have no information about Richard's earliest days such as when and where he attended kindergarten or elementary school. But, from reliable sources, we know he attended the highly-esteemed Roosevelt High School, one of the largest in the greater Seattle area of Washington DC. Afterward, he went to the University of Washington and graduated with a degree in Drama in 1979.
Upon graduation, Karn did not waste any time before moving out to New York. He spent just a week in the city before he landed his first job, a spot in a commercial for Michelob beer. Karn subsequently joined the Screen Actors Guild using his official birth name. He was however informed that the guild already had a 'Richard Wilson' and, as a rule, they couldn't have the same name again. So, he was forced to drop 'Wilson' and use 'Karn' as his surname.
Gaining Lifelong Fame on Home Improvement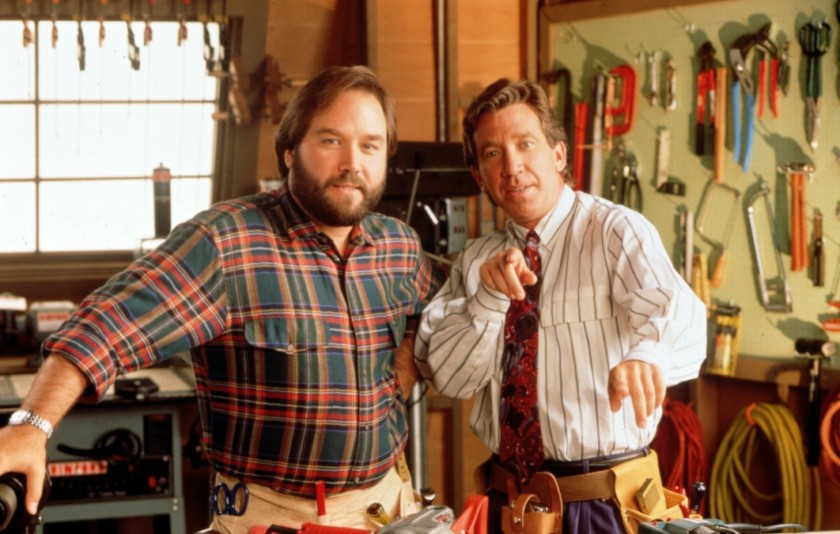 Richard Karn joined the acting profession rather late. But he came in a big way, starring on the acclaimed ABC sitcom, Home Improvement, where he acted as Al Boland. In the eight years that the show ran, Karn appeared in 202 episodes of it. He subsequently pulled off 11 credited TV roles and 16 film roles in about 38 years. These are besides four television shows he has hosted/co-hosted.
Richard's small screen projects include Boy Meets World (ABC sitcom, 1 episode, 1995); Recess (Disney Channel, 1 episode, 2000); That 70s Show (FOX sitcom, 1 episode, 2001), BizKid$, (sketch comedy, 2 episodes, 2008); Last Man Standing (live-action sitcom, 2 episodes, 2013); The Bold And The Beautiful (CBS soap opera, 2 episodes, 2017) and more.
He was the host of the CBS game show, Family Feud, between 2002 and 2006. He was also a co-host of Game Show Network's Bingo America between 2008 and 2009. Among his recent roles is Fred Peters in the current Hulu comedy web series, PEN15.
Karn Isn't Too Selective about The Roles He Play
Looking back at the career that Richard Karn has had, one fact that perhaps explains his longevity is his free-minded nature. The Seattle native isn't too selective about the projects that he takes on but rather approaches each role with an open mind and offers the best that he has got to give. This makes him an obvious choice for many producers and filmmakers. It has also resulted in a diversified filmography ranging from family comedies to thrillers and coming-of-age dramas.
For instance, Karn has featured in about three installments of the Air Bud film series. This is a movie franchise about a lonely teenager and his dog who can play different kinds of sports. Karn appeared in three installments of the series between 2002 and 2008, namely Air Buddies, Snow Buddies, and Air Bud: Seventh Inning Fetch, and portrayed a local veterinarian named Dr. Patrick Sullivan.
Moving away from that light-hearted fare, Karn also played a part in the 2014 thriller, A Daughter's Nightmare. The film chronicled the attempts of a girl named Ariel to find her missing mom, and Karn played the role of Ariel's uncle, Cam Morgan. Switching gears once more, Richard Karn is now one of the stars of Hulu comedy, PEN15. The series follows Maya Erskine and Anna Konkle as they try to navigate middle school.
Amidst bullying, bad hair days, pranks, and puberty issues, Karn portrays the role of Maya's dad, Peter. Peter is a drummer and plays in a Steely Dan cover band, and Karn has revealed that he had zilch drumming skills before filming. He, therefore, had to rely on the real Peter Erskine to give him skills and tips on how to look like a "real drummer". This statement reveals a fellow who is quite humble and willing to learn and there is no doubt that this has further contributed to his longevity in the industry.
See Also:  Who Is Brandon Barash, Who Are His Family Members and Why Did He Divorce His Wife?
Richard Karn Is Married to Tudi Roche 
Richard Karn has not only enjoyed longevity in his career but also his marriage. The actor has been happily married to his wife of over three decades named Tudi Joanne Roche. Tudi is a singer and an actress and was born on July 19, 1955. She has appeared in a couple of Broadway plays and has lent her voice to some commercials.
She also featured together with her husband on the sitcom Home Improvement that aired on the ABC Channel between September 17, 1991, and May 25, 1999. Therein, Tudi Roche acted as Carrie, the sister to Jill Taylor (filled by Patricia Richardson). The duo (Tudi and Patricia) is known to resemble each other strikingly.
Here's How The Couple Met
Karn and Tudi first met while co-starring in a Broadway play titled The Other Shore in 1983. They later commenced a relationship and, got engaged on the occasion of Tudi's birthday the following year. The couple tied the knot in 1985 and has been together ever since then.
Karn and his wife have witnessed several joys including the birth of their son Cooper Karn Wilson. They have also had to cope with serious challenges such as Tudi's brain aneurysm surgery. They have however clung to each other through it all and have emerged victorious.