As the only two-time inductee of the WWE Hall of Fame, Ric Flair is unarguably one of the greatest pro wrestlers in history. In the course of his highly decorated wrestling career which spanned around four decades, the beloved wrestler won the WCW title six times, the WWE title twice, and the NWA title eight times. With such a profile, there's no doubt that the WWE legend amassed a huge fortune in his prime and even after he retired. Here's an insight into Ric Flair's net worth, his sources of income, as well as his legacy.
Who Is Ric Flair?
The retired pro wrestler whose birth name is Fred Philips was born in Tennessee on February 25, 1949. Flair was raised by adoptive parents who renamed him Richard Morgan Fliehr and settled in Minnesota. Ric's flair for wrestling can be traced back to his high school days at Wayland Academy. He later dropped out of college after just one year to pursue other interests. It was while working as a club bouncer that Flair kicked off his career as an amateur wrestler under promoter Verne Gagne of the American Wrestling Association (AWA).
The pro-wrestling manager made his wrestling debut in 1972 with the ring name Ric Flair under the AWA. Two years later, he moved on to the National Wrestling Alliance (NWA). Flair's wrestling career suffered a major setback in the mid-'70s following a back injury he sustained from a plane crash in October 1975. Through determination and intensive physical therapy, Flair surprised naysayers when he made a comeback to the ring about a year later, though he was forced to change his wrestling techniques.
Also known as 'The Nature Boy', the blonde-haired and flamboyant wrestler went on to win several titles at the NWA United States Heavyweight Championship in the late '70s. A major highlight of Flair's career was in 1981 when he became the face of NWA.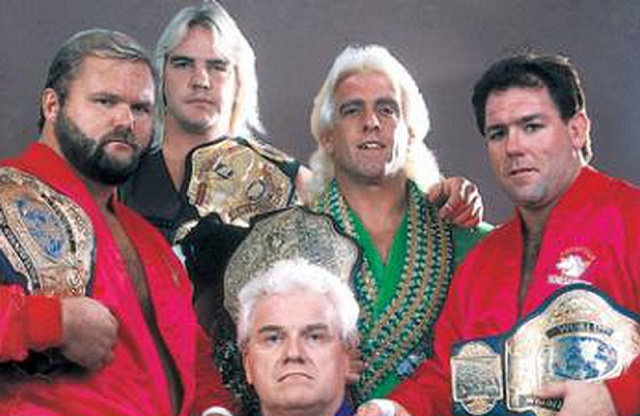 Ric Flair later became a member of a villainous group known as the Four Horsemen. In alliance with Arn Anderson, Ole Anderson, and Tully Blanchard, the group which was formed in 1985, became a formidable force within the NWA. Flair remained a bonafide member of the Four Horsemen despite several changes that had members join and quit the group over the years.
He eventually quit the WCW in 1991 and joined the World Wrestling Federation (WWF) that same year. Ric won his first WWF Championship about a year later in a Royal Rumble match before returning to the WCW in early 1993.
Flair went on to win several titles including the NWA World Heavyweight Championship, the unified WCW International World Heavyweight, and the WCW World Championship. He went on a short career hiatus and made a comeback to WWF in 2001. From 2003 to 2004, Flair and his Evolution teammate Batista won the World Tag Team Championship twice.
What Is His Net Worth?
Ric Flair's net worth is currently estimated at $3 million. Before you assume that the WWE legend's wealth is underestimated, it is pertinent to note that he's battled financial woes from his divorces and several legal issues.
For instance, his online company, Ric Flair Finance filed for bankruptcy in 2008, less than a year after it was established. In addition to his long-standing issues with the finance authorities, Flair's many debts and legal battles made him sell off most of his WWE memorabilia which inadvertently affected his wealth over the years.
See Also: We Bet You Didn't Know These Things About Dave Bautista
How Ric Flair Made His Fortune
After more than three decades of entertaining fans in the ring, Ric Flair retired from wrestling in March 2008. For his contributions to the sport, the wrestling legend was inducted into the WWE Hall of Fame a day before he officially retired, making history as the first active wrestler to be honored thus.
Other than his in-ring accomplishments, Ric Flair's net worth was also accumulated from brand endorsements. Despite the numerous controversies that plagued the wrestler's career, Flair's profile earned him a good number of endorsement deals with top brands including BYB and ticket selling company, TickPick. More so, banking on his status, the retired wrestler also makes money from signing autographs for fans.
Away from the ring, Ric Flair is regarded as an adroit businessman who, like most stars took advantage of his fame to establish an online merch. The wrestling legend's Ric Flair Shop offers a collection of quality products ranging from baby items to household items, apparel, bags, footwear, and lots more. His impressive marketing strategies account for most of Ric Flair's net worth.
Flair's life post-retirement has been everything but static. The former wrestler turned pro-wrestling manager has been busy grooming and managing the younger generation of wrestlers with his wealth of knowledge and experience. With as much as $35,000 monthly salary, Ric's management services are clearly his major source of income these days.