Life is full of peaks and valleys but staying strong in the face of hard times is very essential for us all. One can experience difficulties in many forms: financial hardship, losing a loved one, going a divorce or breakup, name it and while passing through any of these life challenges, finding your inner strength may only be possible when you dig deep enough. Sometimes, a few quotes about strength and courage may be helpful throughout the journey.
Courage and strength go hand-in-hand and are neither measured by how much you squat, curl, bench, nor is it a measure of your chest and biceps. True strength is about what you can face and how well you are able to overcome challenges. By getting back at your feet and facing the world again, your inner strength continues to grow.  Build yourself up with these top quotes about strength and courage.
Short Quotes About Strength And Courage
1. I like criticism. It makes you strong. ― LeBron James
2. Without courage, wisdom bears no fruit. ― Baltasar Gracian
3.  Never, ever ever ever ever give up. ― Winston Churchill
4. When the going gets tough, the tough get going. ― Joseph Kennedy
5. Would you walk away from Omelas? ― Ursula K. Le Guin
6. If you are going through hell, keep going ― Winston Churchill
7. ​Better to be strong than pretty and useless. ― Lilith Saintcrow
8. Where there is no struggle, there is no strength. ― Oprah Winfrey
9. That which does not kill you makes you stronger ―Friedrich Nietzsche
10. Do not pray for easy lives. Pray to be stronger men. ― John F Kennedy
11. Love is our strength to overcome the evils of the world. ― Amit Ray
12. Life shrinks or expands in proportion to one's courage. ― Anais Nin
13. You feel your strength in the experience of pain. ― Jim Morrison
14. There are better starters than me, but I'm a strong finisher.― Usain Bolt
15. Concentration is the secret of strength. ― Ralph Waldo Emerson
16. Tough times never last, but tough people do. ― Robert H. Schuller
17. The greatest test of courage on the earth is to bear defeat without losing heart.
– R. G. Ingersoll
18. A diamond is a chunk of coal that did well under pressure. ― Henry Kissinger
19. The bamboo that bends is stronger than the oak that resists. ― Japanese Proverb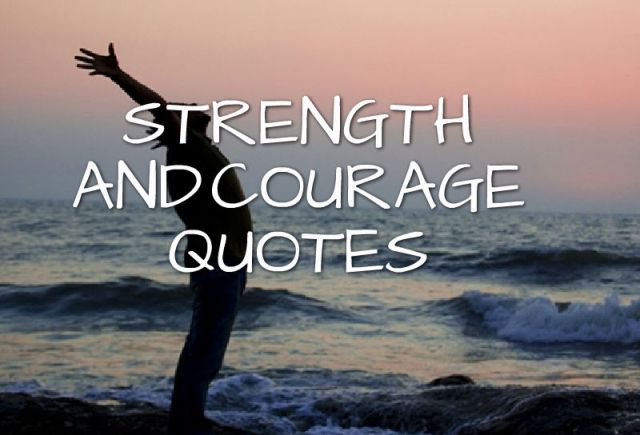 20 Courage conquers all things: it even gives strength to the body. ― Publius Ovidius Naso
21. For the strength of the pack is the wolf, and the strength of the wolf is the pack. ― Rudyard Kipling
22. Courage conquers all things: it even gives strength to the body. ― Publius Ovidius Naso
23. You may have to fight a battle more than once to win it. ― Margaret Thatcher
​24. Anyone can hide. Facing up to things, working through them, that's what makes you strong. ― Sarah Dessen
25. When you come to the end of your rope, tie a knot, and hang on. ― Franklin D. Roosevelt
26. You never know how strong you are until being strong is the only choice you have. ― Cayla Mills
27. How can you be a strong leader of men if you cower away from your own truth?
― Alannah K. Pearson
28. Build upon strengths, and weaknesses will gradually take care of themselves. ― Joyce C. Lock
29. Strength and growth come only through continuous effort and struggle. ― Napoleon Hill
30. Our greatest glory is not in never falling, but in rising every time, we fall. ― Confucius
31. Sometimes, the strength of motherhood is greater than natural laws. ― Barbara Kingsolver
32. All our dreams can come true, if we have the courage to pursue them. ― Walt Disney
33. Failure will never overtake me if my determination to succeed is strong enough.
― Og Mandino
34. Strength is the product of struggle; you must do what others don't to achieve what others won't. ― Henry Rollins
35. Success is not final, failure is not fatal: it is the courage to continue that counts. ― Winston Churchill
36. Worry does not empty tomorrow of its troubles; it empties today of its strength. ― Corrie ten Boom
37. The strongest people are not those who show strength in front of us but those who win battles we know nothing about. – Unknown
38. Most great people have attained their greatest success one step beyond their greatest failure. ― Napoleon Hill
39. Strength is the capacity to break a Hershey bar into four pieces with your bare hands – and then eat just one of the pieces. ― Judith Viorst
40. Inaction breeds doubt and fear. Action breeds confidence and courage. If you want to conquer fear, do not sit home and think about it. Go out and get busy. ― Dale Carnegie
Inspirational Quotes About Strength And Courage
41. You can't really be strong until you can see a funny side to things. ― Ken Kesey
42. Be strong. You never know who you are inspiring. ― Unknown
43. He who is not courageous enough to take risks will accomplish nothing in life. ―  Muhammad Ali
44. No one saves us but ourselves. No one can, and no one may. We ourselves must walk the path. ― Buddha
45. Being strong doesn't mean you'll never get hurt. It means even when you get hurt, you'll never let it defeat you. ― Unknown
46. Hard times don't create heroes. It is during the hard times when the 'hero' within us is revealed. ― Bob Riley
47. Do not pray for an easy life; pray for the strength to endure a difficult one ― Bruce Lee
48. Don't wait for extraordinary opportunities. Seize common occasions and make them great. Weak men wait for opportunities; strong men make them. ― Orison Swett Marden
49. Strength isn't about bearing a cross of grief or shame. Strength comes from choosing your own path and living with the consequences. ― Jenny Trout
50. Courage doesn't always roar. Sometimes courage is the quiet voice at the end of the day saying, "I will try again tomorrow." ― Mary Anne Radmacher
51. My strength did not come from lifting weights. My strength came from lifting myself up when I was knocked down. ― Bob Moore
52. Promise me you'll always remember: You're braver than you believe and stronger than you seem, and smarter than you think. ― A. A. Milne
53. "When The Going Gets Tough, Be Like The Child You Were. Fall. Then Get Up And Run Your Race!" ― Wesam Fawzi
54. Anyone can give up; it's the easiest thing in the world to do. But to hold it together when everyone would expect you to fall apart, that's true strength. ― Chris Bradford
55. Courage isn't having the strength to go on – it is going on when you don't have strength. ― Napoléon Bonaparte
56. Sometimes you don't realize your own strength until you come face to face with your greatest weakness. – Susan Gale
57. Life is like surfing. Challenges, like tidal waves, must surely come. It takes a balanced life and a firm trust in God to ride the waves of life. ― Martin Uzochukwu Ugwu
58. A hero is an ordinary individual who finds the strength to persevere and endure in spite of overwhelming obstacles. ― Christopher Reeve
59. Most of the important things in the world have been accomplished by people who have kept on trying when there seemed to be no hope at all. ― Dale Carnegie
60. I have heard there are troubles of more than one kind. Some come from ahead and some come from behind. But I've bought a big bat. I'm all ready you see. Now my troubles are going to have troubles with me! ― Dr. Seuss
61. You gain strength, courage, and confidence by every experience in which you really stop to look fear in the face. You are able to say to yourself, 'I lived through this horror. I can take the next thing that comes along. ― Eleanor Roosevelt
62. Courage is not the absence of fear but rather the judgment that something is more important than fear; The brave may not live forever, but the cautious do not live at all. ― Meg Cabot
63. I want to inspire and empower others, especially women, and to assure them that there is a way out of any challenging situation, whether they be domestic violence issues, money struggles, societal pressure, or family strife. ― Hagir Elsheikh, 
64. When you get into a tight place and everything goes against you, till it seems as though you could not hang on a minute longer, never give up then, for that is just the place and time that the tide will turn. ― Harriet Beecher Stowe
65. Courage is the ability to face challenges. Courage gives us strength to hold on to our dreams in the midst of trying times. ― Sharon Cook
66. It takes strength to be certain, it takes courage to have doubt. It takes strength to fit in, it takes courage to stand out. ― Unknown
67. Struggles often serve to release the wisdom, patience, and strength we all possess but too seldom demonstrate. ― Jim Stovall
68. Every successful person had experience failure but they overcome with courage and adamant hope. ― Lailah Gifty Akita
69. He who believes is strong; he who doubts is weak. Strong convictions precede great actions. — Louisa May Alcott
70. Difficulties are meant to rouse, not discourage. The human spirit is to grow strong by conflict. — William Ellery Channing
71. Don't wait for extraordinary opportunities. Seize common occasions and make them great. Weak men wait for opportunities; strong men make them. ― Orison Swett Marden
72. No one escapes pain, fear, and suffering. Yet from pain can come wisdom, from fear can come courage, from suffering can come strength – if we have the virtue of resilience ― Eric Greitens
73. Make up your mind that no matter what comes your way, no matter how difficult, no matter how unfair, you will do more than simply survive. You will thrive in spite of it. —Joel Osteen
74. I believe in being strong when everything seems to be going wrong. I believe that happy girls are the prettiest girls. I believe that tomorrow is another day and I believe in miracles. — Audrey Hepburn
75. It takes more courage to reveal insecurities than to hide them, more strength to relate to people than to dominate them, more 'manhood' to abide by thought-out principles rather than blind reflex. Toughness is in the soul and spirit, not in muscles and an immature mind. ― Alex Karras
Famous Quotes About Strength and Courage
76. He gives strength to the weary and increases the power of the weak ― Isaiah 40:29 (NIV)
77. Never fear the haters. You can't reach your potential without them. – Grant Cardone
78. True courage is not the brutal force of vulgar heroes, but the firm resolve of virtue and reason. ― Alfred North Whitehead
79. Shallow men believe in luck. Strong men believe in cause and effect — Ralph Waldo Emerson
80. Hire salespeople who are really smart problem solvers, but lack courage, hunger and competitiveness, and your company will go out of business. ―  Ben Horowitz
81. Every time you have the courage to face your fears, you become a stronger person. ― Barbara White
82. You never know how strong you are until being strong is the only choice you have. —  Bob Marley
83. Nothing is more beautiful than the smile that has struggled through the tears. — Demi Lovato
 84. At the end of the day, all you need is hope and strength. Hope that it will get better and strength to holds on until it does. — Anonymous
85. I beg you take courage; the brave soul can mend even disaster. — Catherine the Great
86. You were never created to live depressed, defeated, guilty, condemned, ashamed or unworthy. You were created to be victorious. — Anonymous
87. It is not because things are difficult that we do not dare, it is because we do not dare that they are difficult. ― Seneca
88. Only those who will risk going too far can possibly find out how far one can go. ― T. S. Eliot
89. Man cannot discover new oceans unless he has the courage to lose sight of the shore. ― Andre GideHermann Hesse
90. Courage is a special kind of knowledge: the knowledge of how to fear what ought to be feared and how not to fear what ought not to be feared. ― David Ben-Gurion
91. When everything seems to be going against you, remember that the airplane takes off against the wind, not with it. — Henry Ford
92. Courage is rightly esteemed the first of human qualities . . . because it is the quality which guarantees all others." ― Winston Churchill
93. A truly strong person does not need the approval of others any more than a lion needs the approval of sheep. — Vernon Howard
94. Courage is the most important of all the virtues because, without courage, you can't practice any other virtue consistently. ― Maya Angelou
95. It is a shame for a woman to grow old without ever seeing the strength and beauty of which her body is capable. ― Socrates
96. This is the year I will be stronger, braver, kinder, unstoppable and this year, I will be fierce. ― Anonymous
97. A true hero isn't measured by the size of his strength, but by the strength of his heart. ― Hercules
98. She is clothed with strength and dignity and laughs without fear of the future. ― Proverb 31:25
99. When we trust God, we find the strength, courage, and clarity needed to move beyond the people and situations that challenge what we know to be true and right in our hearts. ― Vanzant, Trust
100. Sometimes you don't realize your own strength until you come face to face with your greatest weakness ― Susan Gale
101. Life has a way of testing a persons will, either by having nothing happen at all or everything happen at once ― Pulo Coelho
102. If you can't fly then run, if you can't run then walk, if you can't walk then crawl, but whatever you do you have to keep moving forward. ― Martin Luther King, Jr.
103. When something bad happens, you have three choices: You can either let it define you, let it destroy you or let it strengthen you. ― Unknown
104. Strength does not come from winning. Your struggles develop your strengths. When you go through hardships and decide not to surrender, that is strength. ― Arnold Schwarzenegger
105. Old age is not a disease – it is strength and survivorship, triumph over all kinds of vicissitudes and disappointments, trials and illnesses. ― Maggie Kuhn
106. Let us not treat those who are ill or have been injured as if they are lazy or malingering. Instead, let us take a closer look at what courage and strength it takes to live with a physical limitation. ― Sherri Connell
107. Some people believe holding on and hanging in there are signs of great strength. However, there are times when it takes much more strength to know when to let go and then do it. ― Ann Landers
108. Out of suffering have emerged the strongest souls; the most massive characters are seared with scars. Khalil Gibran ― Anonymous
109. Do not go where the path may lead, go instead where there is no path and leave a trail. ― Ralph Waldo Emerson
110. What lies behind us and what lies before us are tiny matters compared to what lies within us. ― Ralph Waldo Emerson
111. The kind of beauty I want most is the hard-to-get kind that comes from within strength, courage and dignity. ― Ruby Dee
112. One isn't necessarily born with courage, but one is born with potential. Without courage, we cannot practice any other virtue with consistency. We can't be kind, true, merciful, generous, or honest. ― Maya Angelou
113. Never apologize for being sensitive or emotional. Let this be a sign that you've got a big heart and aren't afraid to let others see it. Showing your emotions is a sign of strength. ― Brigitte Nicole
114. Go ahead, tell me that I'm not good enough. Tell me I can't do it. Because I will show you over and over again that I can. ― Anonymous
115. There's only one requirement of any of us, and that is to be courageous. Because courage, as you might know, defines all other human behavior. ― David Letterman
116. Without courage, we cannot practice any other virtue with consistency. We can't be kind, true, merciful, generous, or honest. ― Maya Angelou
117. He who loses wealth loses much; he who loses a friend loses more; but he that loses his courage loses all. ― Miguel de Cervantes
119. Don't let the noise of others' opinions drown out your own inner voice. And most important, have the courage to follow your heart and intuition. ― Steve Jobs
120. Courage is not the absence of fear, but the triumph over it. The brave man is not he who does not feel afraid, but he who conquers that fear. ―  Nelson Mandela 
121. Have courage for the great sorrows of life and patience for the small ones; and when you have laboriously accomplished your daily task, go to sleep in peace. ― Victor Hugo
122. Whatever you do, you need courage. Whatever course you decide upon, there is always someone to tell you that you are wrong. There are always difficulties arising that tempt you to believe your critics are right.― Ralph Waldo Emerson
123. Strength and courage aren't always measured in medals and victories. They are measured in the struggles they overcome. The strongest people aren't always the people who win, but the people who don't give up when they lose ― Ashley Hodgeson
See Also: 20 Notable Obama Quotes You Should Never Forget
124. The most beautiful people we have known are those who have known defeat, known suffering, known struggle, known loss, and have found their way out of the depths. These persons have an appreciation, a sensitivity and an understanding of life that fills them with compassions, gentleness, and deep loving concern. Beautiful people do not just happen. ― Elizabeth Kubler-Ross
125. Far better is it to dare mighty things, to win glorious triumphs, even though checkered by failure…than to rank with those poor spirits who neither enjoy much nor suffer much, because they live in a gray twilight that knows not victory nor defeat. ― Theodore Roosevelt