American funny man, Zach Galifianakis is undoubtedly a famous name and recognizable face in America and the world at large. His films, The Hangover, Masterminds, Due Date has made him one of the top comedy talents in the country. One person who doesn't share a similar profile, however, is his wife, Quinn Lundberg who he has been married to since 2012.
If Zach has conquered the film industry, particularly in comedy, his wife has been doing the same in philanthropy through Growing Voices charity, which she founded. So far, Quinn Lundberg and Zach have been able to build a happy life together, void of any scandals or controversies.
We dive further into the life of Quinn Lundberg and her relationship with her famous husband below. Read on.
Quinn Lundberg's background and unwanted public exposure
Quinn Lundberg has expressed her displeasure at the media attention that has come from her husband's success as a comedian and comedic actor. She claims her husband's status has affected the extent to which she could live her life. While one might sympathize with her, she has done a good job so far of maintaining a semblance of privacy away from the media.
Her exact date of birth is unknown, only that she was born in 1983 in Edmonton, Alberta in Canada. However, not everything is hidden away. We know that she was born into a middle-class family and she spent a lot of time growing and interacting with nature as her family loved the outdoors and frequently went hiking.
We know that post-high school, Quinn Lundberg attended the City University of New York, enrolling in the school's International Conflict Resolution Baccalaureate Program, and graduated in 2010. While she was at CUNY, she met her partner, Melissa Leschuck.
Together, they established the major venture that Quinn Lundberg has only so far been known for professionally, the charity, Growing Voices. Before the charity was established, Quinn traveled to several 3rd world countries, taking in the culture and observing the quality of life in these various countries.
When Quinn Lundberg returned, she and her friend, Melissa Leschuck established the charity, which was geared towards helping underdeveloped communities grow their business and trade internally. The charity, which is headquartered in Los Angeles and run by Lundberg, focuses its effort in equipping these communities with the knowledge and skills to grow their businesses.
As part of her dedication to spending her life giving back to those who need more, she has volunteered for UNICEF and worked in the organization's web production unit.
What is her net worth?
While Zach Galifianakis is believed to be worth a sizeable $20 million, accrued from his successful career as a comedian and comedic actor which has seen him be a part of several box office successes, his wife, Quinn Lundberg on the other hand does not have a known net worth and whatever it is, she appears to be giving away a considerable sum as part of her work as a philanthropist.
Details of her relationship with Zach Galifianakis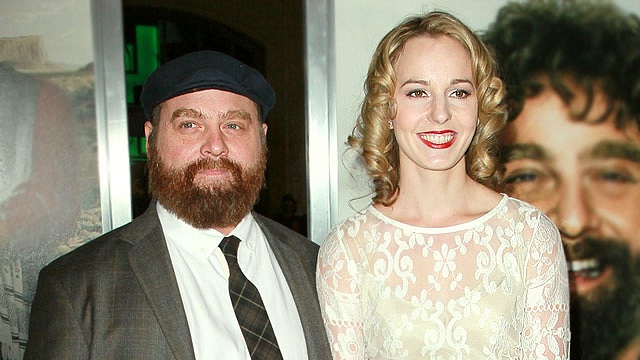 It is believed that Quinn and Zach have known each other since they were teenagers and that there is a love that developed back then that eventually blossomed into marriage on the 11th of August, 2012. The super private wedding which had in attendance close family and friends of the couple and lasted for a total of 30 minutes was held in Vancouver, Canada with a reception in a restaurant.
See Also: Claudia Valdez – Biography, Son and Facts About Gabriel Iglesias' Wife
The marriage has remained a happy union, which has been blessed with two children – two sons born on the 7th of September, 2013 and November 2016 respectively. The birth of the couple's second child, in particular, was interesting because Zach was forced to miss the premiere of his movie, Are You Here in order to be present at his birth. The second child is named Rufus.
The family split their time between Los Angeles and a farm in Sparta, Alleghany County in North Carolina.
Other Facts About Quinn Lundberg
Quinn Lundberg is a talented ballerina and an all-around accomplished dancer. As a ballerina, she once showcased her skills at Bosnia in front of Canadian Peacekeeping troops.
Her cousin, Charlie Clark is a mayor in Saskatoon, Saskatchewan a city in Canada.
As part of her education, she studied Public Policy at the University of California, Los Angeles.
Quinn Lundberg's dedication to staying away from media attention is inclusive of social media. The wife of the comedian has zero known social media presence.