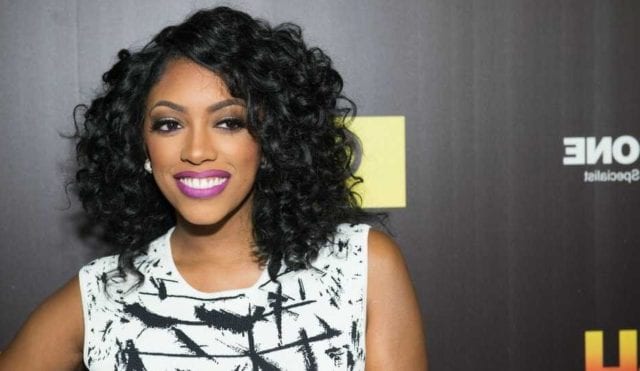 Porsha Williams is an American television personality, singer, actress, and model. She first surfaced in the limelight in 2011 following her televised lavish wedding to NFL star Kordell Stewart broadcast on WE tv's "Platinum Weddings". She gained further prominence in 2012 when she became a cast on Bravo's Real Housewives of Atlanta.
In addition to the money she earns from the Bravo series, Porsha banks from her own luxury hair products line, and as a co-host on Fox TV's Dish Nation. She also hosts her own podcast and has an interest in charity. She is estimated to be worth $1 million. She earned $700,000 for the 9th season (2016-2017) of RHOA.
Biography And Rise To Fame
Porsha Dyanne Williams was born on June 22, 1981. She hails from a prominent family in Atlanta, Georgia. Her grandfather is the well-known Hosea Williams, who was a civil rights leader, ordained minister, and businessman best-known for his association with Martin Luther King, Jr. Her own parents were self-employed entrepreneurs who influenced her to start her own business— a daycare facility at the age of 24.
Porsha attended high school at Southwest Dekalb High School in Decatur, Georgia. She attended the American InterContinental University in Schaumburg, Illinois where she studied business information technology. However, while in college, Porsha also had interest in modelling. As a result, she began appearing in music videos. After a few modelling gigs in 2005, she began working at the Lucky Lounge in Atlanta, Georgia where she met former Pittsburgh Steelers quarterback Kordell Stewart in 2009.
Who Is Porsha Williams' Husband?
Stewart and Williams tied the knot on May 2011 in a lavish wedding that was broadcast on WE tv's "Platinum Weddings".
Real Housewives of Atlanta
Porsha achieved more fame in 2012 when she was cast midway the 5th season of Real Housewives of Atlanta. She was cast alongside former Miss USA Kenya Moore whom she frequently feuds with on the show. By the end of her first season on the show, Porsha was already attending therapists sessions in order to fix her marriage. Unfortunately, it was too late as the sessions proved futile. In March 2013, after roughly 2 years of marriage, and without children, Stewart filed for divorce from her stating that their marriage was irretrievable.
Though the divorce finalized in December 2013 was widely publicized, thanks to her reality TV star status, it was, however, straightforward as the couple had put in place a prenuptial agreement before their marriage. As a result, Porsha didn't receive a dime from Stewarts' $16 million estate. She was also denied entitlements to his future income. The NFL star got to keep his 2 mansions, his vehicles including a Porshe and Mercedes, alongside his other businesses.
See Also: Cynthia Bailey Biography
In an attempt to get over her divorce and move ahead with her career, Porsha dabbled into music. She released her debut single "Flatline" in 2014 via the iTunes Store which failed to peak on the charts. Prior to her musical endeavour, she launched a career as an actress, landing the role of Jada in the stage show "A Mother's Love."
Her Financial Standing And Businesses
After appearing as a supporting actor aka friend in the 7th season, Porsha signed on as a full cast member for the 8th season which premiered on November 8, 2015. According to our sources, Porsha receives as much as $700,000 per season, though not a chicken feed, it is a far cry from the $1.8 million fellow castmate Kandi Burrus earns, which easily makes her the show's highest paid.
As typical of Real Housewives stars, Porsha who was raised by entrepreneurial parents has launched a couple of business ventures. She owns a luxury hair products line called Naked! which she retails online from $110 a piece. She also owns an innovative fitness app where she shares the diet and fitness secrets that keep her Looking Fab! On the side, she runs her own podcast.
She appeared on reality game show The New Celebrity Apprentice, the eighth installment of The Celebrity Apprentice hosted by actor and former California governor Arnold Schwarzenegger who replaced Donald Trump. Unfortunately, she was fired without raising a dime for her charity "Hosea".
Porsha Williams' Sister
Porsha has a little sister named Lauren Williams who occasionally appears on the Real Housewives of Atlanta show.
Lauren who lives with her big sister also works for her as an executive assistant as well as being the co-owner and supervisor at Naked.
The Williams sisters have had their fair share of squabbles as siblings usually do. The two just recently came at odds while discussing the future of their business ventures. Lauren has since left her sister's home and moved in with her fiance.
Porsha Williams' New House
In the Real Housewives franchise, it's almost all about the money, and stars don't shy away from any opportunity to flaunt their new buy from cars to real estates. Porsha in November 2016 purchased a new Atlanta mansion for $1.15 million, against the original asking price of $1.27 million. It became her first buy since her 2014 divorce.
The luxurious digs measure 5,920 square feet and include 5 bedrooms, 7 bathrooms as well as 5 fireplaces. The house also comes complete with a huge chef's kitchen. Plus, it is located in the same gated community as fellow real housewives star NeNe Leaks' house and is just 2 minutes apart.
See Also: Phaedra Parks Biography
The house has a property tax rate of 1.18% which means Porsha is shelling out about $13,000 to pay Uncle Sam.
The reality star couldn't hide her joy on her new purchase as she took to social media to write;

"I closed on my first home today after my divorce and I have to say I thank God and I love where I am in my life! 'No regrets lessons learned'!! #BestRevengeIsYourPaper. Won't he do it. God bless the child that got his own."

Fact Check: We strive for accuracy and fairness. If you see something that needs updating,