Known as Piper Rockelle across the web, this lass is yet to mark her 12th birthday as of this writing, but she already has over 2.6 million subscribers on YouTube. Known for her unique videos, many are quick to describe the internet sensation as simply a YouTube Star. Yet, she is far more than just that. For instance, she is even more popular on Tiktok (formerly known as Musical.ly) where she has over 4 million followers.
You certainly want to know more about such a wonder of a kid. So read on as we treat you to all the relevant and fun facts worth knowing about her.
Piper Rockelle Bio & Age
Piper Rockelle was welcomed into the human family on August 21, 2007, in Georgia, the United States of America. The child celebrity was raised by her single mother, Tiffany Rockelle alongside two brothers – Tyler Ray Hill and Hunter Ray Hill. Her brother Hunter is also a Tiktok star who is popular for his h2balla Tiktok account on which he uploads comedy videos and lip sync musicals. Hunter enjoys over 1 million-strong followership on the platform.
As for her biological father, Piper says in a sobering social media post that she does not remember him as she had only seen him once when she was younger. No one knows whether the father died or he just abandoned the family as she has not shared specific details concerning this aspect.
The child sensation, however, shares a strong bond with her mother, Tiffany and her brothers especially Hunter. She often shares her mother's pictures on her social media pages alongside heart-warming inscriptions. In one case, she posted a message saying her mother is the main reason for her smile. Also, on March 18, 2018, Piper Rockelle shared a picture with her brother Hunter in which she wished him 'Happy SaintPatricks Day'.
Although Piper Rockelle should be in school right now, we couldn't lay hands on any trace of her education history. But it is speculated in some quarters that she is homeschooled to enable her to pursue her career.
See Also: Patrick Starr – Biography, Net Worth, Gender, Ethnicity, Is He Married?
Her Boyfriend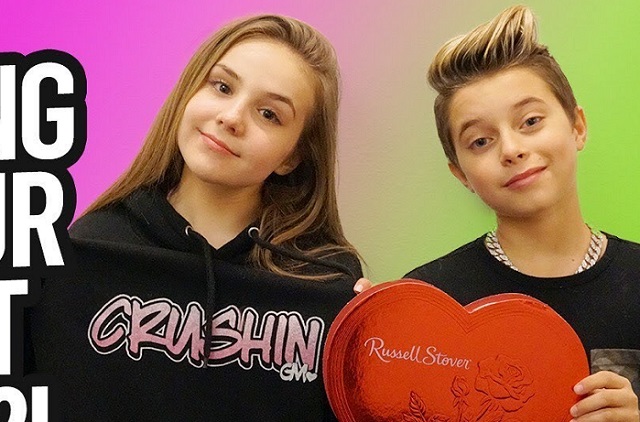 No one expects such a minor as Piper Rockelle to have started dating anyone by now. Yet something happened in mid-2018 that fuelled the rumor that she had a boyfriend.
One type of video that Piper is known for posting is prank videos. So, her brother Hunter decided to play a prank on her in this manner: while she was sleeping, Hunter handcuffed her to a boy named Hayden, and when they woke up, they struggled and tried to make sense of it all. He made a video of the scene. They eventually posted the video entitled '24 HOURS HANDCUFFED to my BOYFRIEND" on Piper's YouTube channel.
Many of the viewers of the video did not take time to notice the part that showed it was a prank video and they began to wonder how such a little girl could have had a boyfriend. Although they had a 'boyfriend' tag to Hayden in the video, she is not dating him. Instead, they are just street friends.
Another source of the rumor is a post that Piper Rockelle herself once made. She mentioned a guy named Gavin Magnus as her crush on a YouTube video in January 2019. The social media post indeed hinted that Gavin and Piper share a close bond with each other, and he frequently appears on her Youtube channel. They even address each other as boyfriend and girlfriend. But their social media relationship doesn't look 'romantic' enough for them to be described as lovers. It is possible that Piper is in one of her pranks yet again.
Other Facts About Piper Rockelle
1. Piper is known for posting a range of fun videos online. But many people may not know that she is a singer, dancer, and gymnast as well.

2. Apart from having a presence on YouTube and Tiktok, Piper Rockelle is also popular on Instagram, Twitter, and Facebook. She currently has over 1.5 million followers on Instagram.

3. Rockelle is an actress in her own right. She acted in the web series, Mani, where she portrayed the character of 'Sky'. She also featured in the 2018 short films Sitting in the '80s and Dark Eyes. She has equally appeared on the reality series Piperazzi.

Fact Check: We strive for accuracy and fairness. If you see something that needs updating,