Kim Kardashian West became mightily famous after her sex tape with Ray Jay got leaked. Apparently, it wasn't planned but ever since then, she has been in the limelight. Following her appearance in the public eye, the TV beauty started flaunting what she's got becoming arguably among the first wave of celebrities who made women around the world begin to appreciate their curves. Her rear figure which gleaned her more than one million followers and the much-talked-about sex tape are clearly what she is most known for despite having many business ventures.
And whether you love her or hate her, Kim Kardashian's backside is one of the sexiest booties in Hollywood. In fact, her beauty has kept people tuning in for episodes of Keeping up with Kardashian. Yes, it's a Kardashian world and we're just living it, people. And the fact that her stunningly tight, toned and shapely bums keep fluctuating, many won't stop talking about it. Thus gaining her a permanent place in the spotlight. Now let's take a trip down memory lane with these pictures of Kim's booty throughout the years, both the best and the bad times.
Afterward, decide for yourself if her bums are natural or artificial.
Meet Kim In 2006.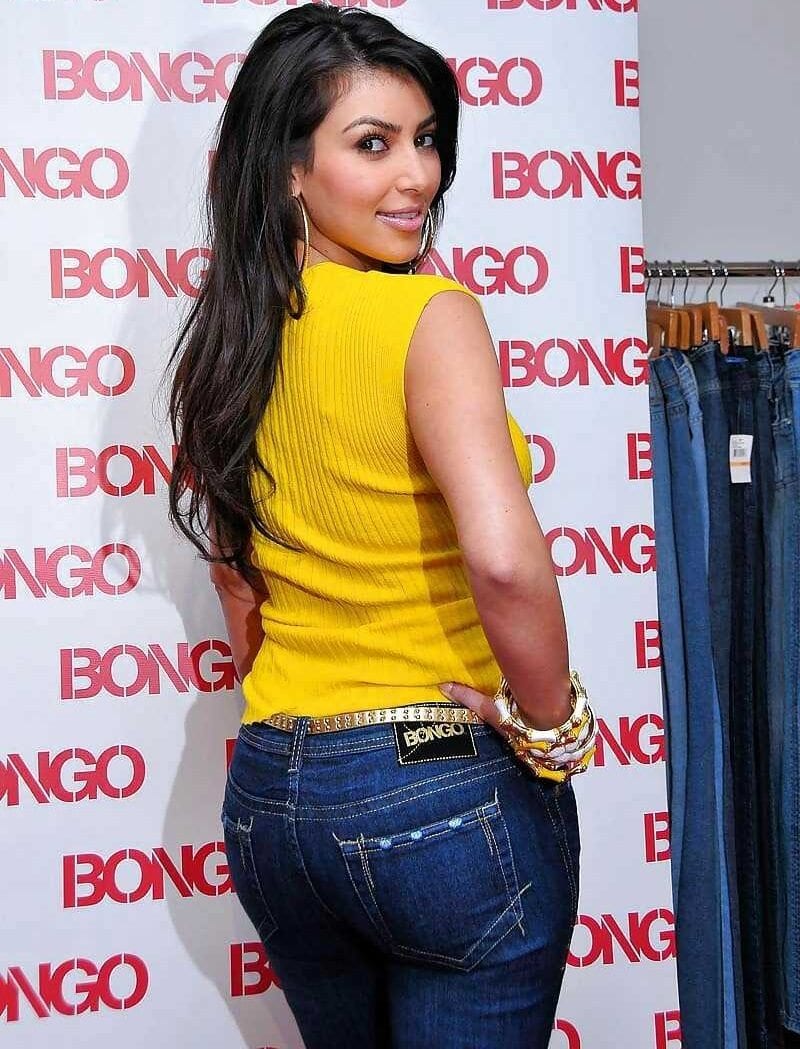 0
This photo was taken a decade ago and she undeniably changed a great deal compared to her looks now. She first came to the limelight as Paris Hilton's assistant. Fortunately, she no longer has to assist people, but instead, has a mob of assistants herself. Today, she can't stay home with this kind of outfit nor rock such shiny lipgloss. Also, her entire goods – butt, boob, midriff, etc- have changed evidently. She definitely has a beautiful butt and body but some of her wares were not the size that they are today.
Red Carpet, 2007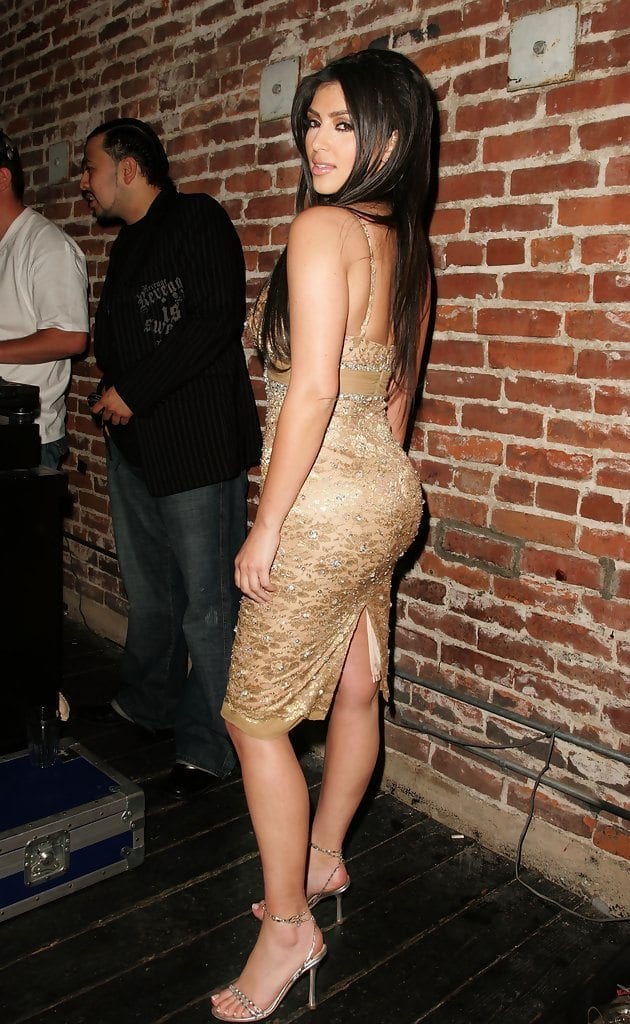 The world began hearing more about Kim Kardashian West than ever when the first season of Keeping Up with Kardashian began airing in 2007. The curvy beauty gathered both fans as well as haters afterwards. Luckily, the reality TV star who was born beautiful and who came to the limelight after her sex taped leaked absorbed all the hate and persevered until more and more people began loving her for real.
Though she looks the Kim we know now, but her butt has somewhat evolved and looks different. She always had a beautiful face, but are outfits seem strange. This tight silk dress hugs her body and highlights her booty, which looks huge on her tiny frame.
Clubbing at TAO, 2008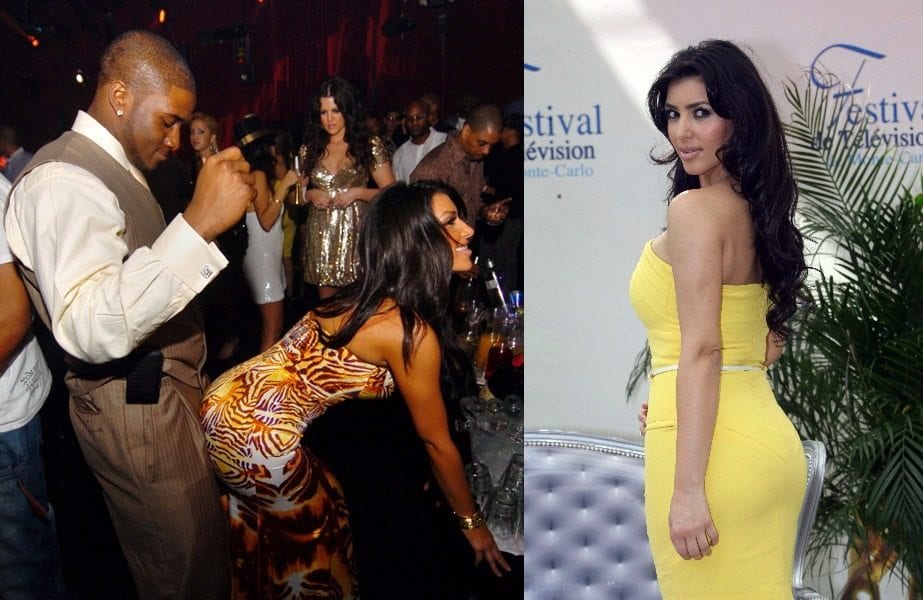 Hell bent for fun! Kim looked typically striking when she stepped out for the red carpet event for TAO Las Vegas. The Kardashians and TAO had been good friends and as a result, the swanky club has been one of the best choices of the family whenever they have an event to celebrate. As a matter of fact, it was even reported in 2014 that TAO paid Kim a $500,000 to have her birthday party celebrated at the club. It's nice to know the Kardashians are paid to grace a party and not the other way round. Of course, many clubs operate this way since celebrity faces up their notoriety, which brings in guests and profit. However, most celebrities cannot command this kind of payout for a single appearance.
Kim's huge social media presence is another advantage that must have gotten TAO convinced to make the big dip for her birthday party.
Evidently Smaller, 2008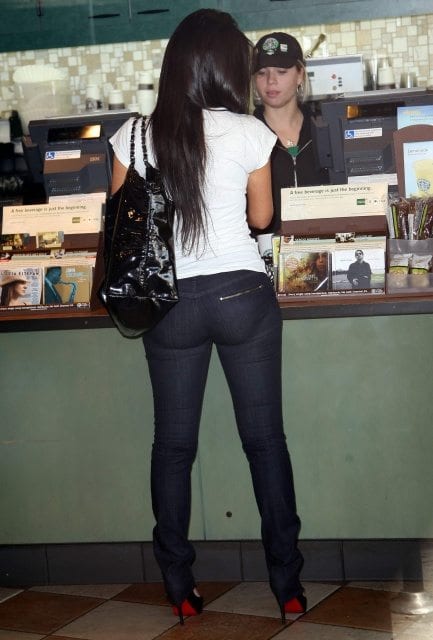 The reality television star has been flashing her endowments in a series of butt revealing outfits and 2008 wasn't any different. What was different, however, was that her butt appeared noticeably smaller than in the previous photo. It's probably the angle or the kind of outfit she is wearing but it's good we mention it. I mean the butt is still there but they don't look like Kardashian level booty we know now.
It 's likely Kim was not getting enough money from her TAO appearances or maybe her fashion tips was a total fail then. Just look at her outfit, doesn't it look adventurously odd, plus the shirt with an attacking color of yellow and the bracelet. You will agree with me that this shade of yellow is a polar opposite of what yellow actually resonates; optimism, enlightenment, and happiness.
The strangest thing about the entire look is her meager butt. This is probably the tiniest her butt has ever looked which is absolutely weird. As expected, Bongo women's jeans could be the culprit, which is bad for Bongo's image, right?
However, we can't deny that her face exuded promises of a positive future which she is clearly basking in now.
2009 Throwback Thursday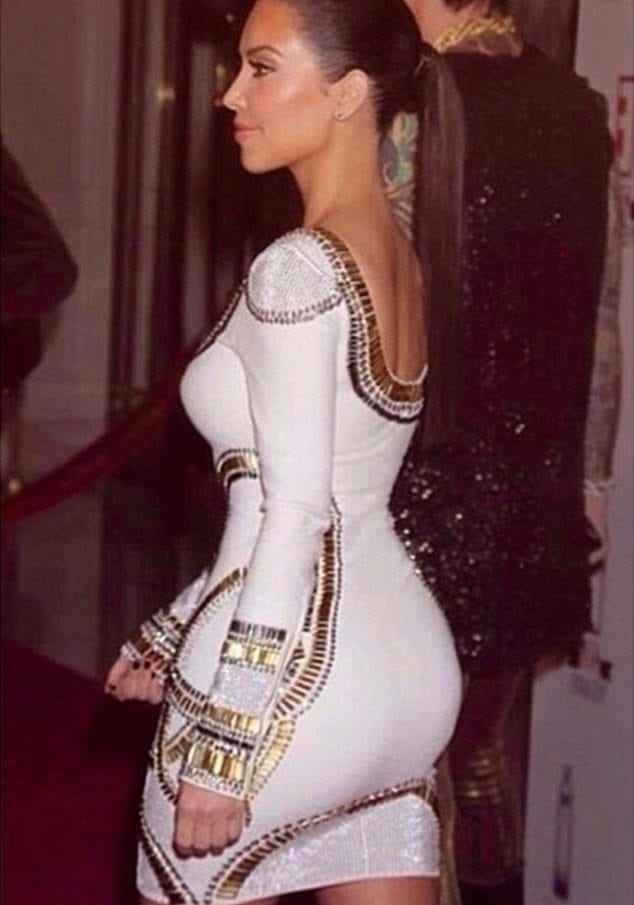 In 2009, Kim upped her style sense and became more of a fashionista than the year before. The reclusive star had possibly shared the photo to prove that she is the queen of butts.
Kim In 2010
Kim K's plump bums became fuller in 2010 and she's never been shy when it comes to eye-catching fashion. After wearing this, the style became a very important element of every girl's style especially those under 30. The TV personality is less about following trends and more about creating them, so it's no mystery that she got many young girls copying her. She wore Hervé Léger to nearly every event she graced until 2011 clearly because they flaunted every bit of her figure. In fact,  the cloth worked wonders for Kim, concealing her flaws and revealing her gorgeousness.
Black Dress, 2010
This photo further proves that Kim's full bums became fuller in 2010. Besides gaining her butt back, the star got real deals; she earned a good number of endorsement deals, including one with food chain Carl's Jr. She appeared alongside Khloe and Kourtney in the season 3 premiere of 90210. The New York Madame Tussaud's revealed a wax figure of Kim Kardashian.
She also hosted The Apprentice with future president-elect Donald Trump the same year. Additionally, Kim and her sisters released Kardashian Konfidential, an autobiography, which was listed on the New York Times Best Sellers.
However, she released a song she recorded the same year which flopped woefully….well it's not really a loss for the rich star.
The Butt X-ray, 2011
Just check her out here when she had her butt x-rayed on Keeping up with the Kardashians. Yes! it's an x-ray proving that she has always had a wide butt. The star had to do this just to end all speculations that she butt implants. Against all the odds, the doctor totally proved this by first, x-raying Kourtney's breasts, which do have implants. He then showed what an implant looks like when it's x-rayed before doing the same to Kim's bum, which showed that there is no implant.
It was indeed a fun and appealing sight to behold for the audience but they weren't buying it. Many still opined that Kim had the Brazilian butt lift done, in which fat is taken from other parts of your body and injected into your butt. These kinds of implants don't reflect in the x-ray thus putting a question mark on the experiment.
Rocking Yoga Pants In 2012
Kim seems to be leaving the gym here in her yoga pants. This look is Kim all over. Edgy, bright and overall appearing unconcerned what should and shouldn't be combined together, which is why she always looks so different to everyone else. And everyone loves the look not just because she follows their own style bible because her bum looks big and round in this photo. They are more appealing when compared to her friend's flat bottom. Yes, Kim K won this butt competition – and most butt competitions for that matter.
Post-North Body, 2013
Fans couldn't wait to see Kim Kardashian's post-baby body after she had North West on June 15, 2013.  Amazingly, the reality star beguiled on her return to the public light looking more bootiful – literally.  In fact, it was at this stage that her butt changed permanently and her post-baby photos took the obsession over her body a new height with many expressing their joy for her weight loss while others noted that her rear end looked slightly different. Despite the speculations over Kim's bottom, she remained radiant and proud of her curves.
The Belfie of 2013
The word Belfie is yet unofficial but soon enough, it will make it to the dictionary thanks to Kim Kardashian who is helping it become more popular and acceptable.  In 2013 after the long speculation that her butt changed a great deal, the Tv queen stopped the press with her massive rear end after sharing the picture of her butt and that of Blac Chyna – years before Blac Chyna crawled her way into the Kardashian empire.
When Kim K Attempted To Break The Internet, 2014
We all remember this photo that almost shattered the internet once and for all. Just look at her pose! This was when she appeared on the cover of the Winter 2014 issue of Paper Magazine. No one could stop talking about it and the talks were for good reason. Kim's body seems like it was created by a scientist. Her tiny midriff leads into her big, curvy bum. And her skin? Well,  flawlessly smooth and dimple free. Sure, this has to be the work of Photoshop but, to a great extent, she has to have the goods to start with.
Paper Magazine's website received 15.9 million views the day the photo was published. This is compared to the 25,000 views it usually gets. So, yeah, Kim's behind can bring the masses.
Kim In 2016
Here is Kim after she had Saint and as always, it didn't take her much time to shed off the baby weight. Her bum returned in its round state though many noted they seemed different from what we used to know in 2006 through 2012 as it was rounder and wider than ever.  Anyway in life change is one thing that is constant and so Kim's whole body is entitled to change especially for nurturing another human inside of her. Besides her butt, Kim's whole style changed. She graduated from her wardrobe staple – bodycon dresses – to highlighting her curves with high-waisted clothing and monochrome outfits.
Kim In 2017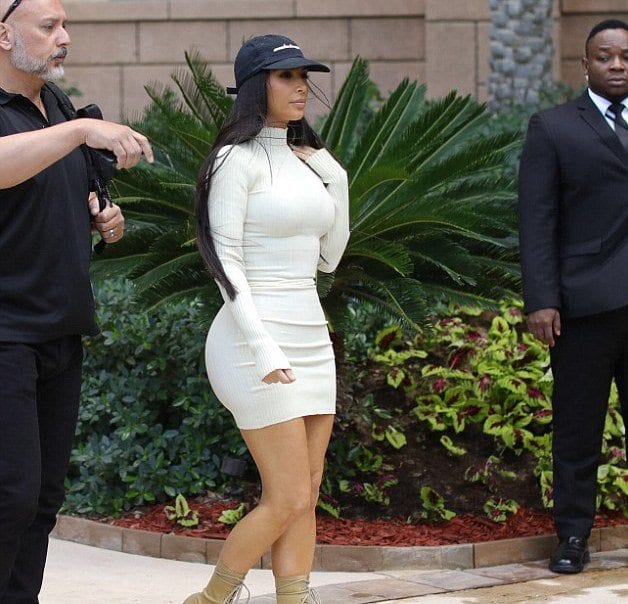 Kim appeared in 2017 showing off her shapely rear in a form-fitting white in Dubai. This was her first public appearance after the 36-year-old mother-of-two was robbed at gunpoint while on a work trip to Paris in October 2016. In the robbery, the beauty lost an estimated $10million of jewelry in the raid, including her newly upgraded $4million engagement ring. She was traumatized by the experience and hence holing up at home with her family over the festive season.