If you are looking for that player who could handle the tough demands of a running back which include to run, block and catch the ball, then you should think of no one else but Phillip Lindsay or "the Tasmanian Devil" as many of his fans would call him.
The football running back has stolen the hearts of many football lovers with his speed and exceptional ball catching skills one of such you could find in an exceptionally skilled player. Let's dig into the Colorado boy's profile.
Who is Phillip Lindsay of NFL?
Phillip Lindsay is an American football running back for the National Football League (NFL). He was born on July 24, 1994, in Denver, Colorado, but he grew up in Aurora, Colorado. He had his high school education at South High School also based in Denver and there, he took the big step towards becoming one of the most talented players of his time.
While in high school, Lindsay was identified as his team's running back, wearing the shirt number 22. His three-year career in high school was quite successful with over four thousand rushing yards despite suffering from several ACL tears.
Moving into college in January 2013, Phillip Lindsay was part of the Colorado team. However, he did not feature in the season's games because he was redshirted. He got back and played with the team from 2014 to 2017, finishing with 3775 rushing yards and 1084 receiving yards which gave him 4859 yards from scrimmage.
Wondering how Lindsay got the name Tasmanian Devil? Well, here it is – he was named so by his college coach MacIntyre following his quickness and determination on the field. Lindsay did not only make his best games as a backup running back in college, but he also led his team in return yards and kick returns. He even finished fourth on the team overall in rushing yards and was selected for the Doak Walker Award for the nation's top running back after finishing his 2017 season with a total of 301 attempts – considered the highest rushing attempts in Division I play.
Going professional, Phillip Lindsay signed as an undrafted free agent to the Denver Broncos of the NFL in 2018. After an impressive preseason, Lindsay's football talent earned him a place as the third running back on the depth chart. His first week wasn't quite bad as he recorded 2 receptions for 31 yards and rushed for 71 yards on 15 carries in Week 1 and by week 13, he earned the AFC Offensive Player of the Week award.
Who Are His Parents?
Phillip Lindsay's parents are Troy and Diane Lindsay. His father – Troy, was known for playing running back in high school and watching his son grow, he played a great role in ensuring his son started well by teaching him all it takes to be a running back.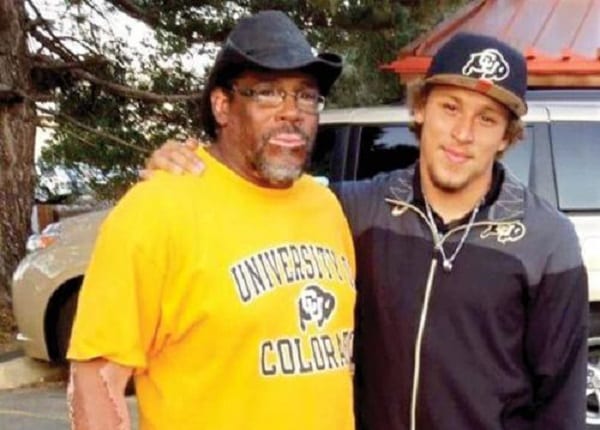 Troy played football at Thomas Jefferson High School. He also played at Colorado State but since then, he's been doing lots of coaching on the football field. Lindsay's father coached him until he joined South High School. While in High school, Lindsay wore the same jersey number 22 that his father wore during his time in High School.
Lindsay's mother Diane also joined in calling him "the Tasmanian Devil" because of his speed and "great imagination". Lindsay admits that he is fond of his parents, he goes as far as getting his father involved and seeking his opinion on his every move, especially in matters that involve his football career.
Other Facts To Know
1. He is dubbed Danny Woodhead Clone
He gained his teammates' respect because of his boundless energy. His speed, great catch, and toughness on the field make people think that he is a "Danny Woodhead Clone". Danny Woodhead is a former football running back who retired on March 13, 2018, after completing ten seasons in the National Football League. In high school, Woodhead played for Millard West High School while as a collegiate, he played for Chadron State College. He ended his NFL career with the Baltimore Ravens and finished his career with 2,238 rushing yards.
2. His Net Worth
After signing a 3-year contract worth $1,725,000 with the Denver Broncos, Phillip Lindsay got a base salary of $480,000 with a signing bonus of $15,000 and a cap hit of $485,000. His net worth is still under review.
See Also: Alex Collins Biography, Career Stats, NFL Draft, Injury
3. Scouting Report
An undrafted free agent, Phillip Lindsay has been a great player since his childhood years. He has gathered so much football experience and has, thus, become one of the best football running back of his time. His scouting report says he has excellent speed and athleticism. He is a tough player with vision and durability, and his good hands are known for hauling and catching balls in a dangerous and intimidating style. However, he is said to be undersized for the position. His straight-line speed is great but he is not so good at making lateral cuts.