| Net Worth: | $15 million |
| --- | --- |
| Salary: | N/A |
| Income Sources:</strong | Hunting career, Duck Commander and Buck Commander companies, book sales, television show |
| Age/Date of Birth: | April 24, 1946 |
| Height: | 6 feet and 2 inches |
| Nationality: | American |
| Last Updated: | 2020 |
Phil Robertson is an American professional hunter, businessman, and reality TV star. The bearded hunting enthusiast is popular for choosing hunting over the NFL, a bold choice which is to thank for his fame and wealth. Robertson has made a fortune via his multi-million hunting accessory company called Duck Commander and his record-breaking reality TV show Duck Dynasty.
Phil Robertson's net worth is estimated at $15 million as of 2020.
A Quick Look at Humble Beginnings
Phil Alexander Robertson was born on April 24, 1946, in Vivian, Louisiana. He grew up poor but happy with his 6 siblings and parents in a rustic house that had no bathroom nor electricity. The family fed off the games they hunted and from the farm which they grew fruits and vegetables and reared chicken.
Robertson was an active athlete in high school playing sports like football, baseball, and track to the state level. His athletic prowess earned him a football scholarship to study at Louisiana Tech in Ruston. In college, Robertson played for the varsity Bulldog football team as a starting quarterback. He was selected above Terry Bradshaw who would later become a Pro Football Hall of Famer.
A talented college footballer, Robertson was considered an NFL prospect. However, when the opportunity came to play in the NFL for the Washington Redskins, he rejected it, choosing instead to focus on his first love- hunting!
Robertson graduated from Louisiana Tech with a degree in Physical Education and later earned a master's degree in Education. After college, he worked as a teacher and later as a commercial fisherman.
Fortune From Duck Commander Call
When you choose hunting over a promising football career, you've got to make something legendary out of it and so did Robertson. He kept hunting but then came the 1970's and he grew tired of the conventional duck call which just didn't seem to be working anymore. In 1972, Robertson made history when he invented a new kind of duck call that couldn't have sounded more than a real duck. He named it Duck Commander call and a year later, he obtained a patent for it and established The Duck Commander Company.
The Duck Commander Company in addition to duck-hunting merchandise also manufactures deer hunting and fishing merchandise as well as apparel under the Buck Commander brand name. Over the years, Duck Commander has been groomed into a multi-million dollar enterprise with over 600,000 duck calls sold yearly. The company also earns from book sales.
By 2012, the company had an operating income of $20 million and revenue of $40 million. In 2013, the money realized from duck call sales totaled over $44.7 million. Robertson's fellow-bearded son Willie Robertson serves as the company's Chief Executive Officer. The company sponsored the NASCAR Sprint Cup Series stock car race held at Texas Motor Speedway Fort Worth, Texas from 2014 to 2016.
Analysis of Phil Robertson's Net Worth and How He Earned It
Phil has garnered up to $15 million as his net worth; all thanks to his company's – Duck Commander – earnings and the TV shows he has been part of which all make substantial amounts from advertisements. He also earns from his podcast and his autobiography which is an Amazon bestseller.
His Company, Duck Commander is worth over $40 million
Duck Commander which was incorporated in 1973 turned into a highly successful venture with a value of about $500, 000 in the 80s. Over time, the company birthed two other businesses/brands under it which are Buck Commander which produces deer-hunting merchandise, and Strut Commander which produces turkey hunting merchandise. Currently, Phil Robertson's Duck Commander now has a value of over $40 million.
TV Shows, from Duck Commander (worth $1 million) to Duck Dynasty (worth $80 million)
Following the enormous success of Duck Commander, Robertson, and his family including his wife and four children landed a TV show on the Outdoor Channel aptly titled Duck Commander which aired from 2009 to 2010. The show had an estimated budget of $500, 000 when it was started but by the time it was ending, Phil and his family were able to make almost $1 million from it. The show spawned the spin-off "Presents: Buck Commander Protected by Under Armour" which aired in 2011.
In 2012, the family premiered a new show on A&E titled the Duck Dynasty. The reality TV show follows the lives of the bearded men and their wives as they build their company and learn more about the Christian faith. Duck Dynasty has enjoyed exponential ratings on A&E and even broken records. In its fourth season, the show recorded over 11.8 million viewers to become the most-watched nonfiction series in cable TV history. The show did not only make Robertson rich but also famous. In the first 9 months of 2013, Duck Dynasty grossed over $80 million from adverts. The family earns at least $200,000 per episode. The show ended after its 11th season in 2017 precisely on March 29th.
Aside his family's TV show, Phil has appeared in other TV shows and also earned from them. These shows include "In the Woods with Phil" on BlazeTV from 2017 to 2020, as a producer and director on "The View", "Fox and Friends", "Larry King Now," "Hannity" and "Good Morning America."
Phil's Autobiography has sold over 1 million copies
Aside from his company and television shows, Phil Robertson is also a writer and has a book to his name. The professional hunter authored the book Happy, Happy, Happy: My Life and Legacy as the Duck Commander with Mark Schlabach. The book is an autobiography of Phil Robertson which brought to light his faith, family, and ducks which are the three things that matter most to him. The book is an Amazon bestseller with over a million copies sold since the paperback was released on October 24, 2015.
He Earns from his Podcast
The patriarch of the Duck family also earns from his podcast named "Unashamed with Phil Robertson." Aside from his family members, special guests also get featured on the podcast where they talk about faith, family, and the experiences which shape their lives.
In summary, Phil Robertson who got famous as a professional duck hunter and TV personality earns from:
The Duck Commander company
Duck Dynasty TV show
His autobiography
His Podcast
Meet His Wife, Children, Siblings, and Other Family Members
Phil Robertson and the Duck Dynasty family is made up of family members all related by blood. The family comprises Phil's brother Si Robertson, Phil's wife Kay Robertson popularly called Miss Kay, the Robertson's sons: Alan, Jase, Willie, and Jules. Aside from Phil's children, the professional hunter and businessman has many grandchildren who all feature in the big hit reality show alongside trusted neighbors and friends all residing in their house in Munroe, Louisana.
Kay Robertson (Miss Kay)
Full Name: Marsha Kay Carroway Robertson
Date of Birth: December 21, 1950
Occupation: TV personnality
Years Active: 2012 to date
Spouse: Phil Robertson ​(1966 to date)
No of Children: 4 sons – Marshal Alan Robertson, Jason Silas Robertson, Willie Jess Robertson, and Jules Jeptha Robertson
Miss Kay the matriarch of the Duck Dynasty is an American woman reportedly from an aristocratic/upper-class family. Back in the days, she was a high school cheerleader before she married Phil as a 16-year-old girl. The duo began dating in 1964 when Kay was still in high school. Two years later, they got married after they had their first child – Marshal Alan Robertson in 1965 out of wedlock. After their wedding, three other sons followed next: Willie Robertson, Jules Jephta Robertson, and Jase Robertson. Miss Kay is now a grandmother and great-grandmother to numerous children.
Marsha Kay is, without a doubt, is a celebrity all thanks to her family's successful businesses and TV shows. She is an avid cook with a 382-page cookbook to her name titled "Miss Kay's Duck Commander Kitchen: Faith, Family, and Food–Bringing Our Home to Your Table." The book was published in 2013 by American publishing company Simon & Schuster.
Marshal Alan Robertson
Full Name: Marshal Alan Robertson
Date of Birth: January 5, 1965

Occupation: Christian Minister and TV personality
Spouse: Lisa Gibson
No of Children: 2 daughters – Elizabeth Anna Robertson and Katie Alexis Robertson
Alan Robertson is the only Phil Robertson's son who doesn't keep a beard. He's the eldest of the Robertson's and as earlier mentioned, Alan was born in 1965 before his parents were legally married in 1966. Initially, he left his family business to become a full-time minister of the gospel, however, he later rejoined them and now works as a public relations officer at Duck Commander. He also began appearing on the family's TV show from its 4th season.
Like his brothers, Alan is a married man with two children who have made him a grandfather. His first daughter Elizabeth Anna Robertson was born on February 28, 1986, and is now married to Jay Stone with whom she parents 3 daughters. Alan's second child is Katie Alexis Robertson born November 30, 1987, and now married to Vinny Mancuso with whom she has a son.
Jase Robertson
Full Name: Jason Silas Robertson
Date of Birth: August 16, 1969
Occupation: Businessman, COO of Duck Commander, Television personality
Spouse: Melissa Robertson (1990 to date)
No of Children: 3 – Reed Robertson and Cole Robertson (sons), and Mia Robertson (daughter)
Jase is the chief operating officer (COO) of Duck Commander, a complete outdoor person who began showing interest in hunting and outdoor life as early as an 8-year-old. Now a grown-up, he's the brain behind the many new innovations that continue to steer the company to greater heights. It takes him about 2 to 3 minutes to produce one duck call and when he's not making new ones, he's perfecting those already made. One of his greatest inventions so far is a duck call he calls the "Triple Threat" duck call which uses three reeds instead of the conventional two to call ducks.
The Duck Commander COO is married to Melissa Robertson with whom he has 3 children; 2 boys (Reed and Cole) and a girl (Mia). Their first child Reed Robertson attended Ouachita Christian High School and Harding University. He's now married to Brighton Thompson. Reports have it that Reed is pursuing a music career in Nashville. Their second child Cole Robertson is also a graduate of Ouachita Christian High School while their youngest child and only daughter is Mia Robertson. She was born with a cleft lip and palate which was later corrected with multiple surgeries.
Willie Robertson
Full Name: Willie Jess Robertson
Date of Birth: April 22, 1972
Occupation: Businessman, CEO of Duck Commander & Buck Commander, TV personality, and Fox News contributor
Years Active: 2002 to date
Spouse: Korie Howard ​(1992 to date)​

No of Children: 6 – John Luke Robertson, Willie Robertson, Jr., and Rowdy Robertson (sons), Mary Kate Robertson, Sadie Robertson, and Bella Robertson (daughters)
Willie Robertson is the chief executive officer (CEO) of Robertson's companies – Duck Commander and Buck Commander. Like his brothers, he grew up accompanying their father on hunting trips and spending a lot of time outdoors. As he got older, he began to help in his father's business/company by manufacturing duck calls and also responding to business calls. He later enrolled at Harding University before finishing off at NE Louisiana University where he earned a degree in business. Being a business-savvy person, he has been able to position the business to be a highly profitable venture as revealed by his father.
The accomplished businessman is also a married man and a father to 6 children whom he shares with his better-half Korie Howard. Of their 6 children, the couple is the biological parents of John Luke Robertson, Sadie Robertson, and Bella Robertson. While Willie Robertson, Jr. and Rowdy Robertson are their adopted sons. Aside from these 6, they were foster parents to Rebecca Robertson when she was an exchange student from Taiwan.
Willie and Korie's son John Luke Robertson is married to Mary Kate Robertson and together, they have a son named John Shepherd.
Jules Robertson
Full Name: Jules Jeptha Robertson
Date of Birth: May 28, 1978
Occupation: TV personnality
Spouse: Jessica Robertson
No of Children: Jules Augustus Robertson, Lily Robertson, Merritt Robertson, Priscilla Robertson, River Robertson
Jep Robertson, the youngest of the Robertson boys is part and parcel of the Duck Commander company like almost everyone in his family. He works as the company's cameraman and also edits their videotapes. He's also the brain behind the 'Duckmen' DVD series. Following the success of the Duck Dynasty TV show, he started the "Jep & Jessica: Growing the Dynasty TV" show with his wife. The series which began in 2016 is centered around the couple and their 5 children.
Jules is married to Jessica Pamela Strickland who he met in March 2001 in a hair salon. A week later, the would-be couple met again and it was following this second meeting and the ones after that the couple began to date. They got married on 7th October 2001 and are now parents to Lillian Mae "Lily" Robertson, Merritt Decatur Robertson, and Priscilla June Robertson who are girls, and River Alexander Robertson and Jules Augustus "Gus" Robertson who are boys. Jules is their adopted son.
Si Robertson
Full Name: Silas Merritt Robertson
Date of Birth: April 27, 1948
Occupation: TV personnality
Spouse: Christine Raney (1971 to present)
No of Children: 2 – Trasa Lee Robertson Cobern and Scott Merritt Robertson
Si Robertson is Phil Robertson's brother and the uncle of Phil's children. Si is also part of the Duck Commander enterprise. He grew up alongside his brother Phil and 6 other siblings: Jimmy Frank, Harold, Tommy (boys), and Judy and Jan (girls) in tough conditions. However, Si was able to attend North Caddo High School in Vivian, and later Louisiana Tech University in Ruston, Louisiana but later dropped out before joining the military. He retired from the military in 1973 before he joined his brother's company.
In the company, Si's work is to make reeds used in the finished patented duck call. He's married to Christine Raney who gave birth to their 2 children: Trasa Lee Robertson Cobern and Scott Merritt Robertson.
The Outspoken Robertson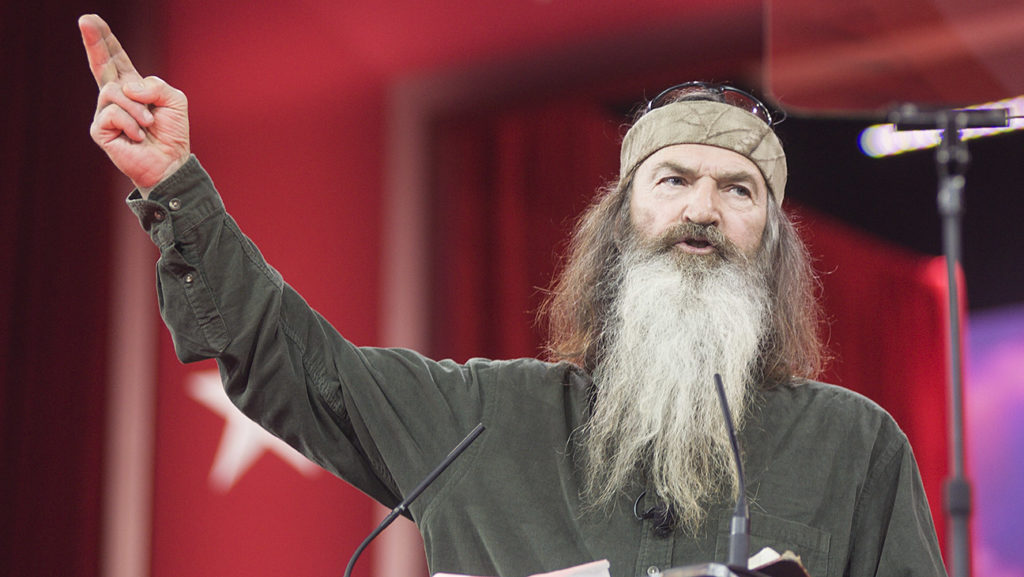 A practising Christian, Robertson isn't afraid to boldly air his views on controversial topics like gay rights, abortion, and transgender, all of which he kicks against. Phil became a subject of backlash from the public following a 2013 interview with GQ magazine, where he said that homosexuality is a sin. As a result, he was indefinitely suspended by the A&E network. However, after 9 days, the suspension was lifted. Robertson has since continued to be outspoken about his views mostly at public appearances.
Fact Check: Is Phil Robertson Dead?
As we know, social media has killed and buried a lot of celebrities several times. Like a few other celebs, Duck Dynasty patriarch Phil Robertson had a fair share of the death hoax in early 2018. The rumours spread like wildfire on various social media platforms after it was posted on Facebook that Robertson had lost his life.
But a subsequent publication emerged a few days later debunking the rumours. As of January 2018, Duck Dynasty's Phil Robertson is alive and well.
Profile Summary
First Name:
Phil
Last Name:
Robertson
Estimated Net Worth:

$15 million
Salary:
N/A
<strongSource of Wealth:</strong
Hunting career, Duck Commander and Buck Commander companies, book sales, television show
Last Updated:

2020
Also Known As:

N/A
Sex/Gender:

Male
Profession:

Professional hunter, businessman, and reality television star
Famous For:
Choosing hunting over the NFL, Starring on the popular television series Duck Dynasty
Colleges/Universities Attended:

Louisiana Tech in Ruston
Educational Qualifications:

Degree in Physical Education and a masters degree in Education
Religion:

Christian
Birthday & Zodiac

Age/Date of Birth:

April 24, 1946
Zodiac Sign:
Taurus
Birth Place:

Vivian, Louisiana
Nationality:
American
Ethnicity/Race:

White
Country of Residence:

USA
Physical Attributes

Height:

6 feet and 2 inches
Weight:

76 kg
Eye Colour:

brown hair
Hair Color:

brown hair
Other Body Measurements:

N/A
Relationships

Marital Status:

Married
Spouse/Partner:

Marsha Kay Carroway (m. 1966)
Family and Relatives

Father:

James Robertson
Mother:
Merritt (née Hale)
Children:

Jase, Jules Jeptha, Alan, and Willie Robertson
Siblings:
Si Robertson, James Francis Robertson, Jan Robertson, Harold Gene, Thomas Silas, and Judith Ann
Other Relatives:

N/A