Phil Robertson is an American professional hunter, businessman and reality TV star. The bearded hunting enthusiast is famed for choosing hunting over the NFL, a bold choice which is to thank for his fame and wealth. Robertson has made a fortune via his multi-million hunting accessory company called Duck Commander and his record-breaking reality TV show Duck Dynasty. His net worth is estimated at $15 million.
Phil Robertson Net Worth: Humble Beginnings
Phil Alexander Robertson was born on April 24, 1946, in Vivian, Louisiana. He grew up poor but happy with his 6 siblings and parents in a rustic house that had no bathroom nor electricity. The family fed off the games they hunted and from the farm which they grew fruits and vegetables and reared chicken.
Robertson was an active athlete in high school playing sports like football, baseball and track to the state level. His athletic prowess earned him a football scholarship to study at Louisiana Tech in Ruston. In college, Robertson played for the varsity Bulldog football team as a starting quarterback. He was selected above Terry Bradshaw who would later become a Pro Football Hall of Famer.
A talented college footballer, Robertson was considered an NFL prospect. However, when the opportunity came to play in the NFL for the Washington Redskins, he rejected, choosing instead to focus on his first love- hunting!
Robertson graduated from Louisiana Tech with a degree in Physical Education and later earned a masters degree in Education. After college, he worked as a teacher and later as a commercial fisherman.
Phil Robertson Net Worth: Fortune From Duck Commander Call
When you choose hunting over a promising football career, you've got to make something legendary out of it and so did Robertson. He kept hunting but then came the 1970's and he grew tired of the conventional duck call which just didn't seem to be working anymore. In 1972, Robertson made history when he invented a new kind of duck call that couldn't have sounded more than a real duck. He named it Duck Commander call and a year later, he obtained a patent for it and established The Duck Commander Company.
The Duck Commander Company in addition to duck-hunting merchandise also manufactures deer hunting and fishing merchandise as well as apparels under the Buck Commander brand name. Over the years, Duck Commander has been groomed into a multi-million dollar enterprise with over 600,000 duck calls sold yearly. The company also earns from book sales.
By 2012, the company had an operating income of $20 million and a revenue of $40 million. In 2013, money realized from duck call sales totalled over $44.7 million. Robertson's fellow-bearded son Willie Robertson serves as the company's Chief Executive Officer. The company sponsored the NASCAR Sprint Cup Series stock car race held at Texas Motor Speedway Fort Worth, Texas from 2014 to 2016.
Phil Robertson Net Worth: Duck Dynasty
Following the enormous success of Duck Commander, Robertson, and his family including his wife and four children landed a TV show on the Outdoor Channel titled Duck Commander which aired from 2009 to 2010. The show spawned the spin-off "Presents: Buck Commander Protected by Under Armour" which aired in 2011.
In 2012, the family premiered a new show on A&E titled the Duck Dynasty. The reality TV show follows the lives of the bearded men and their wives as they build their company and learn more about the Christian faith. Duck Dynasty has enjoyed exponential ratings on A&E and even broken records. In its fourth season, the show recorded over 11.8 million viewers to become the most-watched nonfiction series in cable TV history.
The highly successful show earns substantially from advertisement. In the first 9 months of 2013, the show grossed over $80 million from adverts. The family earns at least $200,000 per episode. The show is slated to end after its 11th season in 2017 which will be aired on the Outdoor Channel.
See Also: Joel Osteen Net Worth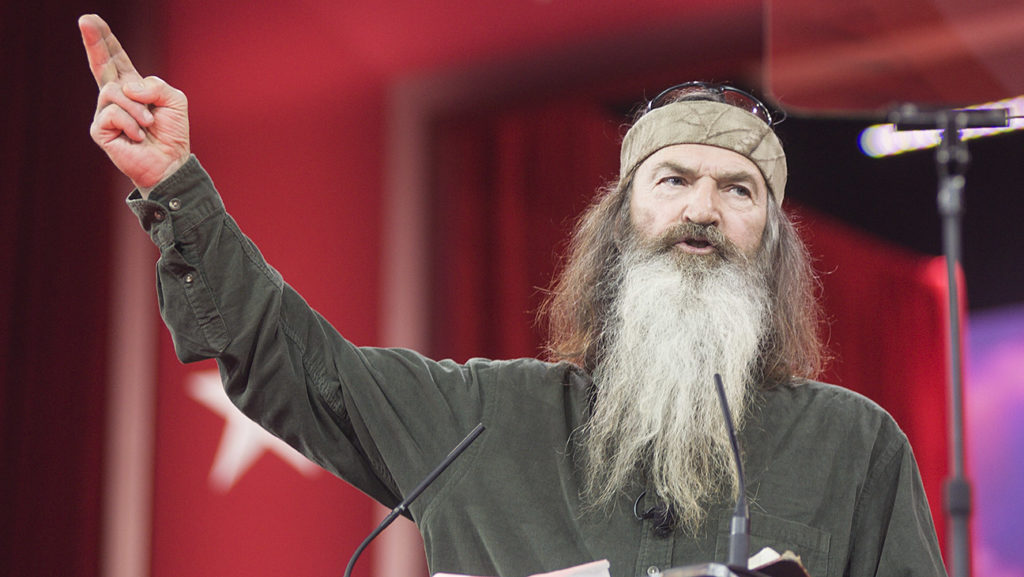 Phil Robertson Net Worth: The Outspoken Robertson
A practising Christian, Robertson isn't afraid to boldly air his views on controversial topics like gay rights, abortion and transgender, all of which he kicks against.
Phil became a subject of backlash from the public following a 2013 interview with GQ magazine, where he said that homosexuality is a sin. As a result, he was indefinitely suspended by the A&E network. However, after 9 days, the suspension was lifted. Robertson has since continued to be outspoken about his views mostly at public appearances.