Peter Porte is an American actor whose very charming looks and attractive physique has drawn many dazzled fans, especially the ladies to him. Having starred in numerous television series over the years, the actor has built a sizeable fan-base of devoted followers who monitor his every move on social media. Porte who has always wanted to be an actor is now most recognized for his roles in many hit television series including The Young and the Restless.
Peter Porte's Biography
Peter Porte was born on the 31st of March, 1985 in Greenwood Lake, New York, USA. Although he is known as an American, he also has Polish roots as his mother is from Poland. Porte grew up in Greenwood Lake and even though not much is known about his father, it is on record that his mother gave him very strong support in his early days as a young child who had big dreams of becoming an actor.
Porte had always wanted to be an actor right from his High School days at George F. Baker High School. He took part in many school plays until he graduated in 2002. While in the school, he got the chance to take part in stage plays too through which he honed his skills as an actor. He landed his first acting gig on stage when he was in third grade. At the time Porte was cast to appear on stage in a Christopher Columbus pageant and the role excited him so much. Talking about it once, Porte explained that he managed to get the role because his mother who happens to be from Poland, actually sewed the costume he had to wear, out of traditional Polish attire.
His passion for acting led him to seek and gain admission to New York University's Tisch School of the Arts where he graduated with a Bachelor of Fine Arts degree in Acting. Not stopping there, Porte proceeded to study at the Royal Academy of Dramatic Art in London where he gained further exposure and training to become a seasoned actor.
Porte started out as a stage performer, performing in a number of stage plays and gaining exposure. He even performed for as many as five seasons with the highly successful and critically acclaimed 'For the Record Company'.
His career as a TV actor kick-started in 2005 when he secured a role in University Place, a television film. In the same year, he secured another role in Medium, a TV supernatural drama series through which he slowly gained experience, increasing his visibility as a strong talent.
In 2008, Porte appeared in two television series; Viralcom and CSI: Miami a police procedural drama television series which helped him begin to grow a fan-base of followers who were increasingly getting stunned by his fine physique and acting prowess. In 2009, he starred in Cold Case, another police procedural drama television series before securing a role in Moon Lake Casino.
Porte's biggest breakthrough came two years later in 2011 when he joined the cast of The Young and the Restless, a television opera, as a series regular. Porte played the role of Ricky Williams in the series and gained massive recognition across America for his smart interpretation of the role. His charming looks also helped to endear him to many fans especially the ladies.
The actor has since gone on to appear in other top TV hit series like Baby Daddy, NCIS: Los Angeles, Last Will and Testicle and Living with Models. Apart from making appearances in televisions series, Peter Porte has also landed roles in films. He has starred in movies such as Love at the Shore, a 2017 Hallmark movie and Love, Once and Always in 2018.
Read Also: Where Is George Jung, Who Are His Daughter and Wife?
He's Had A Gay Marriage and Doesn't Have A Wife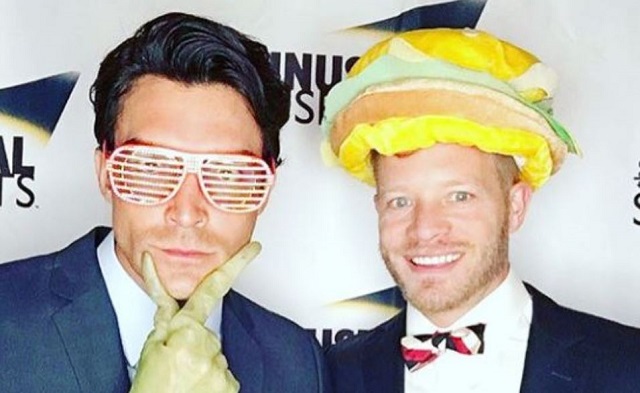 Peter Porte is a happily married and openly gay man. The hunky actor got married to Jacob Villere, another very good-looking guy on the 7th of October, 2018. The wedding held in New Orleans and was highly talked about among fans of Porte.
Before his marriage, Porte had always kept his personal life out of the media. However, he was once rumoured to have dated popular American actress, Chelsea Kane after the duo featured in the TV series Baby Daddy, and were spotted together many times on the red carpet. But, the actor has neither denied nor confirmed the rumours.
At the moment, Porte and his husband, Villere are very happy together and are seen very often posting photos of themselves in loved-up positions on social media.