Pauly D, born as Paul Delvecchio, is an Italian-American disc jockey and television personality. He is probably best known as a former housemate on MTV reality TV show, Jersey Shore where he became famous for often setting the house ablaze with his excellent DJ'ing skills. He has also featured on other hit projects such as MTV's Game of Clones and Double Shot at Love, E! Network's Famously Single, and many more. He even has an eponymous Jersey Shore spin-off – the first housemate on the series to receive such an honor.
Given his fame and fortune, it would not be surprising to hear that Pauly D has a bevy of women around him. However, his heart has been stolen by one special lady – his daughter, Amabella.
Pauly D's Playboy Days On Jersey Shore
The celebrity DJ has always had countless women swooning over him as a result of his looks and fame. Needless to say, he has hit it off with a number of them. From his Jersey Shores days till present, no one can possibly pull off a truly comprehensive list of Pauly D's romantic history.
However, while no one may ever be able to account for all of the DJ's past short and long flings, here are all the women who were romantically linked to him through his image-making show, Jersey Shore.
First, during his time in the reality program, Pauly D was seen canoodling with a housemate Jennifer Farley (popular as 'JWoww'). This lasted for most of Season 1 (December 2009 to January 2010) before they were no longer seen together. Of course, speculation went rife that the love birds had broken up. And it turned out that the rumor mill was right.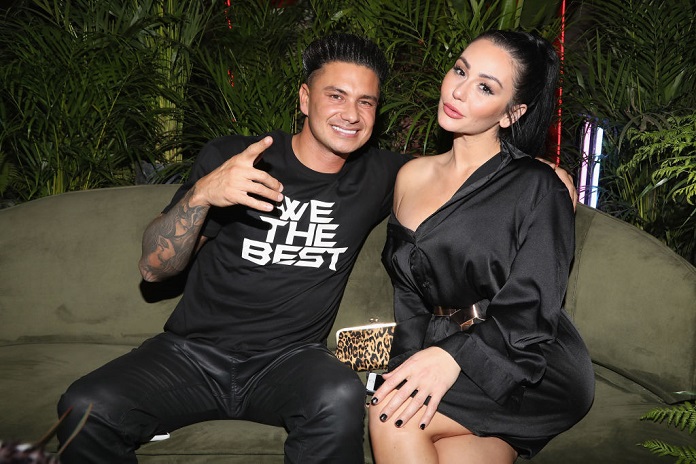 Soon, the charming DJ began to romance another housemate on the show, Angelina Pivarnick but this fling also failed to last.
Next, Pauly D was seen with an exquisite beauty from Miami Florida, Rocio Olea. Although Rocio was never a path of the official cast of Jersey Shore, she appeared on the show many times cuddling with the house's playboy Pauly D. This lasted for most of Season 2.
The star DJ had met Rocio in Miami when the Jersey Shore team went on a visit to the city. They really seemed to be a match made in Heaven and they were going stronger and stronger. But soon, the beautiful fire of romance got quenched. We got to know that the duo could not maintain their closeness due to the distance between Florida and New Jersey.
His Relationship With Aubrey O'Day
Pauly D started dating American singer and reality TV star, Aubrey O'day, in February 2016 after they met on the set of E!'s reality show, Famously Single. Among other credits, Aubrey O'day has modeled for magazines like Blender and Playboy. She also starred in Donald Trump's TV show, Celebrity Apprentice.
Pauly D and Aubrey, however, broke up in 2017 after Pauly was not forthcoming with getting married. It appeared Aubrey was pressurizing Pauly with the issue of marriage which he was not ready for at the moment. The first break up was initiated by Aubrey in May 2017 but they soon reconciled, only for Pauly to dump her three months later while she was starring in British reality series, Celebrity Big Brother 18.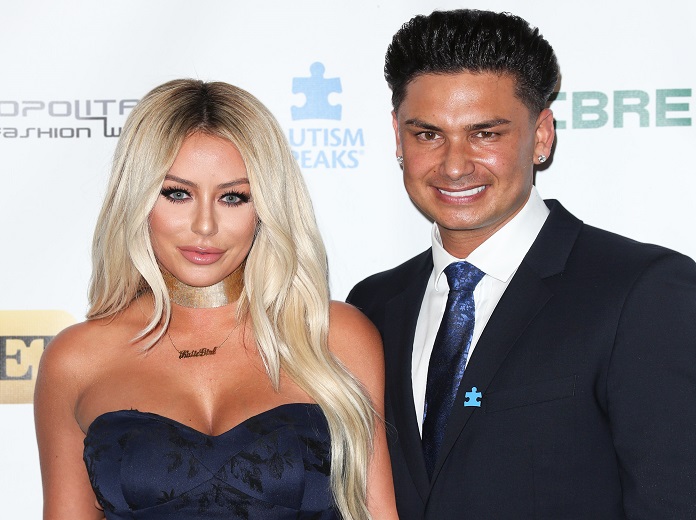 Pauly D has had several other girlfriends in the past but Aubrey O'day remains the most prominent one. The Jersey Shore star had once revealed that his relationship with Aubrey was his first serious relationship. Describing her then as "the one for him", he hinted on taking "the next steps" with her. Aubrey, in turn, had also said she wanted a ring ASAP, and often gushed over the DJ.
However, with the turn out of events, their dreams never became a reality as the two are currently single.
All You Need To Know About Pauly D's Daughter
DJ Pauly D has a daughter, Amabella Sophia Markert who was born in May 2013, with Amanda Markert, a former Hooters waitress.
Pauly and Amanda reportedly had a one night stand at a Las Vegas rehab nightclub in August 2012. From all indications, Pauly and Amanda never planned to have a child together, as the two never held any relationship before or after the casual meeting.
Pauly D and Amanda Markert were once engaged in a legal tussle over Amabella's custody and support funds after Pauly came to know about her birth. Eventually, it ended with the two co-parenting her.
Meanwhile, Amabella, who is Pauly D's first and only child at the moment, lives with her mother in Atlantic City, New Jersey, which is a part of the arrangement she had with Pauly D to make co-parenting easier.
See Also: Top 12 Highest Paid DJs In The World
Who Is The Celebrity DJ Dating Right Now?
Since MTV's reality dating game show A Double Shot At Love went on air in April 2019, Pauly D has been linked to Nikki Hall, who became a finalist on the show before she was axed from it. As far as we know, Nikki is the most recent date that Pauly D has been publicly linked to.

First, it was obvious on the show that the duo had a connection. Later, they were seen together outside the show, including a bash in Las Vegas. However, after Nikki exited the show in June, it became obvious that Pauly D had dumped her. He even said that he didn't consider her as his ex.

Then, in revenge, Nikki Hall went public with the text messages she said Pauly D sent her expressing his feelings towards her. In one of the text messages Nikki shared in a now-deleted tweet, the DJ allegedly told her "you don't have to change a single cell in your mind or body. I love u just the way you are'.

Pauly D, at the time, said that he was disappointed in Nikki for sharing private messages he exchanged with her (yes, he didn't deny the text messages). However, after the accusations and counter-accusations that went with the inter-lover quarrel, they were again seen together from October 2019. TMZ reports seeing them together in early December 2019 at a joint in Hollywood. Since then, there hasn't been a report of a break up between the two.

Fact Check: We strive for accuracy and fairness. If you see something that needs updating,