Pauly D is an Italian-American disc jockey and television personality.
He is best known as one of the housemates on MTV reality TV show, Jersey Shore where he earned approximately $150,000 for each episode. Here's more about the popular DJ.
Pauly D Biography and Age
Pauly D was born Paul DelVecchio on July 5, 1980, to Italian parents. He grew up in Providence and Johnston both in Rhode Island. Pauly started out as a local deejay during his days at Johnston High idolizing professional DJ AM. He got his first DJ equipment at the age of 14 and at the age of 18, after 4 years of intense practice, he landed his first gig at a friend's sweet 16 birthday bash. His ability to "party rock" opened the doors to other birthday and small party gigs and soon he made a name for himself and graduated to the clubs.
However, as much as Pauly wanted early to become a successful DJ, he didn't allow his love for music to affect his academics. He kept up with attendance and graduated with above average grades. He once won an award in high school but refused to come up to the stage to receive it as he didn't want to be seen as a nerd.
Dating, Girlfriend, Is Pauly D Married?
Pauly D started dating American singer and reality TV star, Aubrey O'day, in February 2016 after they met on the set of E!'s reality show, Famously Single. Among other reality shows, Aubrey O'day has modelled for magazines like Blender and Playboy. She also starred in Donald Trump's TV show, Celebrity Apprentice.
Pauly D and Aubrey however, broke up in 2017 after Pauly was not forthcoming with marriage. It appeared Aubrey was pressurizing Pauly with the issue of marriage which he was not ready for – at least, with her. The first parting was initiated by Aubrey in May, 2017 but they soon reconciled, only for Pauly to dump her three months later while she was starring in British reality series, Celebrity Big Brother 18.
Pauly D has had some girlfriends in the past but Aubrey O'day remains the only prominent one. The Jersey Shore star had once revealed that his relationship with Aubrey was his first serious affair. Describing her then as "the one for him", he hinted on taking "the next steps" with her. Aubrey, in turn, had also said she wants a ring ASAP. However, with the turn out of events, their dreams may never become a reality as each of them are currently single.
Does Pauly D Have Kids?
DJ Pauly D has a lovely daughter, Amabella Sophia Markert who was born in May 2013 by Amanda Markert, a former Hooters waitress.
Pauly and Amanda reportedly hooked up at Las Vegas rehab nightclub in August 2012. From all indications, Pauly and Amanda never planned to have a child together, as the two never held any relationship before or after the casual meeting. The two were once engaged in a legal tussle over Amabella's custody and support funds after Pauly came to know about her birth.
Meanwhile, the baby girl who is Pauly D's first and currently, his only child, lives with her mum in Atlantic City, New Jersey.
Pauly D Earnings
From his day job as a DJ, Pauly makes over $11 million annually. His net worth is estimated at over $25 million.
How He Began
Pauly, at the age of 17 bolstered his DJ income by working in a dealership as a car washer. He gradually worked his way up the ranks at the dealership to become the salesman and then manager of used cars.
Breakthrough with Jersey Shore
Fast forward to 2008, Pauly got the big break of his life but it wasn't in any way connected to music. The producers of Jersey Shore stumbled upon his MySpace profile and fell in love with his looks. His profile at the time had a picture of him DJing and another one of him lifting his shirt to reveal his toned muscles.
When the producers contacted him via email saying a crew will be sent from Los Angeles to video his daily activities, Pauly ignored it thinking it was a spam. However, after he was contacted via phone call, he immediately showed interest.
Pauly took the crewmen through his daily routine, from the gym, to the club and to his house where he frequently tanned. Six months after that, Pauly was informed he had landed a spot as one of the housemates on Jersey Shore and in his words, he "never really auditioned."
See Also: Snooki Wiki – Weight Loss, Kids, Height, Age, Feet and Body Stats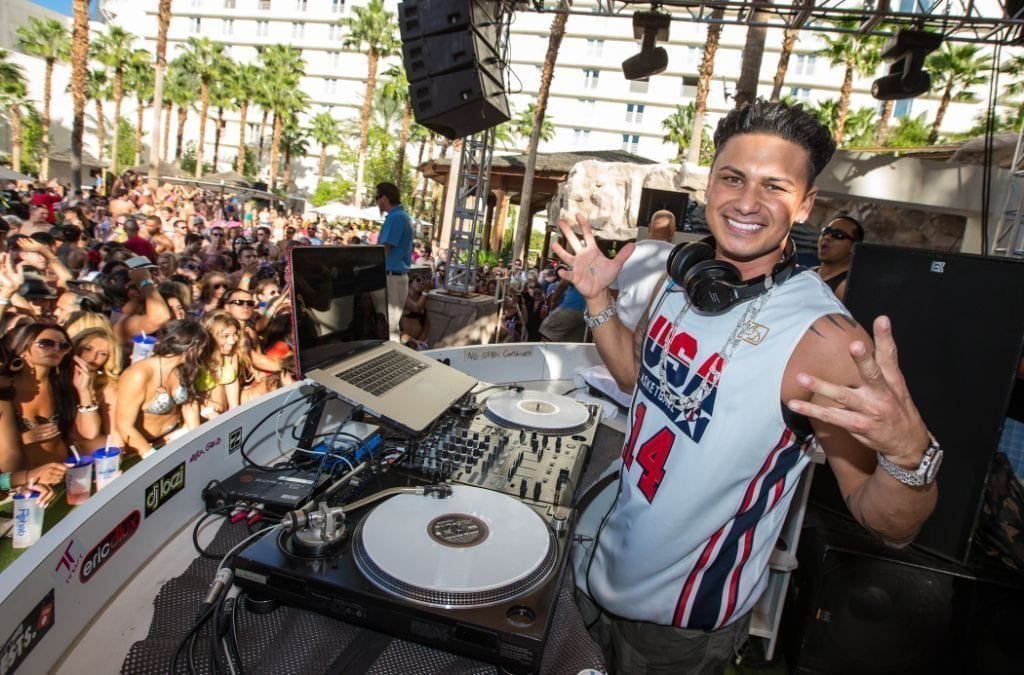 The first season of Jersey Shore premiered on MTV on the 3rd of December 2009. Without prior knowledge of what the show would be about, Pauly took his DJ kit along with hopes that he'd get the chance to show off his skills. Thankfully in the first season, he landed an on-screen job at Kara that paid $200 for a single night.
Jersey Shore quickly became one of the most popular shows in America at the time and it didn't take long for fans to fall in love with him. Pauly achieved star status by the 3rd season when he won the 2011 Teen Choice Award for Choice Reality Star: Male. Pauly remained on the show until its end on December 20, 2012.
Music Career and Continued Success
While in the house, Pauly's DJing abilities got him noticed by already established celebrities like 50 Cent who in 2011, handed Pauly a three-album deal with his G-Unit Records and G-Note Records.
His single "Beat Dat Beat (It's Time To)" was released in 2010. It got him nominated for "America's Best DJ" competition in 2010 and 2011. Pauly has worked with the likes of Britney Spears, Big Sean and Jay Sean.
Also in 2011, Pauly landed one of the most lucrative gigs of his career, one that he continues to benefit from. It was a residency at Harrah's Las Vegas where he gets to play for at least once every month at their Pool After Dark club space.
See Also: Top 12 Highest Paid DJs In The World
After Jersey Shore ended, Pauly became the first housemate to land a spin-off titled "The Pauly D Project". It focused on his DJ career as he toured the country and lasted for 12 episodes.

While Pauly seems to be more in love with DJing, he appears to be stuck with reality TV. He joined the cast of E!'s "Famously Single" from its first episode which premiered on June 14, 2016. On the show, Pauly met and fell in love with singer-songwriter, Aubrey O'Day. The pair began their own reality show in 2017 produced by Bunim/Murray Productions who are also responsible for the making of Keeping Up With The Kardashians and Rob & Chyna.

Like every smart business-savvy celebrity, Pauly has branched into the business world owning a tanner, cologne, and clothing line. His Las Vegas mansion comes complete with a basketball court.

Fact Check: We strive for accuracy and fairness. If you see something that needs updating,