For decades, British actors and actresses have made the journey across the pond to Hollywood, looking to forge a long and rewarding career. While some of them have only been able to achieve peripheral success, others have thrived and made a name for themselves in the industry. In the latter category is Paul Bettany, a London born actor who has now become an American citizen, along with the success that goes with it.
Paul Bettany has spent more than two and a half decades in the industry as an actor. In that time, he has been known for works like A Beautiful Mind, Legion, The Da Vinci Code as well as his role as J.A.R.V.I.S and Vision in the Marvel Cinematic Universe. Here is everything you need to know about the actor.
Who is Paul Bettany?
Paul Bettany is an English-American actor who was born in London, England, on the 27th of May, 1971. Although he now calls America home, he was raised on the British Island by his parents, Anne Bettany and Thane Bettany, both of whom were actors themselves.
He was raised a Roman Catholic, but these days, Paul is an atheist. He is one of two children born to his parents, but at the age of 16, he lost his younger brother, Matthew, after he fell off a roof. The death of his brother started a chain of events that eventually led him to an acting career.
After his death, Paul Bettany dropped out of school, left his family home, and began to work as a street performer in London. Using the money earned by playing his guitar on the streets, he rented a flat. He performed on the streets for two years before he secured a job as a caregiver at home for the elderly.
While he worked in the older people's home, he enrolled himself for acting lessons at the Drama Center in London. Paul Bettany was 19 years old when he started his acting lessons, and it became the only form of education he acquired after his primary education.
While he studied at the Drama Center for three years, Paul Bettany made his debut as an actor on stage in the play, An Inspector Calls at London's famous West End. During the early days of his career, he performed in several plays, including multiple productions by the Royal Shakespeare Company, such as Romeo and Juliet, Richard III and Julius Caesar, the latter giving him a much-needed national recognition. He was nominated for a Charleson Award for his performance in the play.
A year after he completed his training at the Drama Center, he made his debut on screen in the show, Wycliff, as a guest actor in an episode. Paul did not appear in another filmed project until 1996 when he returned to the front of the camera as a guest actor in the show, The Bill. Since then, he has been on a run of appearances in films and TV shows that have continued to this day.
His Career So Far
After he appeared in The Bill, Paul Bettany made his first appearance in a feature-length project, in the TV movie, Sharpe's Waterloo. He played Prince William of Orange in the film.
The London-born actor made a series of appearances in minor roles across a couple of films.  He also had recurring roles in a couple of TV shows like Killer Net and Coming Home before he got his breakthrough role in 2001 in the movie A Knight's Tale. In the film, he played the character, Geoffrey Chaucer, which earned him critical praise and exposure to an American audience.
In the same year, he reinforced his growing reputation with an appearance in the Oscar-winning film, A Beautiful Mind, playing Charles. Over the years, Paul Bettany has appeared in various independent movies as well as blockbusters, all to varying degrees of success.
His most popular titles so far include his appearances in the Marvel Cinematic Universe, where he has played voice role in multiple films as J.A.R.V.I.S and appeared as himself as Vision. Outside of the MCU, his filmography includes notable films like The Secret Life of Bees, The Da Vinci Code, Legion, and more.
So far, Paul Bettany has appeared in over 45 movies and TV shows and has been nominated for over 20 awards, including a BAFTA Film Award.
What You Should Know About His Wife?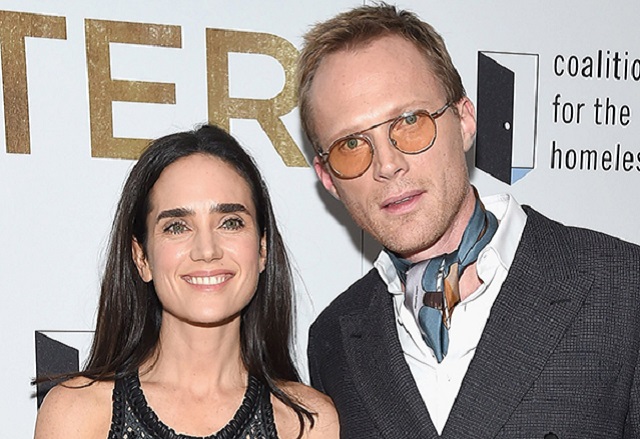 Along with having a successful career as an actor in Hollywood, Paul Bettany is also married to one of its biggest film actresses, Jennifer Connelly.
See Also: Is Jennifer Connelly Still With Her Husband & How Long Have Then Been Married?
She is an Oscar-winning actress who has appeared in over 50 movies and TV shows. They include popular films like Spider-Man: Homecoming, The Day the Earth Stood Still, Inkheart, and Blood Diamond.
Together, they have two children and have they have been married since 2003. You can learn more about Jennifer Connelly here.