The NBA is without a doubt the leading and best basketball league in the world. As such, it is the career dream of any basketball player all over the world to join the prestigious league. As the best basketball connection in the world, it has a lot of competition, mostly among homegrown talents who are dominant in the sport. Nevertheless, every once in a while, a standout foreign talent makes a name in the league. In 2001, that player was Pau Gasol and the origin of his athletic prowess can be traced to his sports-oriented family.
Pau Gasol has played for NBA power team, Los Angeles Lakers, where he cemented his status as one of the best talents in the league and won two NBA championships, playing alongside superstars like Kobe Bryant. He subsequently played for San Antonio Spurs and had brief stints at Milwaukee Bucks, as well as Portland Trail Blazers before becoming a free agent.
Pau Gasol Began His Basketball Career In High School
The Spanish parents of the NBA player gave birth to him on the 6th of July 1980, in one of Spain's most popular cities, Barcelona. He began playing basketball while in high school, as he played for his school team. He eventually joined FC Barcelona's feeder club, CB Cornella when he was 16 years old. Before he kickstarted a long-standing career in the NBA, Pau got a taste of the abundance of success that was laid in front of him as a teenager when he won the 1998 FIBA Europe Under-18 Championship.
In his last season in the Spanish Basketball League, Pau Gasol played for the Barcelona senior team and won the Spanish National Cup where he was also named the Most Valuable Player. He entered for the NBA Draft in the same year and was selected with the third pick in the first round of the 2001 draft.
Facts About His Incredible NBA Career
Pau Gasol has spent over 18 seasons in the NBA and it all began with the Memphis Grizzlies which signed him after his draft rights were traded to the side by the Atlanta Hawks. The flash of what was to come was evident in Pau Gasol's debut in the league when he finished the season as the first foreign player to win the NBA Rookie of the Year Award.
He continued his excellence for the Grizzlies up until 2008 when he was traded to the Los Angeles Lakers. At the completion of his time with the Grizzlies, he held twelve franchise records in different categories, including becoming their all-time leading rebounder, the all-time leader in free throw attempts, the all-time leader in field goals, all-time leading scorer (7,809 points at the time), as well as the franchise's first player to be selected for the All-Star Game.
His journey with the Lakers lasted between 2008 and 2014 during which he further established himself as a supreme talent. He won two championships and also scored his 10,000th and 15,000th career points while he was with the team. He equally clinched the 2011-12 season-long NBA Community Assist Award. Thus, establishing an era of domination for the franchise. After spending seven seasons with the Los Angeles Lakers, Pau joined the Chicago Bulls for the 2014-2015 season.
During Gasol's two seasons with the Bulls, he reached his 10,000 career rebounds, hence, becoming the 38th player in the annals of the NBA to attain such feat. He equally emerged as the 36th NBA player with a record of 10,000 points and 10,000 rebounds.
Exploits With The Spurs And Subsequent Career Decline
In 2016, Gasol moved to San Antonio Spurs where he reached his 20,000th career points on April 12th, 2017. He also recorded his 40,000th career minutes during his three seasons with the Spurs and this made him the 34th player in the NBA to reach such landmark. Following his release by the San Antonio Spurs in a buyout agreement, Pau Gasol joined Milwaukee Bucks in March 2019.
After playing three games for the franchise, he sustained a left ankle injury that ruled him out for the remainder of the season. He subsequently joined Portland Trail Blazers in July 2019 but had his contract waived in November 2019 without playing a single game for the team. As such, the six-time NBA All-Star is currently a free agent.
Internationally, Pau Gasol played for the Spanish National Basketball team and has competed in three Olympics tournaments. He has won one FIBA World Cup and three EuroBasket competitions.
His Amazing Career Statistics Has Garnered Him Many Accolades
His incredibly long career and the sheer illustrious nature of it has seen Pau Gasol play over 1200 regular-season games, starting at least 1,100 of them. He has been associated with six different teams – starting with the Memphis Grizzlies, LA Lakers, San Antonio Spurs, Milwaukee Bucks, and Portland Trail Blazers. He has also made the NBA All-Star team six times in 18 seasons and made it to the playoffs 12 times. He has played a total of 136 playoff games and started 122 of them.
Pau has won several awards, including two NBA Championship rings, NBA Rookie of the Year, J. Walter Kennedy Citizenship Award and more. Internationally, he has won the FIBA World Cup once, winning the Most Valuable Player Award in the process. He has also won the FIBA Europe Player of the Year Award twice.
His career stats for 33.4 minutes on the court include 17.0 points, 50.7 field goal percentage, 36.8 3 pointers, 9.2 rebounds, 3.2 assists, 0.5 steals and 1.6 blocked shots.
Pau Is A Happily Married Man
Pau Gasol is enjoying a blissful married life with the love of his life, Catherine McDonnell. Prior to meeting his beauteous wife, Pau suffered heartbreak after his split from his long-term girlfriend, Silvia Lopez Castro, whom he dated from 2009 to 2014 and this, reportedly affected his performance on the court at the time.
A few years later, he began dating Catherine as he made the relationship public during their summer vacation in Mexico in 2016. Later in October 2018, the ace power forward announced of his engagement to Catherine McDonnell on his Instagram handle. The pair eventually sealed their love with a nuptial bond in the following year in two separate wedding ceremonies.
They first exchanged vows in San Francisco on July 7th, 2019 before having a lavish Spanish wedding a few weeks later, precisely on July 16th. Judging by their posts on social media, the couple is obviously head over heels in love with each other and they recently celebrated their one year wedding anniversary.
What We Know About His Wife, Catherine
Gasol's wife is a beautiful lady with brains. She graduated magna cum laude with a BA in Business and Communications from the University of Southern California, where she also bagged a Master's degree in Business and Communications Management. She was born in California on May 22nd, 1989 and comes from a large family of nine.
She previously worked as a sportscaster for Fox and ABC News before serving as a project manager, as well as a social media manager for Innovative Dining Group. Catherine has been associated with Guggenheim Partners since July 2014, serving as the company's vice president.
The Parents Of The NBA Star Are Former Basketball Players
One of the important physical requirements to being a basketball player is being taller than the average person but while that is true for most basketball players, it is rare to find them with extremely tall parents too. Pau Gasol differs in this way. His parents Agusti Gasol – father and mother Marisa Sáez are 6 feet 3 inches and 6 feet 1 inch tall respectively. They both played basketball in Spain for teams in the second division before pursuing their professional careers in the medical field.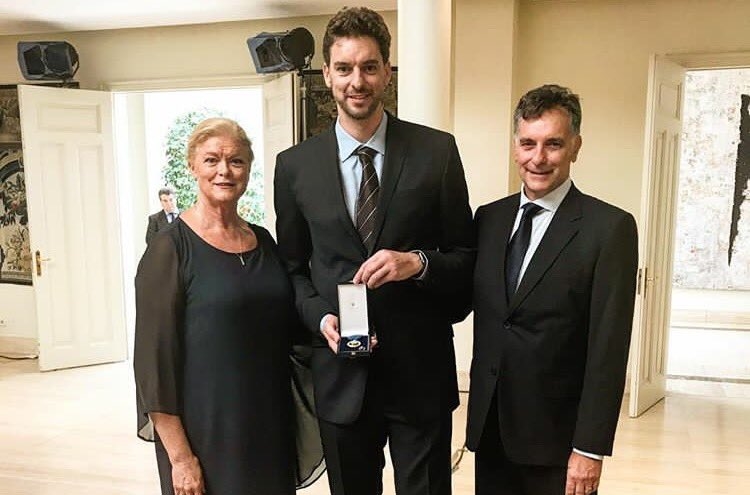 Pau Gasol's mother worked as a doctor at Sant Pau Hospital in Spain and there, his father, Agusti equally worked as a nurse administrator. When the family emigrated from Spain to the United States due to their kids' professional career, Gasol's father began working with a health care company while Marisa works as a volunteer at St. Jude Children's Research Hospital. Having played basketball in their formative years, Pau Gasol's parents have been exceptionally supportive of their kids' professional careers for which they have relocated to many cities while trying to stay close to them.
Meet His Athletically Inclined Brothers
Pau Gasol is not the only child of his parents. He has two sports inclined younger brothers named Marc and Adrià Gasol. Having inherited their parents' genes for tallness, Pau is 7 feet tall, Marc stands at a height of 6 feet 11 inches while the youngest of the trio, Adrià has a height 6 feet 10 inches.
Marc Gasol
Like Pau, Marc is also making the news headlines with regards to his exploits in the National Basketball Association. He was born on January 29th, 1985 and completed his basic education from Lausanne Collegiate School in Memphis. In 2007, he entered the NBA draft and was selected 48th overall in the second round of the draft by the Los Angeles Lakers that later traded him to Memphis Grizzlies as part of the deal that saw his elder brother move from the Grizzlies to the Lakers.
He played for 11 seasons with the Grizzlies during which he won the NBA Defensive Player of the Year Award and also, was selected to the NBA All-Star Game thrice. Moving to the Toronto Raptors in 2019, Marc Gasol led his team to an NBA Championship victory. As a result, Pau and Marc made history in the NBA as the first set of brothers to clinch the league's titles. Also playing in the Spanish National Team, Marc Gasol is a two time Olympic Silver medalist and a two-time FIBA Basketball Works Cup Champion.
Adrià Gasol
Adrià Gasol was born on October 5th, 1993. He attended Lausanne Collegiate School, Memphis, for two years and there, he began playing basketball. He eventually completed his high school education at Sant Joan Despi High School, Spain. Afterwards, he returned to the US and enrolled in the University of California, Los Angeles, in the year 2012. There, he played as a walk-on with the UCLA Bruins and didn't get much playing time during his four-year stint at the university, as he only attended practice sessions with the NCAA team
He later returned to Spain and got associated with teams in the lower divisions. After a couple of seasons, Adrià decided to end his basketball career and focus solely on his Business Management studies.