Patricia Heaton is one of the popular actresses in Hollywood who have branched off into film production and television hosting. She came into the limelight as a result of her role as Debra Barone in the American television sitcom, Everybody Loves Raymond, which aired on CBS from 1996 to 2005. However, in recent times, she is most recognized for playing the leading role of Frankie Heck in ABC's The Middle, which ran its course on the network from 2009 until 2018. Apart from television, the actress has also made some notable appearances on the big screen in movies such as Moms' Night Out (2014) and The Star, a 2017 animated Christian film.
Her career began in 1987 and at different times, she has been encouraged to keep working hard following the recognition of her talent by different award-giving bodies.
Who Is 'Everybody Loves Raymond' Patricia Heaton, How Old Is She?
Born Patricia Helen Heaton on March 4, 1958, in Bay Village, Ohio, the actress is the fourth of the five children born to Chuck Heaton who worked as a sportswriter for Cleveland's major daily newspaper The Plain Dealer, and Patricia Heaton. She has three sisters named Sharon, Alice, and Frances, and one brother named Michael, who serves as The Plain Dealer's "Minister of Culture" columnist as well as a writer for the Friday Magazine of the same newspaper. At the age of 12, Patricia and her siblings, who were raised in the Catholic faith, became motherless following the death of their mother due to aneurysm.
A former student of the Ohio State University, Patricia was a member of Delta Gamma Sorority as an undergraduate and finished from the university with a degree in drama. Still wanting to hone her acting skill, she moved to New York City in 1980 to study drama under William Esper and eventually made her Broadway debut in 1987. Subsequently, she formed an off-Broadway acting troupe named 'Stage Three' alongside some of her fellow students. Unknown to her, it was a platform that would pave way for her to get into Hollywood.
Patricia Heaton and her troupe took one of their performances to Los Angeles and while doing her thing, she drew the attention of the casting director for Thirtysomething, who ultimately cast her in a role which saw her appearing in six episodes as Dr. Silverman from 1989 to 1991. Meanwhile, before this time, she had already made her television debut in an episode of Alien Nation in the same year.
After Thirtysomething, the actress guest-starred in other television series such as Matlock, DEA, Party of Five, and The King of Queens. She later got her first major career breakthrough with the role of Jill Kurland on the ABC sitcom, Room for Two, where she appeared in 26 episodes. After this came regular roles in other sitcoms such as Someone Like Me and Women of the House. 
Years after her entry into Hollywood, Patricia Heaton's big break came in 1996 with the female leading role of Debra Barone in Everybody Loves Raymond. She performed so well on the show that she won two Primetime Emmy Awards. Additionally, the bundle of talent earned eleven Screen Actors Guild Award nominations, winning one in 2013.
Within the period she worked on Everybody Loves Raymond, the actress appeared briefly on other television shows and also starred in a few television films. Two years after she was done with the afore-mentioned series, Patricia Heaton was given a major role in the Fox short-running sitcom, Back to You and in 2018, she landed another major gig when she became the lead character on The Middle, playing the role of Frankie Heck in 215 episodes.
How Tall Is Patricia Heaton?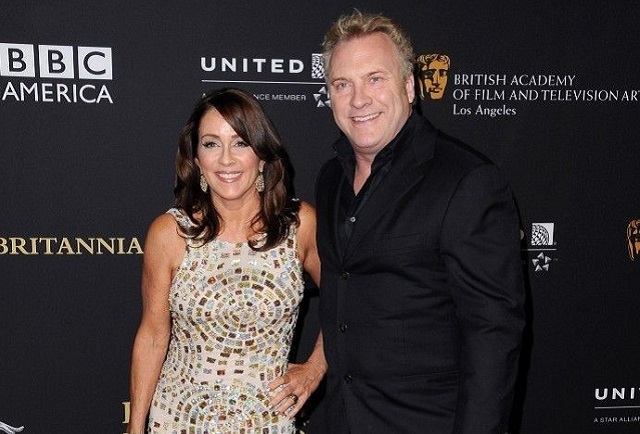 Patricia Heaton is undoubtedly beautiful, standing at 5 feet 2 inches and weighing around 53 kg. She has dark brown hair, light brown eyes, and a body that measure 37-28-35 inches (bust-waist-hips). The actress also wears shoe size 8 (US)/38 (EU) and bra size 34C.
In an interview with People Magazine in 2018, Patricia admitted undergoing plastic surgery in order to get back her body which had been changed by pregnancy and childbirth. She has four children with her husband David Hunt, and all four were birthed via C-section. With each of these pregnancies, she gained 50 lb and by the time she was done having kids, Patricia was left with a saggy belly.
See Also: Who Is Aubrey Plaza Dating As Boyfriend Or Is She Married To A Husband?
At this time, she was in the prime of her acting career so, considering the fact that she worked in an industry where physical appearance matters a lot, coupled with her personal discomfort with the way her body was, she decided to fix the problem by opting for a breast reduction and abdominoplastic surgery. Thanks to science, she got back her flat tummy and well-rounded firm breasts.
Earlier in 2014, the actress revealed that being in Hollywood has constantly motivated her to stay in shape; that she is disciplined with her diet because she fears being refused a role on account of not looking good enough.