There are plenty of reasons why one would know Padma Lakshmi. She is an author, an actress, a model, and a TV host, hosting one of the most popular shows on American television, Top Chef. She has had a stellar career that has made her one of the most respected personalities in the American entertainment industry. While her professional life has existed in the public eye, not much has been revealed in regards to Padma Lakshmi's personal life, such as her daughter, and marital life.
For fans of the Top Chef host, in this article, we answer some of the questions you need to know about the actress. Read below to learn more.
Who Is Padma Lakshmi?
Indian American entertainment star, Padma Lakshmi, was born on the 1st of September 1970 in Madras, India. Her father was an executive with a pharmaceutical company while her mother was an oncologist. Her parents were only together for the first two years of her life and she was raised by her mother, who relocated to the United States where she was raised. Padma Lakshmi was the only daughter and child of her parents
Despite a difficult childhood that included divorced parents, sexual abuse and health problems, Padma Lakshmi completed her education with a bachelor's degree in Theatre Arts from Clark University in Massachusetts.
She began her career in the world of show business at the age of 21, starting as a model. She modeled for brands like Ralph Lauren, Giorgio Armani, Versus and several others. Padma also worked as an actress, appearing in films like Glitter, Boom, The Mistress of Spices and shows like Sharpe's Challenge, Star Trek: Enterprise and a few others.
However, she has mostly worked as a TV host, starting her hosting career with Domenica In, an Italian TV show in 1997. She has since worked as a host on Planet Food, Padma's Passport, The View and has been hosting Top Chef since 2006.
Padma Lakshmi is also a published author and essayist. She has published multiple cookbooks and her articles have been published by major platforms like The New York Times, Harper's Bazaar and Vogue.
Does Padma Lakshmi have a Daughter?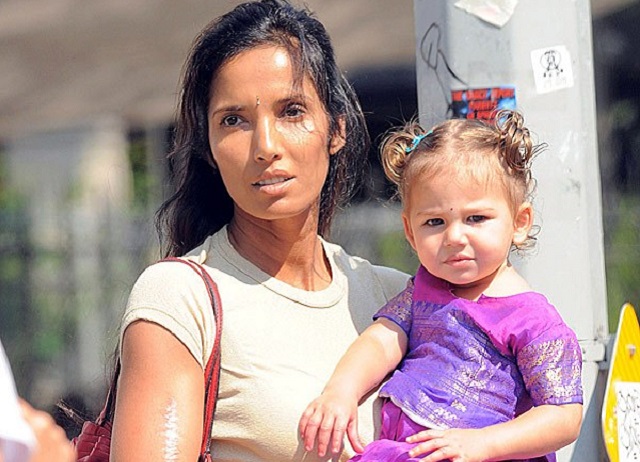 Padma Lakshmi has a daughter, Krishna Thea Lakshmi-Dell, who was born on the 10th of February 2010. Her daughter is the product of her relationship with the notable venture capitalist, Adam Dell. Padma and Adam were together for a brief period in 2009 after which she moved on to a relationship with Teddy Forstmann, dating him between 2009 and 2011.
Considering the timing of her relationship, there was controversy over the identity of her daughter, which was eventually resolved after Padma Lakshmi, through a DNA test, confirmed that Adam Dell was the father. The confirmation sparked a custody battle between Dell and Padma Lakshmi over her daughter and both parties eventually settled for joint custody and co-parenting.
Six years after the arrangement went into place in 2011, Padma Lakshmi and Adam Dell began dating again and have been together ever since.
Who Is the Father of Padma Lakshmi's Daughter?
After the initial controversy over the paternity of Padma Lakshmi's daughter, it has since been confirmed to be Adam Dell, a venture capitalist.
Adam Dell was born on the 14th of January 1970 in Houston, Texas to a German-Jewish family. He is the brother of Michael Dell, the founder of the computer manufacturing company, Dell Inc. He is also a graduate of Tulane University and University of Texas School of Law. He began his professional career as a corporate attorney, working for Winstead Sechrest & Minick. His venture capitalist career began in 1997 with Enterprise Partners and has since established his firm, Impact Venture Partners.
He is also an adjunct professor at Columbia University and University of Texas School of Law, and he has an estimated net worth of $200 million, made from investing in companies like Clarity Money, Civitas Learning, OpenTable and several others.
See Also: Grace Seo Chang, Chef David Chang's Wife – Everything You Should Know
Other Facts About Padma Lakshmi
• Before Padma Lakshmi began dating the father of her daughter, Adam Dell, she was married to the popular and controversial author, Salman Rushdie. They were together between 2004 and 2007.
• Since getting diagnosed with endometriosis, Padma Lakshmi has co-founded a nonprofit organization, The Endometriosis Foundation of America in aiding awareness, research and education about the disease.
• Padma Lakshmi has a net worth of $30 million. She made her money through an extensive career in show business which has seen her appear on more than 70 shows, several as a host, and in an additional number of movies and TV shows as an actress.