South Africa is popular for several reasons; while a lot of the reasons the African nation is popular are positive reasons, some of them are in the negative corner, such as the infamous crime of Oscar Pistorius, an Olympic professional sprinter who was convicted of the murder of his girlfriend, Reeva Steenkamp. Since he began serving his prison time, not much has been heard about him; here's everything you need to know about Oscar Pistorius and his life now, including when he will be released from prison.
Oscar Pistorius' Background Details
Oscar Pistorius, who is also known as Blade Runner, was born on the 22nd of November 1986 in Johannesburg, South Africa; he is one of three children born to his parents. He had his legs amputated when he was eleven months old because he suffered from fibular hemimelia.
The athlete then attended Pretoria Boys High School and attended the University of Pretoria, where he earned a bachelor's degree in Business Management with Sports Science. His sporting career began in high school, where he competed in sports like rugby, water polo, and tennis. Following an injury that ruled him out of a career in rugby, he began a career in college as a sprinter and has competed at the highest level of track sports.
He has competed at the Paralympics, the World Championship, African Championship, and the Summer Olympics, with several medals to his name. However, his remarkable reputation as an accomplished athlete came to an end in February 2013 when he shot and killed his girlfriend, Reeva Steenkamp, in his home.
Has He Been Released From Prison?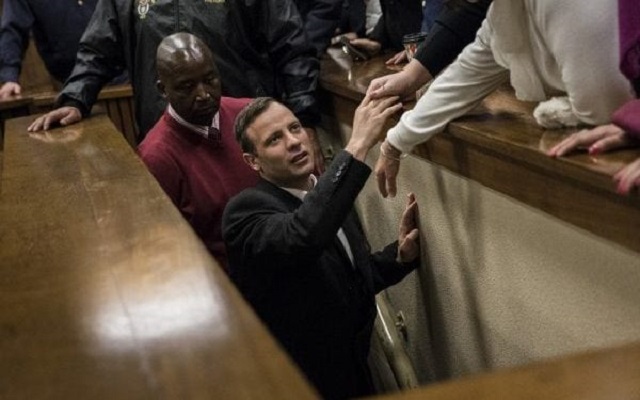 The trial for his murder of the model, Reeva Steenkamp, began on the 3rd of March 2014 in Pretoria. After seven months of investigations and trial, he was found guilty of culpable homicide and sentenced to five years in prison on the 21st of October 2014. Following the sentence, he was in prison for nine months before he was recommended for early release in June 2015. The recommendation was based on South African law which allows him to be released after serving a sixth of his sentence. The subsequent release happened on the 19th of October 2015, although it was met with much protest and controversy.
However, while he was on house arrest following his release, an ongoing appeal of culpable homicide by prosecutors at the Supreme Court resulted in an overturn of his culpable homicide conviction and found him guilty of murder, ending his house arrest and sending Oscar Pistorius back to prison at the Kgosi Mampuru jail, pending his sentencing. During his time at Kgosi, Oscar was released from prison for four hours to attend his grandmother's funeral on the 8th of October 2016.
The replacement of his culpable homicide conviction came fresh sentencing, which happened on the 6th of July, 2016 but was considered too lenient and was later appealed by the National Prosecuting Authority at the Supreme Court of Appeal and secured a 15-year sentence for the former Olympic athlete.
Following the sentence, Oscar Pistorius was transferred to the Atteridgeville Correctional Centre, which is better designed for disabled prisoners. He remains in prison and he is not eligible for parole until 2023.
Where Is He And What Is He Doing Now?
Oscar Pistorius remains in prison, and not much is known about his time in the big house. According to an interview granted by his father, the former athlete is apparently having a good time in prison.
At his prison in Atteridgeville Correctional Centre, Oscar Pistorius has access to comfortable amenities, including a bathtub in his cell. In addition to his relatively comfortable living environment, he also has access to a vegetable garden, which he grew after he was given a parcel of land by the prison's officials. The garden, grown by Oscar, who is also an artist, is designed to look like a face, with its ears and mouth.
As a member of the prison, Oscar Pistorius is also maintaining a reputation as a model prisoner, by becoming a spiritual leader to his fellow inmates. According to his father, he has been providing his inmates with good Christian knowledge and has been a beacon of hope to his peers in prison.
If Oscar Pistorius maintains his good behavior, he could be released from prison in 2023 when he is finally eligible for parole.