A veteran thespian and comedian, Orson Bean boasts of a plethora of acting credits on stage, TV, and films. He also gained fame for featuring in several popular game shows. While fans may be well familiar with his professional achievements that span over six decades, not much is known about the former magician's personal life. Find out lesser-known facts about the talented thespian below.
Who is Orson Bean and How Old is He?
A Vermont native, Dallas Frederick Burrows was welcomed into the world on July 22, 1928. There is a dearth of information about his childhood and elementary education but it is common knowledge that Bean was raised by his parents Marian Ainsworth and George Frederick Burrows. For his college degree, Orson studied at the Cambridge Rindge and Latin School.
Professional Accomplishments
Bean Orson's earliest career stint was his service in the U.S. Army from 1946 to 1947. It was during his time with the military that Bean discovered his creative side as a magician and performer. Right after his military service, Orson pursued a career in showbiz and began performing on stage at local shows first as a magician and then later as a stand-up comedian.
It was while the comedian was further honing his skills at HB Studio that his name Orson Bean was born. The name was accidentally given to him by a Massachusetts-based pianist during one of his stage performances. Following the positive and favorable response Bean received at that night's performance, he decided to officially adopt the name and it has stuck since then.
Bean had his first breakthrough in 1952 on The Chamber Music Society of Lower Basin Street, a weekly radio show which aired on NBC. He impressed the showrunners after his guest feature and was offered a job as the show's anchor. His other media credits include regular guest appearances on The Tonight Show and several other New York-based game shows. Notably, he was a regular panelist on To Tell the Truth and featured on Match Game as well as Super Password. He also hosted Concentration and its spin-off Classic Concentration. Bean has been a regular guest on the Dennis Miller radio show since 2008.
Orson Bean made his acting debut on stage in the year 1952. Some of his Broadway credits include 1955's Will Success Spoil Rock Hunter?, 1961's Subways Are For Sleeping, 1962's Never Too Late, 1964's I Was Dancing, and 1967's Never on Sunday. He also has credits behind the scenes for producing the 1964 award-winning Off-Broadway musical Home Movies.
Orson Bean has an exhaustive list of acting credits on the small screen. Both in guest and recurring roles, he has featured in some notable TV series such as Twilight Zone (1960), The DuPont Show with June Allyson (1961), Mary Hartman, Mary Hartman (1978), Murder, She Wrote (1986–1989), and Dr. Quinn, Medicine Woman (1993–1998). In the year 2000, he appeared in Normal, Ohio and Will & Grace. Others are 7th Heaven (2005), How I Met Your Mother (2007), Desperate Housewives (2009), Modern Family (2016), and more recently Superstore (2018).
On the silver screen, Orson Bean is popular for his starring roles in animated versions of the Lord of the Rings trilogy. He appeared as Bilbo Baggins in 1977's The Hobbit and as Frodo Baggins in The Return of the King (1980). Some of his other notable film credits include Garfield in the Rough (1984), Being John Malkovich (1999), A Golden Christmas (2012), and more recently, The Equalizer 2 (2018).
His Spouse
Orson Bean has been married thrice with two failed marriages behind him. The comedian/actor's first marital attempt was with actress Jacqueline de Sibour. The former couple who tied the knot in 1956 had one child together, a daughter named Michele. After six years as man and wife, they called it quits in 1962.
Bean soon found love again in the arms of a fashion designer, Carolyn Maxwell, whom he married in 1965. Their union produced three children, two boys (Max and Ezekiel) and a daughter named Susannah. But after 16 years together, Orson and Carolyn officially parted ways in the year 1981.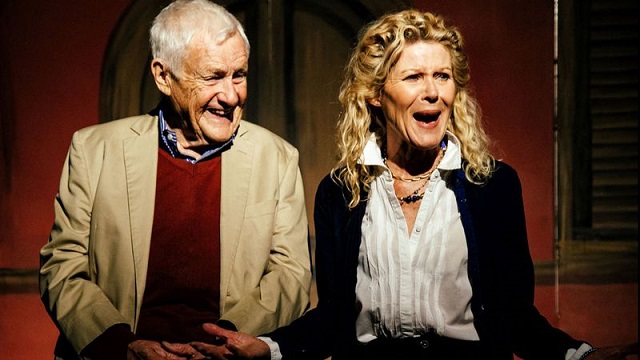 Bean's third wife is actress Alley Mills who is more than two decades younger. The Los Angeles-based couple has been married since 1993 and are still going strong.
See Also: William Devane – Biography, Net Worth, Wife, Family Life, and Other Facts
Is Orson Bean Still Alive?
Though no longer in his prime days, the veteran actor is still very much alive and active in the entertainment industry. Besides taking up roles on both the small and big screen in recent years, he continues to make guest appearances on popular shows and does not hesitate to voice his unwavering orthodox Christian beliefs.

Fact Check: We strive for accuracy and fairness. If you see something that needs updating,