A veteran thespian, actor, and comedian, Orson Bean boasts of a plethora of acting credits on stage, TV, and films. He also gained fame for featuring in several popular game shows. Bean was a late bloomer who had to serve in the US Military for one year before his creative genius came to the fore. His career in the world of showbiz is recorded as one of the longest in history, spanning over six decades till his demise in 2020.
While fans may be well familiar with his professional achievements during his active years in the entertainment industry, not much is known about the former magician's personal life which has aroused curiosity among fans and the general public.
A Look At 
Orson Bean's Career
First Worked With The United States Army
We can say that Orson Bean's creative genes did not surface on time; the American born comic art was rather a late bloomer when it comes to creativity. Bean's earliest career stint was his service in the United States Army which he joined in 1946. His active year of military service saw him stationed in Japan.
The details of his time with the Army were not made public but it is common knowledge that Bean served his country in Japan for one year and left the United States military in 1947. It was during his time with the military that the hatching talent discovered his creative side as a magician and performer.
He Got The Stage Name 'Orson Bean' While Honing His Skills At HB Studio
Sure that he is exceptionally gifted in the creative arts department, Orson Bean didn't hesitate one bit about going in pursuit of a career in showbiz immediately he left the military. He didn't equally let the grass grow under his feet before starting to put up performances on stage at local shows, starting as a magician and later expanded his horizon to include stand-up comedy in the early 1950s. To polish off the rough edges in his art, the thespian decided to join HB Studio in New York City, New York to study theatre.
Born Dallas Frederick Burrows on July 22, 1928, he was nicknamed 'Orson Bean' while he was further honing his skills at HB Studio. The name was accidentally given to him by a Massachusetts-based pianist during one of his stage performances. Following the positive and favorable response Bean received at that night's performance, he decided to officially adopt the name and it has stuck ever since.
His First National Exposure Came From His Appearance on NBC Radio As A Guest Artist
Bean had his first breakthrough in 1952 on The Chamber Music Society of Lower Basin Street, a weekly hot-jazz series which aired on NBC (the show always introduced its host as a doctor of music). That singular appearance was recorded as the young comic's first national exposure. He impressed the showrunners after his guest feature and was offered a job as the show's anchor. Since 1940, NBC had been airing the series on and off, but with the coming of the comedian, they decided to revive it for a 13-week run with "Dr. Orson Bean as full host.
He spent a decade at New York's Blue Angel comedy club working as the house comic. According to the New York Times' review of The Blue Angel Orson Bean's delivery was always well played, not minding whether a joke fell flat or not. He once anchored a TV show of the same name on CBS, maintaining a steady career since the 1950s which includes cutting his teeth on and off Broadway prior to emerging as a live-TVstaple.
His other media credits include regular guest appearances on The Tonight Show and several other New York-based game shows. Notably, he was a regular panelist on, To Tell the Truth, and featured on Match Game as well as Super Password. He also hosted Concentration and its spin-off Classic Concentration. Bean has been a regular guest on the Dennis Miller radio show since 2008.
How He Progressed From Stage to The Big Screen
Orson Bean made his acting debut on stage in the year 1952. Some of his Broadway credits include 1955's Will Success Spoil Rock Hunter?, 1961's Subways Are For Sleeping, 1962's Never Too Late, 1964's I Was Dancing, and 1967's Never on Sunday. He also had credits behind the scenes for producing the 1964 award-winning Off-Broadway musical Home Movies.
Orson Bean had an exhaustive list of acting credits on the small screen. Both in guest and recurring roles, he was featured in some notable TV series such as Twilight Zone (1960), The DuPont Show with June Allyson (1961), Mary Hartman, Mary Hartman (1978), Murder, She Wrote (1986–1989), Dr. Quinn, and Medicine Woman (1993–1998). In the year 2000, he appeared in Normal, Ohio, and Will & Grace. Others are 7th Heaven (2005), How I Met Your Mother (2007), Desperate Housewives (2009), Modern Family (2016), and more recently Superstore (2018).
On the silver screen, Orson Bean is popular for his starring roles in animated versions of the Lord of the Rings trilogy. He appeared as Bilbo Baggins in 1977's The Hobbit and as Frodo Baggins in The Return of the King (1980). Some of his other notable film credits include Garfield in The Rough (1984), Being John Malkovich (1999), A Golden Christmas (2012), and more recently, The Equalizer 2 (2018).
What We Know About Orson Bean's Married Life
Orson Bean has seen a number of women walk in and out of his life by way of marriage. The star of Dr. Quinn was married three times with two failed marriages behind him.
He Was First Married To Actress Jacqueline de Sibour 
The comedian/actor's first marital attempt was with actress Jacqueline de Sibour who was in the same profession performing under the stage name of Rain Winslow. Jacqueline was born to Vicomte Jacques de Sibour – a French nobleman and pilot. Her mum Violette B. Selfridge is the daughter of Harry Gordon Selfridge – American-born British department-store magnate.
Orson Bean and Jacqueline tied the knot in 1956, they had one child together, a daughter named Michele. Their marriage endured for all of six years after which they decided to go their separate ways, calling it quits in a 1962 divorce.
His Second Attempt Was With A Fashion Designer and Actress
He lived life as a single man for three years after the crash of his first marriage, however, Bean soon found love again in the arms of Carolyn Maxwell who was an actress and a fashion designer. Though we don't have the details of their relationship, the couple exchanged marriage vows in 1965.
His second attempt at a marital union persevered longer than his first time. Orson Bean remained in his marriage with Caroline for 16 good years which produced three children in all – two boys (Max and Ezekiel) and a daughter (Susannah). Orson and Carolyn officially parted ways in 1981.
See Also: William Devane – Biography, Net Worth, Wife, Family Life, and Other Facts
Orson Bean's Last Wife Was Also An Actress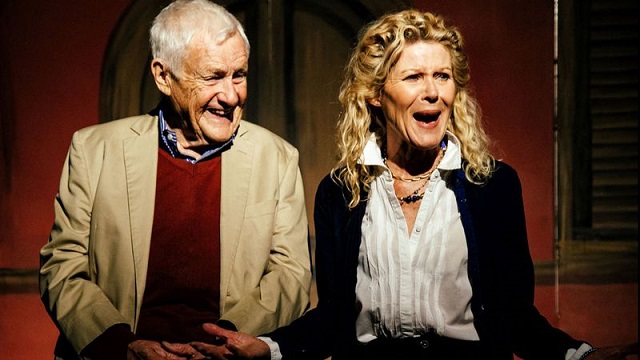 From what is obvious, Orson Bean's seemed to be interested in women in the entertainment industry. In fact, his last wife, Alley Mills who is an actress, was his co-star on the set of Dr. Quinn. Perhaps that was when the love flourished.
One interesting fact to note about the thespian's last wife is the Alley is younger than Orson Bean by over two decades (she is 23 years younger). But their age difference notwithstanding, the couple who tied the connubial knot in 1993 managed to stay together till the comedian breathed his last in 2020.
How And When Did Orson Bean Die?
It was a black day on the 7th of February 2020 when the nonagenarian was struck down by a couple of vehicles in the Venice section of LA while walking close to Venice Boulevard and Shell Avenue. Though the hit from the first driver was mild, it was the second driver that delivered the fatal strike.
According to reports from Captain Brian Wendling form Los Angeles Police Department, the first car which was going westbound failed to see Orson Bean on time which led to the actor being clipped down. However, a second vehicle would deliver the fatal blow after been distracted by onlookers who were asking him to slow down. Orson Bean died at the age of 91 survived by his wife and four children.