There are very few billionaire stories in the world that are true rags to riches stories and the story of Oprah Winfrey story is one. Born to a teenage mother and suffering extraordinary poverty and sexual abuse as a child, her story is one that several millions of people can relate to across the world. That is why the figures behind Oprah Winfrey's net worth is not only a celebration of a black woman but the triumph of hard work, talent, and determination over the circumstances of poverty and oppression.
Oprah Winfrey is not just a billionaire, but she is also one of the most beloved women in the world due to her charming personality and charity. Let's take a look at her net worth, how she made her money and answer if she is indeed the richest black woman in the world.
Oprah Winfrey's Net Worth
Oprah Winfrey has a net worth of $2.6 billion, made through her career in the media industry. Her journey to billionaire status began in the 1970s when she got her first TV job in a CBS affiliate station, WLAC-TV in Nashville, Tennessee at the age of 19.
After spending some time working for the station, she moved to WJC-TV, an ABC affiliate in Baltimore, Maryland where she began to work as a news co-anchor and a reporter. Working in the role was a challenge for the media mogul at the time and after some time, she moved to a morning talk show which began to air in 1978.
It was on the talk show, People Are Talking, that her extraordinary talent for connecting with her audience began to manifest itself. Within two years of hosting the show, she held the highest rating in Baltimore.
With her reputation as a talk show host growing across the media industry, Oprah Winfrey's net worth also tagged along. She began to command higher salaries and signed contracts with other media outlets, particularly the syndication move that launched The Oprah Winfrey Show. That move saw her earn 25% of the show's gross revenue which turned her into a millionaire, earning over $30 million between 1987 and 1988.
Within that period, Oprah Winfrey's national fame expanded as she also delved into acting where she earned an Academy Award for her performance in The Color Purple. In the same period, she also established her production company, Harpo Inc., which became her vehicle into various television, film and entertainment programs. The establishment of the company made her the first black person and the third woman to own a major studio.
Shortly before the new millennium, Oprah Winfrey's net worth grew into half a million through various ventures like Oxygen Media, a programming company, her Book Club and sale of multiple books as well as appearances in films and TV shows.
In the 2000s, through a series of ventures in media, Oprah Winfrey's net worth reached a total of $3 billion, which she attained in 2011.
Aside from her investments in the world of media, which includes owning her cable channel (Oprah Winfrey Network), Oprah has also maintained her net worth through investments in a restaurant chain, True Food Kitchen.
Is She the Richest Black Woman in the World?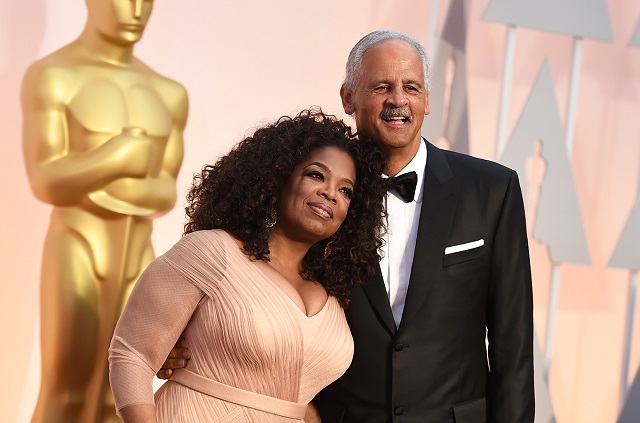 Considering how popular she is as a media personality and as a billionaire, many believe that Oprah Winfrey is the richest black woman in the world.

Although it is a fluctuating list that changes as a result of volatile stock and oil prices, Oprah Winfrey's net worth of $2.6 billion currently means she is the richest black woman in the world. Not only does her net worth make her the richest black woman, but she is also among the top five richest black people in the world, coming in fourth between David Steward in third and Strive Masiyiwa in fifth.

Behind her among the richest black women in the world is Isabel Dos Santos who has a net worth of $2.3 billion made through her investments in major companies like Unitel, Nos SGPS and Banco BIC SA. Another is Folorunsho Alakija, a Nigerian woman who made her fortune in oil and is Nigeria's first female billionaire with a net worth of $1.1 billion.

See Also: Top 10 Richest People In Africa

Others include Sheila Crump Johnson who like Oprah, also made her fortune in the media industry. She has a net worth of $740 million and is the founder of Black Television Entertainment, popularly known as BET. Hajia Bola Shagaya has a net worth of $630 million through investments across of range of economic sectors from fashion to banking to real estate.

Fact Check: We strive for accuracy and fairness. If you see something that needs updating,