"You will get all you want in life if you help enough other people to get what they want". So, is Zig Ziglar quoted to have once said. Since its launch in June 2011, Amazon's live streaming video service, Twitch, has been gaining market dominance by the day. And its speedy popularity has been built on throwing up celebrities such as Sonja Reid who goes by the moniker, OMGitsfirefoxx.
In this post, you will get all the key and hidden facts you need to know about the Twitch streamer and Youtube gamer. She is also popular on Instagram and Twitter. So, join us as we delve in to know about her net worth, boyfriend or ex-boyfriend, and much more.
Who is OMGitsfirefoxx?
First off, OMGitsfirefoxx is Canadian and she started streaming video games in 2013. Prior to that, not quite much was known about her. Thus, we are yet to lay hands on so much of her family details or early life. Therefore, as we still dig to get such facts about OMG as her parents, siblings, and schools she may have attended, let's get busy with what we know already.
She was reportedly born on February 12, 1991, in Toronto, Canada. While we don't know the names of her parents, certain reports have it that OMGitsfirefox spent many years in foster care during her growing up years. According to one of the reports, this part of her early life is the reason the Canadian lady is found to be a very appreciative person. For instance, consider how she calls her social media subscribers by the name 'The Foxx Family' to demonstrate her bonding with them and you may agree with this interpretation.
Again, while we don't have details about Sonja Reid's education history, she is reported to have studied programming. Whether she did so through a school or personally, we do not know. But now, she uses her programming background to her advantage in creating videos and games but obviously, she prefers playing video games to creating them.
Meet Her Boyfriend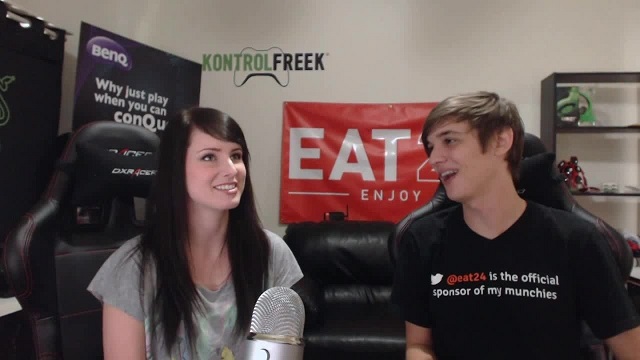 The only person we can find who was ever Omgitsfirefoxx's boyfriend is Tucker Boner (popularly known as Jericho). A fellow vlogger and streamer, Boner became known as 'Jericho' by often making video skits in which he played a character named 'Jericho'. OMG and Jericho reportedly met online while playing online video games together.
Sometime in early 2016, OMGitsfirefox came over to the US and moved with Jericho to Portland. But their stay together as lovers was very short-lived as they broke up on the last day of July in the same 2016. Their breakup was however based on mutual agreement. Consequently, they still play video games together. There are even certain reports saying they are planning to move together back to Los Angeles (where Jericho earlier resided).
So far no one else has been linked to Sonja as her boyfriend. So, we presume she is very much single now.
OMGitsfirefoxx's Net Worth
Apart from once working in a retail store, the only detail you will find in OMGitsfirefoxx's career history is as a gamer and video streamer. So the first natural question when talking about her net worth is "how do gamers and video streamers make money?"
According to Jeremy Wang, a streamer with about 850 followers on Twitch, there are four major ways a streamer makes money. First, it is through donations from fans. Second, they earn through paid subscriptions which cost $4.99 per subscription per month. Third, they also earn revenue from ads placed on their pages. Fourth and finally, they make money via sponsorships.
Other sources we found are through affiliate links, selling customized products and tournament winnings. While we do not have a precise breakdown of how OMGitsfirefoxx earns from each of these sources, her net worth is expectedly reported to run into millions of dollars. But we do not have a figure to show for that.
Other Interesting Things To Know About The Gamer
1. We have already said that Omgitsfirefoxx's real name is Sonja Reid. Then, we got winds that, back in Canada, her surname 'Reid' stands for 'redheads'.
2. Her height is reported to be 5 feet 3 inches (160 cm). As for her weight and other body measurements, we do not have precise figures for them yet.
3. OMGitsfirefox is popular for streaming such games as League Of Legends, Minecraft, The Sims 4, Overwatch, and Counter-Strike: Global Offensives. She is also reported to have created a Minecraft server named Sparkade with her ex-boyfriend Tucker Boner.
4. For her gaming and streaming activity, OMGitsfirefoxx was on Forbes' '30 under 30′ List in 2016. In 2017, Guinness World Records Gamer's Edition named her the most followed female videogame broadcaster on Twitch. In 2017 also, she was Forbes' Most Influential Gamer in the world.