Born as Michel Demetri Chalhoub, on April 10, 1932, Omar Sharif attended Victoria College, where he developed a passion for sports and theatre. He started acting in several theatrical plays and attended the Royal Academy of Dramatic Art in London after graduating in mathematics and physics.
Sharif started his acting career in Sira' Fi al-Wadi and quickly made a name for himself by making several appearances in Egyptian productions. Some of his initial appearances were in Ayyamna El Helwa, a 1955 Egyptian romance/musical film and Nahr el hub – the 1961 Egyptian adaptation of Leo Tolstoy's Anna Karenina. Known for romantic leads where he starred with his wife Faten Hammama, Omar debuted in English Language film Lawrence of Arabia in 1962. This earned him an Oscar nomination and a Golden Globe Award. Omar eventually rose to stardom after he featured in several successful movies like Behold a Pale Horse (1964) and Genghis Khan (1965).
With diverse characters in numerous movies, Omar has appeared as German military officer in The Night of the Generals, and as Che Guevara in Che. Apart from his career as an actor, Sharif was also ranked among the world's best-known contract bridge players.
See Also – Leonardo DiCaprio Biography
Awards and Controversies
Sometime in 2005, Omar Sharif bagged UNESCO's (United Nations Educational, Scientific and Cultural Organisation) inaugural Sergei Eisenstein Medal. The honor was to acknowledge his uncommon contributions to the film world and cultural diversity.
Two years earlier (in 2003), the actor received a one-month suspended prison sentence and a €1,500 fine. What was his crime? He head-butted a policeman in a Parisian casino. For this and other reasons, he was required to attend anger management classes. Meanwhile, Omar served a two-year probation for assaulting a Beverly Hills parking attendant, Juan Anderson.
That's not all. In 2011, Omar was caught in a camera slapping a journalist. It circulated that all the journalist wanted was to take a photo with him at the Doha international film festival.
Omar Sharif Net Worth and Bankrupt Rumours
While Sharif toured with several teams like Blue Team and Dallas Aces, he was also a syndicated columnist for Chicago Tribune. Omar Sharif on Bridge was one of the earliest games on MS-DOS and Amiga which also put him in the Computer Gaming World. He also played casino while at France losing out several times and even going bankrupt once.
In fact, it is said he lost a £4.5 million mansion in a high-stakes card game a few days after he bought it. That was in 1973. As the story goes, Omar fell in love with the 7,000-metre sq complex constructed out of a volcanic quarry on the Spanish island of Lanzarote while he visited the island to film The Mysterious Island. He immediately bought the property, wagered it in a game of bridge with Sam Benady, and lost it to the Englishman.
Having lived in his hometown since his birth, Sharif moved to Europe in 1965 and settled there. His son, Omar Sharif Jr. is also an actor and is already making his name in the film industry.
Omar Sharif got married to Egyptian film legend Faten Hamama and was also part of controversies regarding affairs with Barbra Streisand. It's known that Omar's  Egyptian citizenship was almost withdrawn by the Egyptian government because of his relationship with Streisand. Being Jewish, Streisand was a vocal supporter of Israel which was then, in conflict with the African nation.
This instrumental personality died of Alzheimer's disease in July 2015 leaving behind a net worth of $500,000 for his family. He died at the age of 83 in Egypt's capital city, Cairo after he suffered a heart attack. Before his death, two months earlier, Omar's son informed the world that the actor has Alzheimer's disease.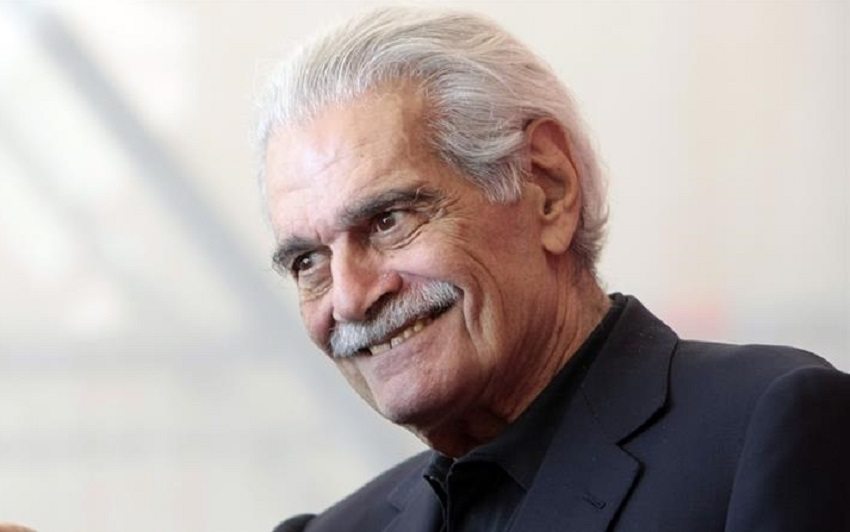 Sharif's career slowed down in the few years preceding his death. In fact, his last major role was in the 2013 drama – Rock the Casbah. As at the time of his death, he had a film that was yet to be released. It was a short film/animation called 1001 Inventions and the World of Ibn Al-Haytham.
Read Also – Sylvester Stallone Biography
Quick Facts about Omar Sharif
Full Name: Michel Demitri Chalhoub
Profession: Actor
Height: 5′ 10″ (1.78 m)
Ethnicity: Arabian
Nationality: Egypt
Date of Birth: April 10, 1932- July 10, 2015
Place of Birth: Alexandria, Egypt
Education: Victoria College
Marital Status: Married (Faten Hamama)