Young, beautiful, and talented, Olivia Holt is the type of woman who would attract the attention of any man. A singer and actress, she was exposed to life as a celebrity at a very early age, having started her career in the entertainment world when she was yet to be a teenager.
With the chemistry between the actress and her Cloak & Dagger co-star Aubrey Joseph, there are many people who want to know if the two are an item or if Olivia Holt has another person as her boyfriend. As a result of this, there have been many rumors surrounding her love life but below are the facts of the matter.
Does Olivia Holt Have a Boyfriend?
Because she has been a celebrity for the better part of her life, Holt has been close to many men in the past, some of whom she has been rumored to have dated. That said, she has not been one of those popular figures scared of making known their relationships to the world.
Going by her Instagram revelation and reports from other outlets, the young actress and musician is single right now. The last person rumored to be the boyfriend of Olivia Holt is Taylor Lautner; the two were said to be seeing each other in 2017. Speculations surrounding the two as a couple started when they began going to church together.
Although many had hoped something would come out of the rumored relationship, it all turned out naught as not only were they no longer together, Lautner has gone on to start a relationship with Tay Dome whom he is still dating.
Who Has She Dated In The Past?
While as pointed out Olivia is single, she has had a number of boyfriends in the past. Openly, she was linked to a couple of men but we can only authenticate what she had with Luke Benward and Ray Kearin.
Luke Benward
The first person known to be her boyfriend is Luke Benward. The two Disney stars dated when they were still teenagers. They met on the set of Disney's Girl vs. Monster and fell for each other. For the next two years, they remained together until 2014 when they decided to go their separate ways.
Born in 1995, Luke has also been linked to other women such as Indah Winsome and Georgie Henley.
Ray Kearin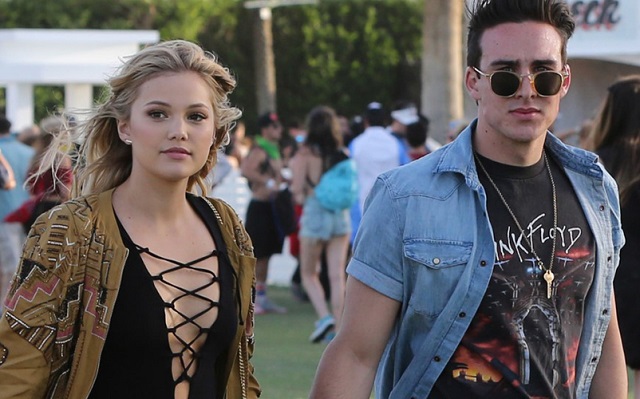 After her relationship with Benward ended, Olivia began yet another relationship in 2015 with someone less popular, Ray Kearin. Just like the first, this relationship also came to an end after 2 years in 2017. While it lasted, the two of them always shared their pictures on Instagram.
Unlike Olivia Holt, Ray Kearin is not into the entertainment world. Born in 1996, he is an Instagram personality who came to be known mostly as a result of the relationship he had with the actress.
How Old Is She?
Considering all the Bad Girl singer has achieved thus far, her age is something that always comes into the conversation. She is still very young. It was on August 5, 1997, that Olivia Holt was born in Tennessee. It was also there that she was briefly raised by her parents Mark and Kim Holt alongside two siblings.
As a child growing up, her first interest was in gymnastics, something she was involved in for seven years before she decided to shift her interest towards acting. At the age of 12, Holt started her acting career with a role in Black & Blue (2009) and then she made her TV role in Kickin' It which ran from 2011 to 2015. Before then, Olivia Holt started with making appearances in commercials at the age of 10.
She started her musical career in 2016 with the release of her first two singles Phoenix and History. Thereafter, she released her debut album, Olivia, in the same year.
See Also: Where Is Kristina Pimenova Now? Her Parents, Height & Boyfriend
How Tall Is She?
On a list of the tallest actresses in Hollywood, Holt may never get to make the cut. Inasmuch as she has been blessed with beauty, talent, and grace, she doesn't have what it takes to be described as tall. Olivia Holt has a height that measures 5 feet 3 inches.
Complementing her height is a weight of 50 kg and a body that measures 33-23-32 inches (84-58.5-81 cm), respectively for her bust, waist, and hips. The actress wears dress size 2 (US) or 34 (EU), and shoe size 7 (US) or 37.5 (EU).